Why did Davina leave 'Selling Sunset'?
Season 4 is almost here but what happened to Davina, Selling Sunset's glamorous real estate broker?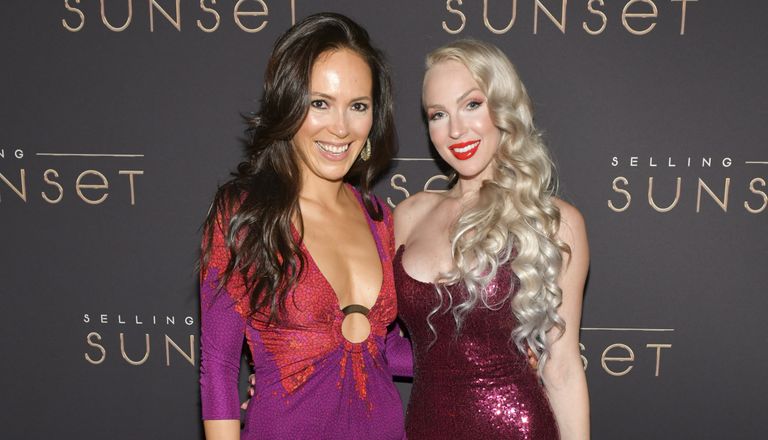 (Image credit: Rodin Eckenroth / Getty)
By Liv Facey
The real-estate reality show rumors have been buzzing but did Davina, Selling Sunset star and Director of the New Development Division of The Oppenheim Group, really leave the show?
We've been hooked into the world of luxury real estate ever since Selling Sunset entered our lives back in 2019. We've also been loving the insight into the chaotic personal lives of the Selling Sunset cast, too.
So when the trailer for the fourth season of Selling Sunset dropped on November 10, it showed even more of the usual property selling and backstabbing but also Jason Oppenheim hiring two new agents, Vanessa Villela and Emma Hernan, to replace series stars Davina Potratz and Christine Quinn.
So has Davina Potratz really left Selling Sunset? Here's everything we know…
---
---
What happened with Davina, 'Selling Sunset' and the Oppenheim Group?
Davina Potratz left The Oppenheim Group—the real estate brokerage that's the subject of Netflix's Selling Sunset reality show—in 2020.
In an interview with People, Potratz revealed she was presented with an offer she couldn't refuse from a rival real estate firm in Beverly Hills, Douglas Elliman.
Potratz told the outlet: "I'm really excited to be a part of Douglas Elliman and their very sophisticated and global new development division. My background is in new development sales and marketing, so this is just a wonderful opportunity for me. It's just very in tune with my skills."
She also said: "It's not that I wanted to leave, but I had a great opportunity. It was a purely business decision."
Jason Oppenheim also issued a statement to the publication, saying: "Davina has always been a tremendous asset and a valued agent at the Oppenheim Group, and she is also a friend whose career decisions I very much respect and support. I will always want the best for Davina, and I hope that we continue to work together in the future."
So we think it's safe to say that Davina left the Oppenheim Group on good terms, staying friendly with her former bosses Jason and Brett Oppenheim and the rest of the Selling Sunset cast. It seems like there's not going to be any juicy drama going on about Davina leaving then.
Will Davina be in Selling Sunset season 4?
This is probably the question on everyone's mind, as since Davina is no longer working for The Oppenheim Group, it could mean she is no longer a part of Selling Sunset.
If we take a look at the Selling Sunset season four trailer, it does show that Davina is still part of the show. Potratz has even posted pictures on her Instagram showing she is still filming with the cast and will therefore probably still have a big enough role in the latest season.
Also, if we consider how Brett is not part of the Oppenheim Group anymore but still features in the show, it is likely that Davina will do the same. Let's face it, yeah, Selling Sunset is all about the luxury listings but we also watch it for the chaotic personal lives of the agents.
Catch Davina Potratz and the rest of the Selling Sunset cast when season four drops on Netflix on Wednesday, November 24!