Why did Davina leave 'Selling Sunset' back in season 3?
Why did Davina leave Selling Sunset only to come back? Here's the situation explained...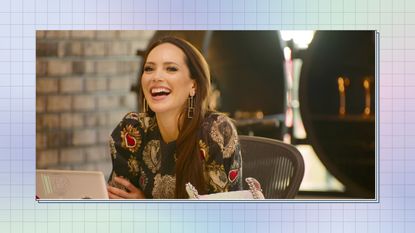 (Image credit: Netflix)
So, why did Davina leave Selling Sunset and The Oppenheim Group after the third season of the show? Especially since she's now back at the brokerage and the Netflix show. It's a question many fans have been speculating over. Was it a scripted storyline or did things really get so tense between Davina and her bosses Jason and Brett that she had to leave?
We've been hooked into the world of luxury real estate ever since Selling Sunset (and Selling Sunset's spin-off, Selling Tampa) entered our lives back in 2019. And while we've been enjoying drooling over all the stunning LA homes, what has really kept us watching is the endless drama between the cast and their chaotic personal lives.
Now on its fifth season, with a Selling Sunset reunion on the way, we're well and truly invested in all the storylines, from the ongoing beef between Emma and Christine, (seriously, who is Peter Cornell in Selling Sunset and how has he caused such a stir without appearing on the show?), the story behind Amanza's ex-husband's disappearance, Tarek and Heather's wedding and of course, Chrishell Stause and Jason Oppenheim's short-lived romance. One storyline we're still a little confused about, however, is why Davina Potratz — who is Director of the New Development Division of The Oppenheim Group — left after season three... only to come back half way through season four.
Here's everything we know…
---
What happened with Davina, 'Selling Sunset' and the Oppenheim Group?
Davina Potratz left The Oppenheim Group—the real estate brokerage that's the subject of Netflix's Selling Sunset reality show—in 2020.
In an interview with People, Potratz revealed she was presented with an offer she couldn't refuse from a rival real estate firm in Beverly Hills, Douglas Elliman.
Potratz told the outlet: "I'm really excited to be a part of Douglas Elliman and their very sophisticated and global new development division. My background is in new development sales and marketing, so this is just a wonderful opportunity for me. It's just very in tune with my skills."
She also said: "It's not that I wanted to leave, but I had a great opportunity. It was a purely business decision."
At the time, Jason Oppenheim also issued a statement to the publication, saying: "Davina has always been a tremendous asset and a valued agent at the Oppenheim Group, and she is also a friend whose career decisions I very much respect and support. I will always want the best for Davina, and I hope that we continue to work together in the future."
However, her stint away was short-lived as we saw Davina back at The Oppenheim Group half way through season four of the show in 2021.
Why did Davina come back in season 4?
On season four of Selling Sunset, Davina told Christine Quinn that the new development project she had been working on after quitting The Oppenheim Group had wrapped up and that she was interested in coming back to the brokerage, after Christine waved the idea around to her.
However, she was a little hesitant as she wasn't on the best terms with Jason when she left. "When I left the Oppenheim Group, there was a little tension because of what had happened with the $75 million listing because that didn't sell but I feel like [Jason] wasn't supportive from the beginning and it just didn't start off the best way," Davina said on the show.
The two later had a conversation, with Davina telling Jason: "You know I left because of a new development opportunity at the other brokerage, but the job is completed, the consulting is all wrapped up and it was a very corporate environment and while I can easily function there, I do love the closeness and the access to you and just the camaraderie you have at the Oppenheim Group."
He later gave Davina her job back and she officially rejoined the brokerage, where she still currently works.
Liv is a freelance journalist currently studying English at university. She loves covering everything from entertainment and politics to lifestyle and travel. As well as writing for My Imperfect Life, Liv has bylines in The Times, HuffPost, Den of Geek, Bustle The Metro and The Bookseller.