Shadow and Bone ending explained: who does Alina end up with?
Who does Alina end up with and is the Darkling really dead?! We've unpicked the Shadow and Bone ending...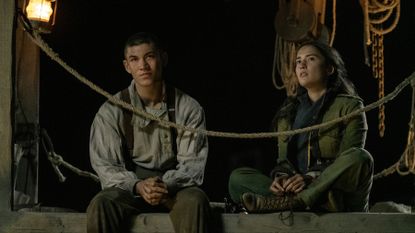 (Image credit: DAVID APPLEBY/NETFLIX © 2021)
If you, like us, just finished bingeing all eight episodes of Shadow and Bone, you'll probably have lots of questions.
The Netflix series starring Jessie Mei Li, Archie Renaux and Ben Barnes, which had thousands of people hooked from the very first episode, had fans begging for more due to the incredible cliffhanger it left us with. So, what really happened in the season one finale of Shadow and Bone?
Warning: spoilers ahead!
Who does Alina end up with?
All the #Malina shippers will be happy to know, Alina does leave Ravka with Mal.
Alina becomes the legend she's meant to be and states to the Darkling that "You may have needed me, But I never needed you". Alina uses her powers to break the bond between her and General Kirigan created through the stag horns, while Zoya advises her to not return to the Little Palace now that General Kirigan has revealed his true identity as the Darkling and creator of the Fold. Now the Grisha will be even more demonized by the people of Ravka.
So Alina decides to leave Ravka to go into hiding and only return when her powers are strong enough to destroy the Shadow Fold once and for all.
Mal accompanies her on this journey and remarks that they'll have to stay ghosts for a while. However, their life as ghosts probably won't last very long as they think the Darkling is dead but little do they know the threat is far from over.
What happened to the Crows aka Kaz, Inej and Jesper?
Since Kaz, Inej and Jesper's mission to kidnap Alina failed, they boarded a boat back to Ketterdam where Jesper recounted what they've learned on their journey—people with trains are evil, you can't kidnap a human sunbeam, and maybe greed is a poor motivator.
We know the trio's journey does not end here, as they look for a Heartrender to join their crew, attracting the attention of Nina who's been left heartbroken by being unable to save Matthias. It's suggested they need the help of a Grisha to help them on their next mission but what is their next mission? Well, that remains to be seen.
What happened to the Darkling?
The Darkling does live to see another day.
In Alina and Mal's final confrontation with the Darkling, Mal refused to kill him, saying he'd leave that to the General's past—meaning one of those terrifying volcra creatures we saw in episode one and that we now know Kirigan created. As the creature captures him and pulls him into the Shadow Fold, Alina and Mal assume he's dead and no longer a threat. They think only thing they have left to deal with is the unrest he's created within society.
However, the last few moments of the show reveal that not only is the Darkling not dead but he's now stronger than ever, as we see him accompanied by the creatures of the Shadow Fold. While it's unclear what his plans for the future are, we can take a guess that this means the threat is far from over for Ravka, as the Darkling plans his revenge on Alina and Mal in an attempt to regain her powers. Bring on season two...
Liv is a freelance journalist currently studying English at university. She loves covering everything from entertainment and politics to lifestyle and travel. As well as writing for My Imperfect Life, Liv has bylines in The Times, HuffPost, Den of Geek, Bustle The Metro and The Bookseller.