Shadow and Bone: everything you need to know about the new Netflix fantasy series
The show that's been described as 'Ocean's Eleven meets Game of Thrones'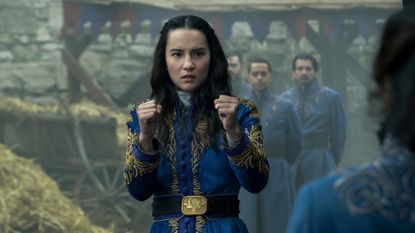 (Image credit: DAVID APPLEBY/NETFLIX © 2021)
If you're looking for your next binge-watch, Netflix has you covered with their new series Shadow and Bone.
Described as "Ocean's Eleven meets Game of Thrones", Shadow and Bone is an adaptation of two of bestselling author Leigh Bardugo's fantasy series—the Grisha trilogy, beginning with Shadow and Bone, and the Six of Crows duology.
Set in the Grishaverse, where certain people possess the ability to manipulate elements, this new fantasy series introduces us to a charming and intriguing cast that could have you bingeing all eight episodes in one sitting.
Want to find out more? Here's everything you need to know...
Warning: spoilers ahead!
What is Shadow and Bone about?
Shadow and Bone is based on a YA fantasy series by Leigh Bardugo. It is part of the Grishaverse which includes the two sequel books to Shadow and Bone as well as two spin-off series—the Six of Crows duology and the King of Scars duology.
Like the books, the Shadow and Bone Netflix series follows Alina Starkov, an ordinary mapmaker and orphan who discovers she is a Sun Summoner—one of the most powerful Grisha, whose power can destroy the fold and change the fate of the war-torn world she lives in.
While the first season follows Alina's journey as she tries to overcome the dark forces that conspire against her in the kingdom of Ravka, it also follows criminals Kaz Brekker, Inej Ghafa, and Jesper Fahey (from the Six of Crows duology) who are in pursuit of her. After watching the show, dive into the differences between the Shadow and Bone book and the hit Netflix series.
What are the Grisha?
The Grisha are Ravka's second army and are powerful people who each have different abilities.
The Grisha powers derive from what is called "Small Science"—the ability to manipulate matter. There are also three orders of Grisha—Corporalki, Etherealki, and Materialki—and within them different specialties:
Corporalki: their powers involve the human body. This includes Heartrenders, who can manipulate a person's heartbeat, Healers, who can heal and Tailors, who can alter a person's appearance.
Etherealki: their powers involve the natural elements. This includes Squallers, who manipulate the wind, Inferni, who can manipulate fire and Tidemakers, who can manipulate water.
Materialki: their powers involve other materials. They include Durasts, who can manipulate anything solid such as weapons and technology and Alkemi, who manipulate chemicals to create poisons or bombs.
They also all have secondary names. The Corporalki are sometimes called "The Order of the Living and the Dead," while Etherealki are coined "Summoners"—Alina Starkov and the Darkling fall under this category—and the Materialki are usually called "Fabrikators".
Shadow and Bone cast: Who stars in the show?
Shadow and Bone features Ben Barnes as well as a lot of incredible breakout names.
Jessie Mei Li as Alina Starkov: an orphan with Shu heritage who's also a cartographer for the First Army. She is also the Sun Summoner, who is prophesied to be the chosen one who will destroy the Fold and restore Ravka.
Archie Renaux as Malyen "Mal" Oretsev: Mal is Alina's best friend. He's an orphan with Shu heritage but without Grisha powers. He's also a soldier in the First Army and a skilled tracker.
Ben Barnes as General Kirigan/Aleksander/ The Darkling: General Kirigan is the leader of the Second Army therefore leader of the Grisha. He is a Shadow Summoner, a Grisha as rare as the Sun Summoner, who has the ability to manipulate darkness.
Freddy Carter as Kaz Brekker: the leader of a criminal gang in Ketterdam. He runs a gambling house called the Crow Club.
Amita Suman as Inej Ghafa: a member of Kaz's gang who is trying to gain her freedom from a legal agreement that forces her to work at a pleasure house. She is a trained acrobat and knife-wielder.
Kit Young as Jesper Fahey: another member of Kaz's gang. He's a skilled sharpshooter with a cheeky sense of humor.
Danielle Galligan as Nina Zenik: a Grisha who is part of Kaz's gang. She's also a Heartrender.
Zoë Wanamaker as Baghra: a powerful Grisha teacher who becomes a mentor to Alina.
Daisy Head as Genya Safin: a Corporalki—a tailor, who works at the royal court, primarily altering the queen's appearance.
Luke Pasqualino as David Kostyk: a Materialki—a skilled Durast who creates objects that aid Kirigan and the Grisha.
Sujaya Dasgupta as Zoya Nazyalensky: a member of the Etherealki and a powerful Squaller.
Liv is a freelance journalist currently studying English at university. She loves covering everything from entertainment and politics to lifestyle and travel. As well as writing for My Imperfect Life, Liv has bylines in The Times, HuffPost, Den of Geek, Bustle The Metro and The Bookseller.