I'm obsessed with skincare so here's what I'm buying in the Space NK Sale
Here's what I'm buying from the Space NK sale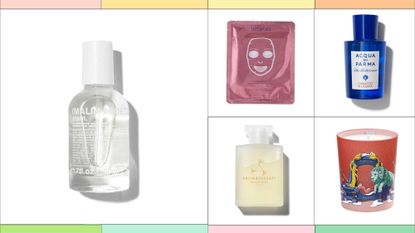 (Image credit: Malin + Goetz / 111 Skin / Aromatherapy Associates / Diptyque / Acqua Di Parma)
Anyone who knows me will testify to my love, want, and need for beauty, grooming, fragrance, and skincare products. Everyone has their thing, right? Some people read books, others are into Love Island, some are even runners—God, I really wish I was one of those people—but MY thing is good beauty products. If it's not clear, I'm just pulling your leg. I don't mean to generalize, obviously, people are multi-faceted and don't have to sit in one box, and neither are they allowed to only like one thing, I'm merely using it as a vehicle to point out how much I love beauty products. Geddit?
So, now that we're up to speed, we can move onto what we're really here to talk about. The Space NK sale. It started last night and if there's one thing I look forward to each year, this is it. It's a chance for you to make some SERIOUS savings—we're talking up to 50%—on all your beauty product needs.
The ways to navigate a sale are varied, do you go for some much-needed top-ups of products you already love, or is this your chance to try something out that you've heard about on Instagram, seen on TikTok, or that one product that pops off in the What's App group that contains 3 Beauty Directors and several Beauty PR's—oh wait, you don't have one of those?
Anyway, this time I'll be going down route A and will be topping up my dwindling supplies with tried and tested products that I will never tire of using. I like to tick several boxes too, something good for the skin, something for pampering, always a fragrance, and always something I can't live without.
The best products to snap up in the Space NK Sale
---
Sunil Makan is the digital editor of Marie Claire UK. With over 12 years of publishing experience, working on print publications and their digital counterparts, national newspapers, and digital pure plays he is an Editor, Strategist, Content Producer, and Creative Director. In his most recent role, Sunil was deputy editor of My Imperfect Life and before that, he was the Associate Editor of British Marie Claire. Prior to that he worked at ELLE, InStyle, Shortlist Media and freelanced at titles such as Mr Porter, Saks Fifth Avenue, Floral Street fragrance, and The Times.
Sunil's specialisms include Fashion, Beauty and Grooming, Lifestyle, and Culture. He has reported and covered fashion trends at International fashion weeks in London, Milan, and Paris, smelled and tested countless fragrances, beauty treatments, slathered on more serums, moisturizers, and masks than he cares to mention plus reviewed some of the best hotels in the world—and the worst.
Sunil has appeared on and led workshops and panels like the All-Party Parliamentary Group (APPG) for Creative Diversity roundtable, the British Fashion Council's Diversity and Inclusion Board, and Fujifilm reader events. A lover of—in no particular order—fragrance, fine wine, champagne, Dior, food, and chicken wings.