Having Squid Game translation issues? You're not the only one
Talk about subtitles snafu! These Squid Game translation issues are driving Netflix fans nuts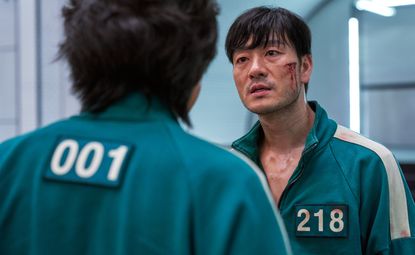 (Image credit: Netflix)
Over the last few weeks, Netflix's Squid Game has taken the world by storm. The dystopian South Korean series has broken records, entered Netflix's top 10 watched shows in over 80 countries and is on track to beat Bridgerton as Netflix's biggest original series. However, over the past few days, there has been massive controversy over Squid Game translation issues and English subtitles, sparked by users on TikTok.
They claimed Netflix botched the subtitles, meaning westerners watching with English subtitles aren't really watching the same show as people who are watching it in Korean, as the subtitles aren't staying as true to the story as we'd hoped for.
For those still to start the show, the plot introduces us to a group of people tempted into a survival game where they have the chance to walk away with 45.6 billion Korean (approximately £30 million) if they participate in a competition of six games. Oh, and if they don't make it to the end, they die. Well, at least they tried right?
(And if you're wondering "Is the Squid Game real?" the answer is yes, well, sort of.)
---
---
Squid Game translation issues: What to know
On September 30, TikTok user and fluent Korean speaker Youngmi Mayer (@youngmimayer) posted a video that racked up almost nine million views pointing out glaring issues with the Korean-to-English translation of Squid Game, claiming the subtitles in English are "so bad" that the original meaning is lost.

She also posted on Twitter saying "I'm fluent in korean and i watched squid game with english subtitles and if you don't understand korean you didn't really watch the same show. translation was so bad. the dialogue was written so well and zero of it was preserved."
not to sound snobby but i'm fluent in korean and i watched squid game with english subtitles and if you don't understand korean you didn't really watch the same show. translation was so bad. the dialogue was written so well and zero of it was preservedSeptember 30, 2021
See more
The initial video pointed out a few moments in the show that were mistranslated, leading to many nuances of the character dynamics within the show being lost in literal translation. For example, Mayer pointed out one scene where fraudster Mi-nyeo tries to convince the others to play the game with her, the subtitles reading "I'm not a genius, but I still got it to work out." But theTikToker claims Mi-nyeo is actually saying "I'm very smart, I just never got the chance to study."
ok i made this really fast so it's not very good but these are the small examples i could find in ten mins pic.twitter.com/5kIsrlWDjqSeptember 30, 2021
See more
Other mistranslations Mayer points out are also in the title names. She claims that the title of episode one, known in English as "Red Light, Green Light," actually translates to "The day the mugunghwa flower blossomed", a riff on the game's Korean name, "The mugunghwa flower has blossomed". (The mugunghwa flower is the national flower of Korea and its blossoming symbolizes beginnings.) The episode's title being translated into "Red Light, Green Light" means that the cultural aspect is not only removed but also significantly lost.
In a later video made after issues were raised by other TikTokers, it was quickly discovered that the subtitles Mayer was referring to were actually closed-caption subtitles, meant for those hard of hearing or deaf so they include audio descriptions and sound effects as well as speech. But does this mean the English language subtitles are better?
Mayer has clarified that the English language subtitles are better than the closed-caption ones, which are often automatically generated. However, she states there are still a few mistranslations that alter the way viewers may perceive the show.
Throughout this whole situation, Netflix has not released a statement on the translation issues, however, as Youngmi Mayer says, if you don't speak Korean then you may miss out on certain things in the series and then have a slightly different interpretation of the characters. To be honest, in the absence of a statement from Netflix and any concrete changes being made, there's only one way to deal with the translation issues: get learning Korean. Hopefully, we'll be ready by season two!
Liv is a freelance journalist currently studying English at university. She loves covering everything from entertainment and politics to lifestyle and travel. As well as writing for My Imperfect Life, Liv has bylines in The Times, HuffPost, Den of Geek, Bustle The Metro and The Bookseller.