What happened to Stanford Blatch on 'And Just Like That'?
'And Just Like That' season 2 gives an update on Stanford Blatch after actor Willie Garson's passing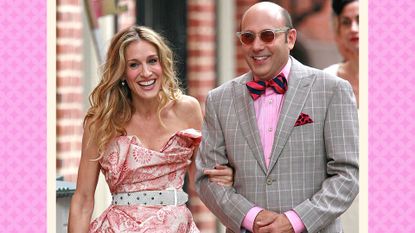 (Image credit: Marcel Thomas/FilmMagic/Getty)
Willie Garson is probably best known for playing Stanford Blatch, Carrie Bradshaw's long-time best friend in the hit show Sex and the City.
We were ecstatic to see the fan-favorite actor filming alongside Sarah Jessica Parker, Cynthia Nixon, Kristin Davis and the rest of the SATC crew for the first season of Sex and the City reboot, And Just Like That. However, Garson's untimely passing in September 2021 was a devastating shock to the cast and fans of the show.
Garson's son Nathen announced that his father had died from pancreatic cancer at the age of 57 on September 21, 2021. Tributes came pouring in for the late actor, with Sarah Jessica Parker describing her grief over his death being "unbearable."
In an interview with The New York Times, Michael Patrick King, the showrunner of And Just Like That and former executive producer on the original Sex and the City series, revealed that Willie Garson's death would not be written into the show. So what happened with Stanford Blatch, and how does And Just Like That season 2 involve the character? Here's everything we know.
*Warning: spoilers ahead*
What happened to Stanford Blatch on 'And Just Like That'?
Since Garson's death, there's been a lot of speculation about whether or not his passing will be written into And Just Like That, since he had been filming the HBO series at the time of his death. Reports came out last season that the show would be killing off a main character, which we now know to be true, but that character death ended up being Mr. Big in the series' first episode, not Stanford Blatch.
So Stanford Blatch lives on, though his character is written out of the show's plot in episode four of the first season. The ep features Stanford leaving letters for both Carrie, in which he reveals that he's gone to Japan to tour with the teen TikTok star he manages, and his husband Anthony, from whom he declares he wants a divorce.
We don't hear much about Blatch the rest of the first season, but Carrie's fashionable BFF does get a mention in the premiere episode of And Just Like That season 2. While preparing for the Met Gala (of course), Carrie is complimented on the silk kimono that she's wearing. She responds to the admirer: "Oh, thank you, my friend, Stanford, sent it to me from Japan."
Whether the absent Stanford will be mentioned throughout the rest of the season à la Samantha Jones remained to be seen.
How did the SATC crew handle Willie Garson's passing?
Michael Patrick King confirmed in his interview with The New York Times that it was an easy decision not to write Garson's death into the show: "Because it wasn't charming. And I knew that the audience would know." King also talked to The Hollywood Reporter about Stanford's narrative arc: "We had a whole journey that we weren't able to do, but what he did is fantastic."
Mario Cantone, who plays Anthony, spoke to Entertainment Tonight at the And Just Like That season one premiere, revealing that because of that decision, some of the show had to be rewritten: "What Michael Patrick King did was brilliant. He knows what he's doing. They were quick rewrites. We did them. You have to. It's a mixed bag, believe me."
Cantone also revealed that while he was thrilled to be at the premiere, "I'm sad, too, 'cause I miss Willie. I'm really sad about this, so it's a weird thing, but we're doing this for him. This is for him, and I'm just happy we made it through. We all kind of huddled together, and held onto each other, and we did it."
Garson appeared in three episodes of the show's first season, in an on-screen relationship with Anthony that Cantone describes as a "turbulent yet clingy, loving, argumentative marriage." The actor also revealed about his co-star: "You would've never known that he was sick. [He was] in incredible spirits, and hilarious, and brilliant. He's so alive on the first three episodes."
The fourth episode of And Just Like That season one paid respect to Garson twice, with tribute cards dedicated to the last actor appearing after the episode's end and after the credits rolled.
And Just Like That season two premieres on Max on Thursday, June 22.
Christina Izzo is the Deputy Editor of My Imperfect Life.
More generally, she is a writer-editor covering food and drink, travel, lifestyle and culture in New York City. She was previously the Features Editor at Rachael Ray In Season and Reveal, as well as the Food & Drink Editor and chief restaurant critic at Time Out New York.
When she's not doing all that, she can probably be found eating cheese somewhere.