Sex and the City reboot: the lowdown on 'And Just Like That'
They're back! The Sex and the City reboot has officially started filming—see what Carrie and the girls look like now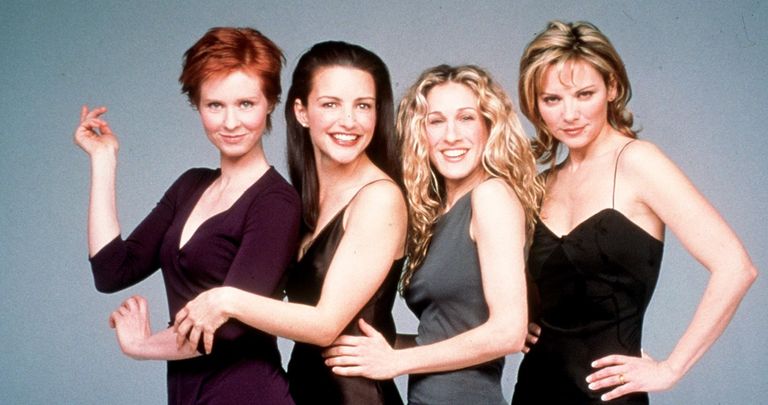 (Image credit: Getty Images/Handout)
Dig out your Manolo Blahniks! The Sex and the City reboot is on its way, and you'll soon be gallivanting all over New York with your favorite ladies—with one exception. 
We know you can't help but wonder what SATC's next chapter, titled "And Just Like That", has in store for fans. We reveal returning characters, new faces, possible plot points, and everything else true Bradshaw devotees need to know.
Here's your first look of the Sex and the City reboot:
HBO Max decided to gift fans a sneak peek on July 9th as the cast and crew begin production. The continuation of the story finds Carrie, Miranda, and Charlotte back on the Manhattan streets in their iconically chic attire. (We spot gingham!)
Our favorite fashionable ladies Sarah Jessica Parker, Cynthia Nixon, and Kristin Davis each posted a photo of their first day back on set, and social media is going nuts over the trio being back together again. 
Although SATC enthusiasts are collectively swooning over the first production photo—analyzing the wardrobe, taking in the scenery, and so on—it's understandably a bit odd as the quartet has dwindled down to a trio. But for the most part, folks were just happy to see some of their beloved characters again.
THE GASP I JUST LET OUT! 😲Do I miss Samantha? Duh. But the 'Sex and the City' girls will always have my whole entire heart. ❤️ pic.twitter.com/mXFHY1Maj5July 9, 2021
See more
im ngl whoever is doing the costumes for the sex and the city sequel(?) did a gr8 job of capturing the original characters style philosophy while updating it for the times + their agein awe of the fact that SJP can still walk around in towering heels, id break my ankle pic.twitter.com/ZabmHo5WgKJuly 9, 2021
See more
Sarah Jessica Parker also posted some behind-the-scenes shots of her getting her hair and makeup done (are we going to see some iconic Carrie curls this season?), as well as a seemingly between-takes snap of what she's reading (and snacking on!) during her downtime on set. 
Since then we have received more and more shots of our favorite New Yorkers strutting their stuff, and looking as stylish as ever. We've also been treated to behind-the-scene snaps of some of our favourite returning characters—including Stanford Blatch of course!
Eagle-eyed fans also spotted the return of Carrie Bradshaw's iconic flower brooch, which is a motif we see throughout the original series. Fans reckon this could hint at trouble in paradise for Carrie and Big...
And we just really want to know what's going on in this scene...
What is the And Just Like That release date?
We have some time before we catch the reboot, as filming has just begun. Although HBO Max is still being hush-hush about the release date, viewers can expect to indulge in 10 half-hour episodes at some point this year. (We're just crossing our fingers it's sooner rather than later.) 
HBO's head of original content, Sarah Aubrey, says: "I grew up with these characters, and I can't wait to see how their story has evolved in this new chapter, with the honesty, poignancy, humor and the beloved city that has always defined them." We can relate!
Earlier this year, SJP took to Instagram to give followers a little tease with the caption: "AND JUST LIKE THAT, we find ourselves on this street called Perry the night before it all begins again." Shouting out SATC executive producer Michael Patrick King, Parker continued: "MPK, here we go. And I'm thrilled and terrified." 
Several of her Sex and the City costars seconded the sentiment. Kristin Davis commented "Hahaha- ME Too xoxo❤️," while Willie Garson—who played the fashionable Stanford Blatch in the series and films—excitedly added, "Let's go!!!"
Sex and the City revival—how it all began
Sarah Jessica Parker, the iconic Carrie Bradshaw, loved teasing the project on social media. She sent fans into a tailspin earlier this year when she revealed on Instagram that the popular series was indeed making a comeback, confirming all of the theories that had been circulating. Although the story will continue without the vivacious and fierce Samantha Jones (Kim Cattrall), there's still plenty to unfold. 
Will Kim Cattrall return for the Sex and the City reboot?
Sorry, SATC fans, you won't be seeing Samantha Jones this time around. 
The franchise's continuation without Kim Cattrall is a significant loss that cannot be overlooked. Her fiery portrayal of Samantha Jones brought a whole load of independent woman vibes that will truly be missed. 

However, this news doesn't come as a surprise to those who are familiar with the series. Cattrall and Parker have reportedly been at odds with one another for years, and the former has been quoted in many publications stating that she's ready to move on from the role. (Psst, this also means no Smith, played by actor Jason Lewis). 
It certainly won't be the same, but then again, things can change in a New York minute.
How are they explaining Samantha's absence?
Sadly for those hoping for some dramatic backstory of what happened to Samantha Jones—the showrunners have chosen an explanation that mirrors the real-life experience of the stars.
HBO Max chief content officer Casey Bloys hinted to TVline that Samantha will be depicted as having drifted away from the group. He said: "just as in real life, people come into your life, people leave, friendships fade, and new friendships start."
"So I think it is all very indicative of the real stages, the actual stages of life. They're trying to tell an honest story about being a woman in her 50s in New York. So it should all feel somewhat organic, and the friends that you have when you're 30, you may not have when you're 50."
Who will return for the Sex and the City reboot?
Expect a lot of familiar faces and the re-emergence of one or two ex-boyfriends. Charlotte's husband Harry (Evan Hedler) has been confirmed as making a return, as has Mr. Big himself (Chris Noth.) And it just wouldn't be Sex and The City without Carrie's BFF Stanford Blatch (Willie Garson.)
See the full list of returning characters...
Carrie Bradshaw (Sarah Jessica Parker)
Miranda Hobbes (Cynthia Nixon) 
Charlotte York (Kristin Davis) 
Aidan Shaw (John Corbett)
Mr Big (Chris Noth) 
Steve Brady (David Eigenberg)
Harry Goldenblatt (Evan Handler)
Stanford Blatch (Willie Garson)
Mario Cantone (Anthony Marentino)
Patricia Field, who has been the costume designer for the SATC movies, will not be making a return, according to Harper's Bazaar. But thankfully the omission is for a good reason—she will be working on creator Darren Star's other show, Emily in Paris! (Psst: check out everything you need to know about Emily in Paris season 2 while you're at it!) 
Sex and the City reboot: Who's joining the cast?
Sara Ramirez will join the SATC crew as Che Diaz, a non-binary, standup comedian who identifies as queer. Che crosses paths with Carrie, who appears on their podcast.
"Sara is a one-of-a-kind talent, equally at home with comedy and drama – and we feel excited and inspired to create this new character for the show," Michael Patrick King revealed to Deadline. 
According to Glamour, Karen Pitman, star of The Morning Show will also be joining the cast and is set to play Dr Nya Wallace, a Columbia Law School professor. 
Homeland's Sarita Choudhury will star as Seema Patel, a real estate broker and Empire's Nicole Ari Parker will join the cast as Lisa Todd Wexley, a mother and documentarian—so though we will miss Samatha, we have plenty of new characters to fall in love with. 
Sex and the City revival: what is it about?
We're looking at a continuation of the girls' friendship—minus Samantha—in New York City. And yes, the effects of COVID will reportedly be playing a role.
According to The Hollywood Reporter, we will see how things unfold for the ladies now that they are in their 50's. 
The entertainment outlet notes that it'll examine the "even more complicated reality of life and friendship," which gives us the feeling that there will definitely be a few messes here and there.