'Sex and the City' reboot: the lowdown on 'And Just Like That'
Are your Manolo Blahniks ready? The 'Sex and the City' reboot has finally landed!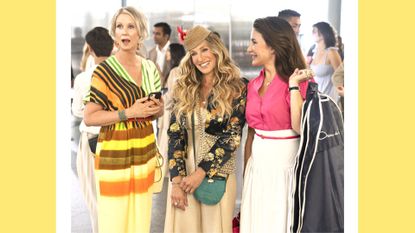 (Image credit: Craig Blankenhorn / HBO Max)
Dig out your Manolo Blahniks! The Sex and the City reboot is finally here, and it's time to gallivant all over New York with your favorite ladies, with the exception of one.
From returning cast members to new faces (does Carrie have a new love interest?!), possible plot points (so that's where Samantha Jones has been this whole time!) and everything in between, there's lots to unpack.
We can't help but wonder what will unfold in SATC's next chapter, And Just Like That. Let's take a sip of a Cosmo and dive in.
---
---
'Sex and the City' reboot: catch the first trailer
Though we've already had a sneak peek at the series and all the new cast members thanks to the first trailer that landed in November, the latest trailer is giving us even more juicy details about what's in store for us in this "new chapter."
As the trailer opens on a classic shot of NYC, we hear Carrie say: "The more I live, the more I find that if you have good friends in your corner, anything's possible."
She then muses that they're all at different stages of life, and changes are always on the horizon, perhaps implying we're in for a shack up, whether it's the cast's lifestyle or relationships.
The trailer then ends with Carrie opening her closet to her favorite Manolo Blahniks and saying her iconic line, "Hello Lovers" before adorning her Carrie necklace once again.
Could this mean we'll see a single Carrie again, or just her embracing what makes her, her? Whatever the case might be, we're excited!
'Sex and the City' reboot: behind the scenes
HBO is very good at trolling eager fans. On July 9, 2021, the network decided to treat us to a tiny sneak peek of the cast and crew as they began production. Naturally, it was a glamorous affair! (Did you get a load of that gingham?)
Our favorite ladies, Sarah Jessica Parker, Cynthia Nixon and Kristin Davis each posted a photo of their first day back on set, and social media swooned. They're reunited and it feels good!
SJP took to Instagram to give followers a tease with the caption: "AND JUST LIKE THAT, we find ourselves on this street called Perry the night before it all begins again." Shouting out SATC executive producer Michael Patrick King, Parker continued: "MPK, here we go. And I'm thrilled and terrified."
Sneak peeks continued to roll out throughout summer 2021, and everyone was grateful that they had an opportunity to take a gander and make their predictions about Carrie's fate. Plus, it was refreshing to see some of our favorite actors return to their iconic roles.
Eagle-eyed fans also spotted the return of Carrie Bradshaw's flower brooch, which is a motif we see throughout the original series. Fans reckon this could hint at turmoil for Carrie and Big.
On August 2, 2021, fans caught Carrie and Big (SJP and Chris Noth) filming the reboot in Manhattan. Carrie looked as stylish as ever in a polka-dot outfit. However, fans were particularly interested in what Carrie wasn't wearing—her wedding ring.
Many assume there will be trouble in paradise, especially considering Big's ex, Natasha Naginsky (played by Bridget Moynahan) is expected to make an appearance. Guess we had to expect some sort of drama to unfold, right?
Speaking of drama, images surfaced of the characters on set mid-October and Carrie is seen locking lips...but not with Big. YIKES! What exactly is going on?
We're not entirely sure who this mystery man is. However, we do know it is actor Jon Tenney from TNT's The Closer. No one has spilled the beans on this smooch, so it looks like we'll have to wait to find out what's going on. (We're just as impatient as you, trust us!)
'Sex and the City' reboot: what is it about?
We're looking at a continuation of the girls' friendship—minus Samantha—in New York City. And yes, the effects of COVID will reportedly be playing a part. According to The Hollywood Reporter, we will see how things unfold for the ladies now that they are in their 50's.
The entertainment outlet notes that it'll examine the "even more complicated reality of life and friendship," which gives us the feeling that there will definitely be a few messes here and there, especially given that the quartet is now a trio.
When is the 'And Just Like That' release date?
It's official! After months of waiting, fans have a date: Thursday, December 9, 2021. The limited series has 10 episodes, and the first two will drop on the 9th. The following eight episodes will premiere weekly on subsequent Thursdays.
Make sure your HBO Max subscription is ready to go. You can opt for a $9.99 per month plan or a $14.99 per month plan, which is commercial-free.
Watch the first SATC 'And Just Like That' trailer:
"Ladies, your table is ready," is the first thing we hear upon the trailer's opening. As you'd expect from a SATC sneak peek, we are treated to amazing clothes, a close-knit friendship circle and some romantic turbulence.
When the reboot's trailer dropped on the morning of November 12, we couldn't help but notice all the new faces and the distinct absence of the beloved Samantha Jones.
Cynthia Nixon to direct 'And Just Like That'
Our beloved Miranda took to social media to make a special announcement about how her role on the show has changed this go-around.
"I am thrilled to share that I am directing an episode of @JustLikeThatMax this season," Nixon writes on Instagram. "It's been a complete dream to work with my beloved co-stars and crew in this new role. I have truly never felt so supported in my life."
Don't worry, Miranda will be in said episode as well—Nixon gave us her word.
Will Kim Cattrall return for the 'Sex and the City' reboot?
Sorry, SATC fans, unfortunately you won't be seeing Samantha Jones this time around.
The franchise's continuation without Kim Cattrall is a significant loss that cannot be overlooked. Her fiery portrayal of Samantha Jones brought a whole load of independent woman vibes that will truly be missed.

However, this news doesn't come as a surprise to those who are familiar with the series. Cattrall and Parker have reportedly been at odds with one another for years, and the former has been quoted in many publications stating that she's ready to move on from the role. (Psst, this also means no Smith, played by actor Jason Lewis).
It's true: things can change in a New York minute.
How will the reboot explain Samantha's absence?
We've finally got word on where exactly Ms. Samantha Jones will be during the course of And Just Like That: according to The Daily Mail, the series has thankfully not killed off our favorite PR powerhouse but rather has relocated her to London, England.
"We couldn't have Samantha roaming around New York City and not have the other women not interacting with her. It just wouldn't have made sense,' show sources told the outlet.
Sources continued: "Sending her to Los Angeles wasn't an option as we'd done that in the first movie, so having her character based in London really was the perfect way to keep her alive and explain her absence."
The big move across the pond reportedly isn't the only major life change that Kim Cattrall's character will endure offscreen in the reboot: "Viewers will learn that she is thriving in England even though she has fallen out with Carrie," show insiders said.
According to the sources, Carrie will have a tough time without her friend Samantha throughout the series and by its end, "you'll see Carrie extend the olive branch and try and rekindle the friendship."
Previously, the showrunners chose an explanation for Sam's absence that mirrors the real-life experience of the stars.
HBO Max chief content officer Casey Bloys hinted to TV Line that Samantha will be depicted as having drifted away from the group. He said: "Just as in real life, people come into your life, people leave, friendships fade and new friendships start."
Bloys continued: "So I think it is all very indicative of the real stages, the actual stages of life. They're trying to tell an honest story about being a woman in her 50s in New York. So it should all feel somewhat organic, and the friends that you have when you're 30, you may not have when you're 50."
Chris Noth speaks out on Cattrall's absence
The actor who has reprised his role as Mr. Big spoke with The Guardian about Kim Cattrall's absence in the series. Although he thinks she was fantastic in the show, he does not believe that her descriptions of SJP are accurate.
"I do know that I'm very close with SJ and [Cattrall's] descriptions of her don't even come close," he revealed to the publication. 'I liked her, I thought she was marvelous in the show and some people move on for their own reasons. I don't know what hers were. I just wish that whole thing had never happened because it was sad and uncomfortable."
Who is coming back for the 'Sex and the City' reboot?
Expect a lot of familiar faces and the re-emergence of one or two ex-boyfriends. (Are you surprised?) Charlotte's husband Harry (Evan Hedler) has been confirmed as making a return, as has Mr. Big himself (Chris Noth). And the late, great Willie Garson will be seen in one of his final acting roles as Carrie's BFF Stanford Blatch.
See the full list of returning characters below.
Carrie Bradshaw (Sarah Jessica Parker)
Miranda Hobbes (Cynthia Nixon)
Charlotte York (Kristin Davis)
Aidan Shaw (John Corbett)
Mr Big (Chris Noth)
Steve Brady (David Eigenberg)
Harry Goldenblatt (Evan Handler)
Stanford Blatch (Willie Garson)
Mario Cantone (Anthony Marentino)
Natasha Naginsky (Bridget Moynahan)
Now, we'll get to see Charlotte and Miranda's kids all grown up. You'll be shocked at how much time has gone by when you realize Lily, Rose and Brady are practically adults.
According to E! News, Cathy Ang will play Lily Goldenblatt, Alexa Swinton will play Rose Goldenblatt and Niall Cunningham will play Brady Hobbes. We're even treated to a newcomer, as far as the youngest generation is concerned: Cree Ciccino will play Brady's girlfriend, Luisa Torres.
Patricia Field, who has been the costume designer for the SATC movies, will not be making a return, according to Harper's Bazaar. But thankfully the omission is for a good reason—she will be working on creator Darren Star's other show, Emily in Paris! (Psst: check out everything you need to know about Emily in Paris season 2 while you're at it! Like the SATC reboot, it'll also hit screens in December.)
'Sex and the City' reboot: Who's joining the cast?
Though we will miss Samatha, we have plenty of new characters to fall in love with.
Sara Ramirez will join the SATC crew as Che Diaz, a non-binary, standup comedian who identifies as queer. Che crosses paths with Carrie, who appears on their podcast.
"Sara is a one-of-a-kind talent, equally at home with comedy and drama – and we feel excited and inspired to create this new character for the show," Michael Patrick King revealed to Deadline.
Karen Pitman, star of The Morning Show will also be joining the cast and is set to play Dr. Nya Wallace, a Columbia Law School professor.
Homeland's Sarita Choudhury will star as Seema Patel, a real estate broker and Empire's Nicole Ari Parker will join the cast as Lisa Todd Wexley, a mother and documentarian.
Lily, Rose and Brady aren't new characters, of course, but their leads are making their debut in the reboot: Cathy Ang (Lily Goldenblatt), Alexa Swinton (Rose Goldenblatt), and Niall Cunningham (Brady Hobbes).
Sad news for 'SATC' fans
Ahead of the premiere of the reboot, fans were given an unfortunate update: Willie Garson, the beloved Stanford Blatch, passed away on September 21, 2021 at 57 after a battle with pancreatic cancer.
In a tragic post, Garson's son Nathen shared the news with his Instagram followers:
"I love you so much papa. Rest In Peace and I'm so glad you got to share all your adventures with me and were able to accomplish so much. I'm so proud of you. I will always love you, but I think it's time for you to go on an adventure of your own. You'll always be with me. Love you more than you will ever know and I'm glad you can be at peace now," he wrote.
Upon the news, the SATC stars shared their condolences for Garson and his family.
"So deeply, deeply sad we have lost @WillieGarson," Cynthia Nixon tweeted. "We all loved him and adored working with him. He was endlessly funny on-screen and in real life. He was a source of light, friendship and show business lore. He was a consummate professional—always."
So deeply, deeply sad we have lost @WillieGarson. We all loved him and adored working with him. He was endlessly funny on-screen and and in real life. He was a source of light, friendship and show business lore. He was a consummate professional— always. pic.twitter.com/G63EJIj8lGSeptember 22, 2021
See more
Though Kim Cattrall has distanced herself from the series and chose not to participate in the reboot, she extended her condolences on social media.
"Such sad news and a terribly sad loss to the SATC family. Our condolences and RIP dear Willie xo," she wrote.
Such sad news and a terribly sad loss to the SATC family. Our condolences and RIP dear Willie xo pic.twitter.com/yXhPkxRTv3September 22, 2021
See more
While paying tribute to Garson and his role as a single father, Kristin Davis wrote on Instagram: "I am thankful for all of the time we had and grateful that so much of your bright light is on film forever."
Mac Antone, Garson's fictional enemy-turned-hubby, was devastated by the loss.
"I couldn't have had a more brilliant TV partner. I'm devastated and just overwhelmed with sadness," he wrote on Instagram.
Since December 2020, Kudzai has worked as a trainee journalist at FUTURE, writing about fashion, entertainment and beauty content for My Imperfect Life.

Kudzai previously worked as a freelance fashion wardrobe stylist, directing magazine photoshoots and coordinating the fashion direction of recording artists.

A fully qualified Journalism and Media graduate from De Mont Fort University, Kudzai graduated in the summer of 2020.