'Succession' filming locations: Inside the world of Waystar Royco
From NYC skyscrapers to luxe Italian villas, here's your 'Succession' filming locations field guide as we get stuck into season 4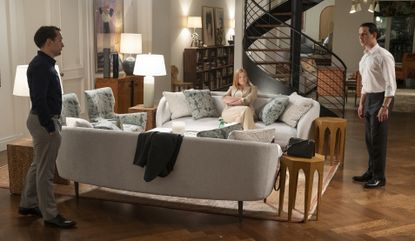 (Image credit: David Russell/HBO )
Hurrah—the Roys are back with more family drama, insane wealth, and opulent Succession filming locations! Season four of the hit HBO show is currently airing, and while we've all been pretty pre-occupied with *that* plot development in episode 3, the transatlantic series once again sees the scheming employees of Waystar Royco, and the Roy family themselves, traversing the world—from iconic New York City settings, to vast California estates.
Across the four seasons, the series has used IRL locations (only a few scenes are filmed on studio sets) to accurately flaunt the billionaire lifestyle of the Roy clan, a ruthless family tree that owns and runs one of the world's leading media and entertainment companies. The Roys and their employees never usually stay in one place for too long, travelling the world for business deals, family events, and lavish parties. So where exactly are the main Succession filming locations across all four seasons?
If you want to step into the gilded world of Waystar yourself, here's a field guide to Succession's filming locations—from flashing city enclaves, to country retreats.
*Warning: Spoilers for all Succession seasons (including season 4) below!*
---
Succession filming locations: A field guide
1. New York City
The Roy family and their Waystar Royco media empire are based out of New York City in the show (if you know what Succession based on, this won't come as a surprise). So naturally, the bulk of filming does actually take place in good ol' Gotham. Main filming locations include the headquarters of Waystar, which were set at the World Trade Center in seasons one and two, but moved to the 28 Liberty Street skyscraper for seasons three and four. Then, there's Logan Roy's expansive Fifth Avenue apartment, which—as fans who are caught up with season 4 will know—features heavily in episode 3.
Logan's apartment (or is it now Connor's?!) is actually filmed on a set, meaning that sadly the beautiful location doesn't exist in real life. However, the lobby of the building is real, and is filmed at the American Irish Historical Society.
We've also had multiple glimpses into Kendall's NY apartment—and the impressive penthouse is real, spanning three floors. It's located on 180 East 88th Street.
Over the four seasons, NYC production has bounced all over the boroughs, from the highbrow hotels of midtown like The Pierre and The Plaza, to the East New York Freight Tunnel in Brooklyn where Tom's bachelor party takes place. We're looking forward to seeing what other New York spots the Roys hit up next.
2. California
Season 4 of Succession kicks off with three of the four Roy siblings (Shiv, Roman, and Kendall), masterminding a new start-up—'The Hundred'—at a palatial Los Angeles home, high up in the hills.
The property couldn't really get much slicker, with an expansive outdoor pool, all-glass walls, and a panoramic view of the city. And it turns out that the property is real; and just as expensive as you might have guessed.
This scene was filmed at a real home in Pacific Palisades, which was recently bought by a young tech billionaire for an eye-watering $83 million. With approximately 20,000 square feet of space, six bedrooms, 18 (?!) bathrooms, an outdoor sauna, and a kitchen design by Nobu, it's certainly a location fitting for the Roy family. And when it comes to Succession filming locations, it doesn't get much pricier.
And that's not the only Californian location in season 4 so far. When the Roy kids make a hurried dash to Nan Pierce's estate to close the deal on buying Pierce Global Media, in actuality, it was just a short drive to Santa Barbara, about an hour and a half from the center of Los Angeles.
It's thought that the Peabody Estate provided the setting of the fictional Pierce Estate. And interestingly, its real life owner isn't too far off its fictional owner. It's reported that the property was bought by former Google CEO Eric Schmidt for $30.8 million, in 2020.
3. United Kingdom
Like Brian Cox, the actor playing him, Logan Roy was born in Dundee, Scotland, a locale we get to see for ourselves in season two when the Roy patriarch visits his birthplace to celebrate his 50th anniversary as CEO of Waystar Royco.
The UK also served as the setting for Shiv and Tom's wedding at the end of season one, which was held at her mother's family estate in England and was shot at Eastnor Castle in Herefordshire.
3. Long Island, NY
Although the majority of the action happens in New York City proper, the moneyed, eastern edges of New York also see some Roy shenanigans throughout the series. Oheka Castle in Huntington, NY, stood in for the Roys' Hungarian hunting lodge, the setting of the infamous "Boar on the Floor" scene from season two.
Fans got to see Logan Roy's Hamptons home in the beginning of season two. The actual home is the 1960 Henry Ford Estate in Mecox Bay, Southampton, chosen to signify Logan's "new money" sensibilities, reports Vulture. The show's production designer Stephen Carter told the outlet: "Given the age of the character, he would have been forming his impressions of what trendy style would be in the sixties."
4. Iceland
Season two opened in the Land of Fire and Ice, where Kendall Roy was holed up in a swanky rehab clinic following the tragic accident that took place at the end of the first season.
Speaking to Filmmaker magazine, Carter said of the Icelandic setting: "With about a week to go, we were locationless, which was a little bit scary. I'd been a big fan of Black Mirror and remembered a house I'd seen on an episode, which I knew was in Iceland. It happened to be available, and we jumped all over that. It was a fantastically stark location."
5. New Mexico
The season one episode "Austerlitz" sees the whole Roy clan head to Connor Roy's sprawling New Mexico estate for a publicized family therapy session. Playing the part of the southwestern home is Rancho Alegre, a Santa Fe private house/museum with panoramic views of the Ortiz and Sangre de Cristo Mountains.
The Succession New Mexico ranch has 11 bedrooms, a wine cellar, a media room, and is sat on 190 acres—and amazingly, you can actually stay there yourself (if you've got the cash, of course). The home can be booked for private stays—with seven nights minimum booking preferred), or private events.
6. The Adriatic Sea
The finale of season two sees the Roy family and their closest Waystar cohorts lounging and backstabbing on an 85-meter super-yacht off the coast of Croatia.
Filming took place in the picturesque shores of Cavtat, Korčula, Mljet and Šipan, aboard the rather majestic super-yacht SOLANDGE, which measures in at a whopping 279ft and has accommodation for up to 12 guests.
7. Tuscany, Italy
While the Succession season 2 finale capped in Croatia, season three finished off in typically glam fashion in Tuscany. One of the most stunning Succession locations so far, Villa Cetinale, a 17th-century villa and gardens in Sovicille, served as the wedding location of Caroline Collingwood, Shiv, Kendall, and Roman's mother.
Plenty of other scenes were filmed across the region too, with the Italian filming locations in season three including Villa La Cassinella in Lake Como, which serves as the backdrop for GoJo founder Lukas Matsson's home, while a tense discussion between Shiv and husband Tom Wambsgans took place in the the hamlet and village of Bagno Vignoni, located in the commune of San Quirico d'Orcia.
Finally, Caroline's bachelor party, which sees her and Shiv partake in an awkward heart-to-heart, was filmed in the town of Cortona, in the Arezzo province.
Season 4 of Succession is currently airing on HBO in the US and Sky Atlantic and NOW in the UK. Want to watch shows like Succession once the series comes to an end? Look no further than our guide.
Christina Izzo is the Deputy Editor of My Imperfect Life.
More generally, she is a writer-editor covering food and drink, travel, lifestyle and culture in New York City. She was previously the Features Editor at Rachael Ray In Season and Reveal, as well as the Food & Drink Editor and chief restaurant critic at Time Out New York.
When she's not doing all that, she can probably be found eating cheese somewhere.
With contributions from