Shows like 'Succession': What to watch when season three ends
Want high-drama shows like 'Succession' to add to your binge list? We've got you covered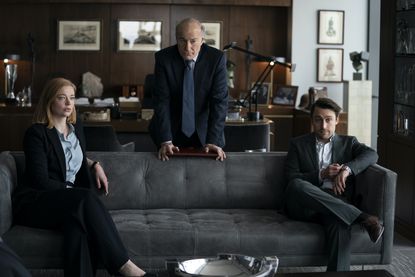 (Image credit: Macall B. Polay / HBO)
All is right with the world again: Succession is finally back for season 3. Doesn't it feel great to have this dysfunctional family back in your life?
Now that we've also got the fantastic news that the HBO hit has been renewed for a season 4 (we still don't know the official answer to how many seasons of Succession there will be, but we'll take whatever they give us!), you may already be thinking ahead to what shows you can watch in the meantime.

So what other great series are already out there that will give you as much schadenfreude joy as Succession? Let's find out!
---
---
Shows like 'Succession': What to watch next
1. 'Billions'
A show that has been running for five seasons and with a sixth in the making, Billions tells the story of a US attorney (played by Paul Giamatti) who's determined to bring down hedge fund manager Bobby Axelrod (Damian Lewis). Bobby Axelrod uses whatever means necessary to maintain his money. Sounds a bit like the Roy family to us.
Another similarity between Succession and Billions is they are both based in New York (you'll see plenty of the Big Apple in our guide to the Succession filming locations). The series keeps viewers hooked as it mirrors real-life events, including the persecution of Preet Bharara and the 1991 treasury bonds scandal of the Salomon Brothers.
2. 'The Good Fight'
A spin-off to the super successful series The Good Wife, this show focuses on Diane Lockhart (played by the incredible Christine Baranski) as she starts a new job at a predominately Black law firm in the Trump era. While Succession is merely influenced by real-life matters, The Good Fight references it directly, as it uses a lot of real-life politics and world issues such as the Me Too movement and the January 6 Capitol insurrection.
The main reason why people often jump to this courtroom drama to fill the Roy family-shaped hole in their lives is that when Succession first came out people compared the Roys to the Trump family and let's just say Trump is a very large part of The Good Fight.
3. 'Mad Men'
Before Succession, there was Mad Men. Also based in New York City but set back in the 1960s, Mad Men focuses on the inner workings of the personal and professional lives of the people working at the prestigious advertising agency called Sterling Cooper.

The show features a character called Don Draper (Jon Hamm) who has to balance his family life while working in a competitive advertising market. Draper often reminds viewers of Succession's Kendall due to their professionalism and the way they both attempt to mask their insecurities.
4. 'Ozark'
If you're looking for a show like Succession to add to your watch list, Ozark should definitely be on your list.
Jason Bateman stars as Marty Byrdes, who gets mixed up in a world of crime as he works as the financial advisor of a money launderer. But when a scheme goes wrong, he is forced to pay back a huge debt to a Mexican drug lord.
Because of all of this, Byrdes is forced to take his family from their home in Chicago to a summer resort community in the Missouri Ozarks where they become even more embedded into the world of crime as they become entangled with the local criminals of the area.
5. 'Dynasty'
A remake of the original Dynasty from the 1980s, which starred Joan Collins, the reboot portrays the clash between not one but two super-rich families: the Carringtons and Colbys.
Dynasty has all the things we love about Succession: corruption, betrayal, and wealth. With strong women at the helm, including Victorious star Elizabeth Gillies, watching this show is like watching a reality show. It's bound to have you wanting more.
6. 'The Sopranos'
The award-winning crime drama The Sopranos tells the story of Tony Soprano, a New Jersey mobster who is struggling between being the head of the mafia and balancing his family life—a bit like the head of the Roy family.
The show, which aired for six seasons and inspired a prequel movie, shows Tony Soprano reluctantly getting professional help for his problems and his dysfunctional family. If you're looking for a show like Succession with a twist, The Sopranos is definitely one you should try out.
7. 'This Is Us'
This NBC drama may not have the Succession family-dynasty element but as this show follows the lives of two parents, three children and their families, you can bet there is a lot of dysfunction involved.
The show shifts between different time frames, going back and forth between the three kids; Kevin, Kate, and Randall's past growing up with their father, as well as their present and future lives. This Is Us has been known to make viewers shed a tear or two while watching which has led to it winning multiple awards. Its sixth and final season debuted in 2020.
8. 'The Crown'
There's no family like the Royal Family so this list would be incomplete if we didn't include Netflix hit The Crown.
The show depicts the early rise and many struggles of Queen Elizabeth II and her family until the modern day. The show doesn't over-glorify the family but rather gives viewers a dramatized inside look into the Royal Family, something which many viewers love. So if you're a lover of family dramas and looking for a show like Succession that features plenty of the family fights, wealth and controversies, add The Crown to your list.
9. 'Industry'
Industry is an addictive show that, like the Roy family, details the life of people trying to get ahead in the business world.
Instead of already being accomplished in the industry though, the show revolves around a group of young graduates trying to secure jobs at a prestigious London investment bank, so not really a family drama with Industry. However, the things these graduates do in order to get their dream jobs are what will have you hooked to the show.
Liv is a freelance journalist currently studying English at university. She loves covering everything from entertainment and politics to lifestyle and travel. As well as writing for My Imperfect Life, Liv has bylines in The Times, HuffPost, Den of Geek, Bustle The Metro and The Bookseller.