6 types of leggings every woman needs
We've got the definitive checklist of the six types of leggings every woman should own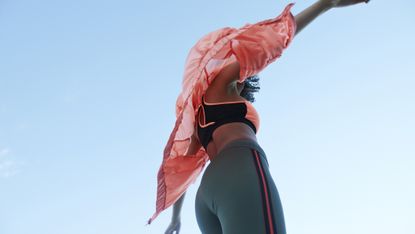 (Image credit: Getty)
When it comes to wardrobe essentials, a great pair of leggings are up there at the top. They're a piece we turn to time and time again - be it for a quick trip to the supermarket, or a lazy Sunday brunch when we have no idea what to wear.
Of course, leggings are not a new phenomenon. They've been working their way around the fashion circles for a number of years, but there's a new appetite for them now gym and activewear has sky-rocketed in popularity.
What's more, in the current working from home climate, leggings of any form are an appealing option to throw on in the morning, due to their stretchy, "barely there" qualities. Not to mention, they take minimal styling. Simply add an oversized jumper or sweatshirt over the top and you're good to go.
With leggings being the holy grail of loungewear, owning just one pair simply isn't enough. We've got the definitive checklist of the ones that belong in your wardrobe - you might have some investing to do...
1. The failsafe black leggings
You can't really go wrong with a pair of black leggings can you? Perfect for dressed down or dressed-up occasions, a simple pair of black leggings are the perfect neutral canvas for outfit inspiration.
While the little black dress was the wardrobe staple of the last few decades, black leggings are the 21st century update - no women's clothing collection would be complete without them. Anyone looking to purchase a pair will also be inundated with options, as practically every high street retailer has their own version of classic black leggings. We love ASOS DESIGN's Hourglass leggings which are high-waisted for a super flattering look.
2. The yoga favourites
Due to their stretchy, supportive and breathable qualities, leggings are an essential for any yoga bunny. They're designed to make a yoga session as easy as possible on the body, with a "your skin but better" feel to them. A good pair of yoga leggings will see you through class, no matter how many downward dogs or mountain poses you do, because of their durability and flexibility. They also come in a whole host of stylish and quirky patterns, so you can be rest assured you'll look great (as well as feel great) during your yoga session.
Sweaty Betty's Super Sculpt Yoga Leggings do exactly what they say on the tin - sculpt your body so you feel supported.
3. The statement pair
Whoever said gymwear had to be boring? A good pair of statement leggings will turn heads for all the right reasons - whether you're in the gym or on a night out. For gym-goers who want to attract attention on the treadmill, there are all sorts of vibrant and jazzy designs which are perfectly suitable for working out in - from neon colours to eye-catching prints. We love this leopard print pair from Nike.
For those who want their statement leggings for non-fitness purposes, a number of fashion brands have a plethora to tempt you with, like this snake print pair from ASOS.
4. The performance pants
When it comes to working out, you want to rest assured that your gym gear is helping you stay cool and comfortable. It's therefore vital that any regular gym-goer has a great pair of performance leggings in their arsenal. Many professional gym leggings are made with fast-drying materials, so sweat doesn't stick around for long. Some even offer compression points which target key muscle groups, to support the body. We love Nike's classic training leggings, which are sweat-wicking and breathable.
5. The thermal saviours
Thermal leggings are a winter wardrobe essential. Investing in a good high-quality pair of thermal leggings will keep your legs toasty on those painfully cold days. They're made up of high-performance insulating materials which work by trapping heat to keep your body as warm as possible - some are even lined with fleece for extra warm.
While they might sound like bulky additions to a winter look, they're so discreet that no one will even notice you're wearing them. This is because many are designed to be worn under clothes - so simply pop a pair under your trousers and you're good to go for those freezing winter days.
6. The go-to comfortable pair
Just like many of us have a favourite pair of jeans, we all have that go-to pair of leggings that we can throw on at a moment's notice - whether we're lounging around the house or popping to the shops. These tend to be just as comfortable as pyjamas - just more socially acceptable to wear out of the house. Leggings made with 100% cotton are a great choice for these go-to comfies and the latest trend for this year is to get them with a ribbed texture.
Lizzie is a freelance lifestyle and culture journalist who writes for titles such as Metro.co.uk, Evening Standard, Refinery29, Woman & Home, Ideal Home and Spectator Life. You'll find her looking up new restaurants and bars on Instagram or scrolling through cute dog videos. She also loves travelling, running, cooking and cross-stitching.