What's the actual difference between leggings and yoga pants? Here's when you should wear each, according to the experts
If you're deciding between regular leggings vs yoga pants for your workout session, this is what you should know...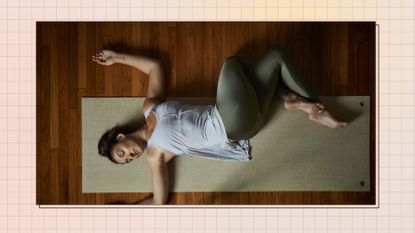 (Image credit: Getty)
You'd be forgiven for being a little daunted by the huge number of options that come with buying workout clothes. Not least because many items of activewear—while looking seemingly similar—have been designed for particular type of exercise in mind. If you're struggling to decide between regular workout leggings vs yoga pants for your next stretch session, it's a common conundrum.
However, it turns out there really is a difference—but whether it will impact your practice is entirely down to personal preference about what you like to wear to flow. We've called on the experts to reveal exactly what sets leggings for workouts, like running and strength training, apart from those to slip on for the yoga studio. Because while the best black gym leggings may share a shade in common, there will be a number of subtle features—from moisture-wicking to waistband height—that will make them more suitable for particular types of movement.
Our experts also share, if you are opting for a spot of downwards dog and crow pose on one of the best yoga mats, which types of workout leggings are optimal—including the best material and stretch—and why the pair you love for HIIT might be impacting your zen. On the flip-side, you'll discover which leggings are better for those sweatier weights or cardio-based training sessions, and why the ones you use to stretch in might not be quite up to scratch. After all, the best workout clothes are the ones that help you reach your health goals.
Leggings vs yoga pants—is there actually a difference?
In short, yes—because while you might feel comfy in shavasana, they may leave you feeling self-conscious in crow pose.
"The main difference between regular leggings versus yoga leggings is that the latter are specifically designed with movement in mind, including the fit, the cut and the material," explains Elle Daniel, yoga teacher at triyoga. "When I practice yoga, I need to feel like what I'm wearing is a second skin that hugs my body without being too tight, yet stretchy enough to move in." Indeed, you don't want to be in the middle of a balance and fearing they might rip.
Then there's the fact they need to be breathable. "Yoga leggings are made of a moisture-wicking material, which is super important when practicing hot yoga," continues Daniel. "Other leggings may become sheer in certain poses, and might not have the sweat-wicking capabilities of yoga-specific ones."
Are yoga leggings better for a stretch session?
Not necessarily, but it depends on the type of yoga you're planning to do. "You don't have to wear a specific style of leggings when it comes to your yoga practice—some people prefer loose-fitting bottoms while others prefer leggings," says Daniel. "The only thing that matters is that you're comfortable in your clothes and you can easily move and stretch in them.
"However, when practicing more dynamic styles of yoga, like vinyasa or ashtanga, and hot yoga, then specific yoga leggings are definitely more suitable, as you're moving and sweating more and you don't want to feel uncomfortable or distracted by leggings that might stretch, shift, bag or become damp."
Indeed, yoga leggings come with specific features that enable you to focus on getting zen. "They're often made from more premium, durable fabric as they need to withstand deep movements like forward folds and not go sheer," explains Beth Crivelli, lead yoga Instructor at Sadhana Live. "However, they will also have the right amount of stretch that means they remain secure and figure-hugging while also not getting in the way of binds of poses like yoga squat."
Anything else to consider? "I absolutely swear by high-waisted leggings as there is nothing worse than having to stop in class to adjust your leggings or pull them back up," says Bethany Nann, barre and ride instructor at Psycle. "Minimal seams are also great as they then just feel like another layer to your skin, and no uncomfortable zips of fastenings."
Whatever you choose—tight workout clothes or otherwise—slip on a pair that allow you to move. "It's important that you wear something that are both comfortable, functional and make you feel good about yourself," notes Kat Farrants, yoga teacher and founder of Movement For Modern Life.
Which leggings are best for exercise?
That's not to say you always need to, particularly if you're on a budget, buy another pair of leggings for other forms of exercise, like HIIT, running and strength training. "As long as they allow full range of motion," says Crivelli. "It is personal preference and if you are comfortable in them for a particular activity then you can wear what you wish. While there is so much choice out there now—with most specific sports and exercises having their own tailored leggings—most of them cross purposes and can perform for many activities. It's also about trial and error and what works for you, your comfort and your performance goals."
However, despite being able to cope with hot yoga, some yoga pants may struggle to withstand a really sweaty sessions. "If I am doing a spin, I will also always look to wear leggings with a fabric that dries quickly, as I sweat so much when spinning," notes Nann. "For this reason I also prefer a slightly thicker fabric, so that there is no danger of them being see-though when you are on the bike."
And while yoga leggings might be strong enough to not tear while you're getting bendy, there could be a risk of damage while using heavy equipment. "It might be worth getting a stronger pair for certain types of training," suggests Long. "For example, if you enjoy weightlifting then the bar, dumbbell or kettlebell can often catch your leggings—and if they are yoga pants then they might rip. That being said, if you are doing bodyweight HIIT classes, yoga leggings would be fine."
One to avoid is the temptation to use your very strong, more supportive leggings in reverse for yoga. "The foundation of yoga asana is steady breath, so you don't want to wear anything that is too tight around the belly, which more compressive leggings for high-intensity exercises tend to do—although I really appreciate that feature when I'm running or lifting weights," notes Daniel. "It is totally possible, however, to find a pair of leggings that ticks all the boxes; stretchy enough to move in whilst being compressive enough to feel supportive, and made of a material that is sweat-wicking."
Lauren is a freelance writer and editor with more than six years of digital and magazine experience. Most recently, she has been the Acting Commissioning Editor of Women's Health—where she co-produced the Going For Goal podcast—and has previously also written news and features for titles including The Telegraph, Grazia, Stylist, Dazed, The Sun's Fabulous, Yahoo Style UK and Get The Gloss. She covers all aspects of lifestyle, specializing in health, beauty, and travel. Can't live without: oat milk lattes, new podcast episodes, long walks, and great skincare.