This unlikely 'Love Is Blind' duo was spotted together at the season 4 reunion
While we've all been distracted by Netflix's technical failures, some former 'Love Is Blind' contestants paired up at the reunion, surprising us all!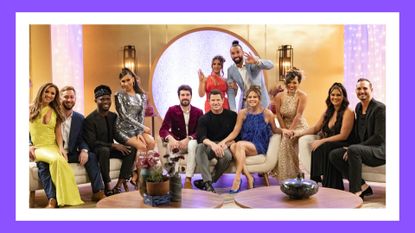 (Image credit: Sara Mally/Netflix © 2022)
Attention, Love Is Blind fans—while most of us are still desperate to know when we can finally watch the Love Is Blind reunion, we've all missed a sighting of a rather unexpected couple, seen together during the (what was meant to be live) taping of the special episode. (If you're wondering why the Love is Blind reunion isn't working, here's what we know.)
That's right—two former cast members from previous seasons of the hit reality dating show were spotted hanging at the recording of the Love Is Blind season 4 reunion, and it's probably not who you'd expect! In fact, not only did the pair attend the fateful reunion taping together, but they were also seen sharing a bag of popcorn. And if that doesn't say love (as friends or otherwise), we don't know what does.
So which previous LIB contestants were spotted together? Interestingly, these two never actually shared a season, with one appearing in season 2 and the other in season 3...
The unlikely couple spotted at the 'Love is Blind' reunion:
A reporter attending the filming of the reunion shared over on Twitter that she had spotted...*drumroll*...Deepti and Cole sharing a sofa, as they awaited the arrival of co-hosts Nick and Vanessa Lachey and the season 4 Love is Blind couples.
Yes, Cole Barnett, from the third season of the Netflix show, and season 2's Deepti Vempati from season 2 were spotted sitting and having a chat together at the reunion. Who'd have thought these two were pals?!
The video, shared below, shows Deepti flicking through her phone, while Cole is seen grabbing some popcorn—before the pair engage in a light-hearted chat about who-knows-what.
What's this? Deepti and Cole arrived together and are now eating popcorn together. #LoveIsBlindLIVE pic.twitter.com/ppCQl9bOWgApril 16, 2023
See more
It's a quick clip for sure, but it was enough to spark a bit of a frenzy online amongst Love is Blind fans.
It's not the only video of the pair from the night of Sunday, April 16, though. Another reporter shared that the two actually arrived together, sharing a video of them walking in and hugging (presumably) the Love is Blind, or Netflix, crew.
Deepti and Cole walked in together....what does that mean???? #LoveIsBlind pic.twitter.com/Dvs3y1ZfVCApril 16, 2023
See more
Viewers aren't entirely convinced by the pairing though—in fact, one fan commented: "Um this would be the worst combo ever."
Others warned Deepti against a possible romance with Cole, with one writing on Twitter, "Oh lord, no. She's wayyyyy too good for him," while another said, "Nooooooo Cole! Stay away from Deepti!"
Viewers will of course remember that Cole very much divided opinions during his season, with his treatment of his then-fiancée Zanab Jaffrey. In fact, we're still thinking about that infamous cuties scene...
And Deepti was even more unlucky in love during her run at marriage in season 2, when she paired up with Abhishek "Shake" Chatterjee, who turned out to be basically a walking red flag.
In fact, both Deepti and Cole's ex Zanab were compared by viewers when season 3 aired, which makes Deepti and Cole's hang-out all the more unexpected. Both women were praised by viewers during their respective seasons, as they both took the step to stand up for themselves at the altar, following their treatment from Shake and Cole respectively.
Deepti herself actually shared her thoughts on the comparisons back in November 2022, and she even revealed what she thought of Cole at the time.
Speaking to E! News, she said, of herself and Zanab, "I think our situations are so different. Cole and Shake are different people."
"There's a side of Cole that's a little bit immature. He's young, but, hopefully, he can see himself and it seems like he's growing and learning from it, honestly."
Despite the videos, we don't actually know if Cole and Deepti are a *thing* right now—as, aside from the fact that they were spotted together, neither of them has commented on any romance rumors as of yet.
And to be honest, it seems like their appearance at the reunion may well have been a simple get-together as friends, especially given that the pair were also spotted posing with Deepti's fellow cast member Natalie Lee, too, suggesting it may well have been an innocent meet-up amongst pals. In fact, Cole was even seen posing for a picture with Too Hot To Handle star Chloe Veitch as well.
So while we're not sure yet whether the pair are friends or more than that, we just hope they've both found happiness outside of the show!
Amy Hunt is a lifestyle writer and editor, and was previously Lifestyle Channel Editor at womanandhome.com, having been with the brand since 2015. She is passionate about everything from entertainment to books, to homes, food and wellness. When she isn't editing, researching or writing articles, he's busy burying her nose in a gripping thriller, practising yoga, or buying new homeware.