Versed Skincare: everything to know about the seriously cool, results-driven brand
Plus the most popular Versed skincare products to shop right now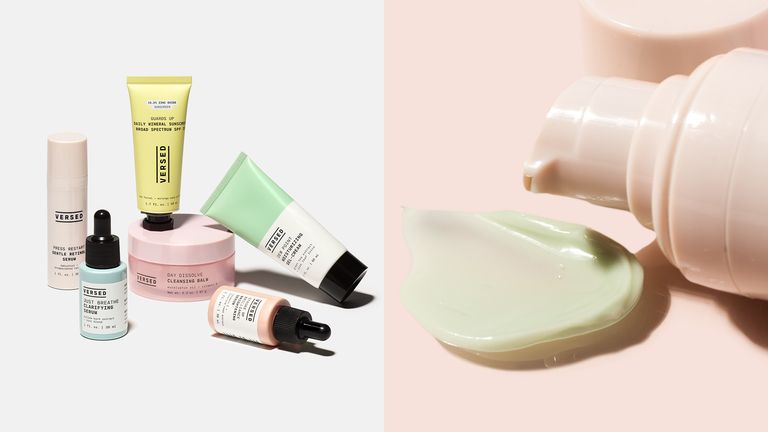 (Image credit: Versed Skincare)
If you're a beauty fan, you've probably noticed a little brand called Versed Skincare and its super chic, colorful packaging popping up on social media lately.
Describing themselves as "the cleanest drugstore skincare brand" its mission is to bring affordable, results-driven skincare to the masses while remaining sustainable at its heart. All products are vegan and cruelty-free, too.
If you're a fan of affordable skincare brands like The Ordinary or The INKEY List, chances are this'll be right up your street. It's a little more expensive than some fan-favorite skincare brands, but by no means bank-breaking.
So, for the inquisitive skincare fans out there, the My Imperfect Life beauty team has rounded up all the need-to-knows about this super cool brand. Let's get into it.
How much does Versed skincare cost?
Good news: this is one of those affordable skincare brands that isn't going to break the bank. Prices range from $7.99 to $21.99 for full size products, and can be snapped up at Target (£9 to £20 for UK shoppers at Boots). Not bad. Not bad at all.
Who owns Versed Skincare?
Versed Skincare was founded by Katherine Power, who is also the co-founder of fashion site Who What Wear, the name comes from the fact its team is "well versed" in skincare knowledge. The brand first launched in 2019 before making its way over the pond to the UK in 2021.
Is Versed Skincare sustainable?
Versed is making a big effort to have less of an impact on the planet. Per its website, the brand has already achieved net zero emissions and has teamed up with Climate Neutral Certified, a nonprofit that verifies its sustainable credentials like emissions and offsets.
In 2021, the brand has also pledged to hit 50% post-consumer plastic (PCR) across its products, as well as switching to biodegradable and renewable polybags ma de from potato starch.
Intrigued? We've pulled the most-searched-for Versed Skincare products so you can learn more about them and try for yourselves.
What are the best Versed Skincare products?
Versed Day Dissolve Cleansing Balm, $7.99, Target
Who doesn't love a good cleansing balm and hot cloth? Versed's offering is a make-up removing balm cleanser containing vitamin E and eucalyptus to soothe skin.View Deal
Versed Press Reset Gentle Retinol Serum, $21.99, Retinol
Skincare enthusiasts know that retinol has the power to help with breakouts and smooth skin, but can sometimes result in retinol peeling. Containing both the hero anti-aging ingredient and its plant-based alternative bakuchiol, this serum promises "retinol results without retinol irritation". View Deal
Versed Dew Point Moisturizing Gel Cream, $14.99, Target
A lightweight gel moisturizer that promises, containing green tea and aloe vera to soothe and calm the skin. Suitable for all skin types, but especially for oily skin.View Deal
With those price tags and fuss-free accessible products, it's easy to see why Versed Skincare has already built a loyal community of fans. Yet more proof that affordable skincare can be just as well-loved as its pricier counterparts. We love to see it!
Lucy is a beauty journalist who has written for titles including Marie Claire, Cosmopolitan, Women's Health, InStyle and Woman & Home, and regularly contributes to My Imperfect Life. Most recently she was Junior Beauty Editor at Marie Claire. Covering skincare, haircare, make-up and wellbeing, her job involves anything from picking the brains of the world's top dermatologists to swatching the latest and greatest foundations. When she's not got beauty on the brain, you're most likely to find her spending time with dogs (her sister owns one very sassy cockapoo), reading or sleeping. She's also a big fan of RuPaul's Drag Race, rosé and and house plants that stay alive.