Cute virtual Valentine's Day date ideas that'll actually feel special
Need help with some virtual Valentine's Day date ideas? Here's some inspiration...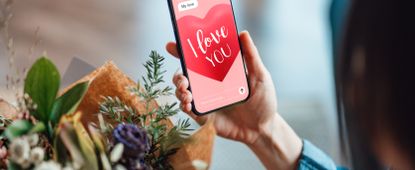 (Image credit: Getty Images)
This year, virtual Valentine's Day date ideas are what we're all after to celebrate the big date. (as well as Valentine's Day gifts, of course). But how special can we really make a day that is supposed to be all about romance and intimacy, from opposite ends of a screen?
As many of us have learned during the pandemic, long-distance relationships are far from easy. Finding love and dating is even harder—in fact, it can feel pretty impossible with endless lockdowns and social distancing rules in place. However, another thing we've learned over the past year is that where there is a will, there is a way.
With dating apps like Bumble and Hinge having stepped up to introduce new virtual dating features like video calls with potential matches, technology like this, as well as FaceTime and Zoom, has made lockdown love a real thing. It may not be as familiar and convenient as traditional dating, but it has definitely worked for some while easing the strain of a new long-distance dynamic for existing couples.
Now that Valentine's Day is right around the corner, it's time to start planning how you and your loved one can celebrate it virtually. There are plenty of ways to enjoy this romantic day without being physically present. Here are just a few ideas to try...
Stream a movie together at the same time
Cinemas may be closed but that doesn't mean you can't watch a movie together on Valentine's Day. Agree on a movie you'd like to watch and make it extra special by getting yourself extra cozy and video call one another on your smartphones whilst streaming the movie at the same time on your TV or laptop. Or if you like, make the most of Netflix Party—a feature that was introduced by the streaming service during the first lockdown to allow people to stream content together virtually while chatting in the provided chatbox.
Experiment with a virtual couple's sex toys
Maintaining a sex life in a long-distance relationship can be hard but thanks to amazing inventions like app-controlled vibrators, it has become a lot easier and much more exciting to indulge in virtual intimacy. Using Bluetooth technology, you can connect your toy with its associated app and give your partner access to control it from a distance. From Lovense Nora to Wand by We-Vibe, there are plenty to choose from - check out our tried and tested best app-controlled vibrators if you're a first-timer.
Make Spotify playlists for each other
Music really is a love language, so what better way to show your significant other just how special they are to you by curating a personalised playlist just for them. If you both do it, you can play them to each other over a video call, pour yourselves a glass of wine and go through the songs together. This can be super fun, especially if you pick songs that spark loving memories with one another.
Have a FaceTime dinner date
A romantic dinner for two has become synonymous with Valentine's Day and pandemic or not, you won't be robbed of it. Instead, you'll just have to alter the traditional way. Swap the candle-lit restaurant table for a DIY set up at home (make sure you both have similar table settings to make it feel like you're together IRL), cook your favourite meals and have dinner together via FaceTime. You'll still get to enjoy each other's company, just virtually.
Listen to audio porn together
If you want to spice things up after a nice romantic meal, try listening to audio porn together. Some of us prefer the sound aspects of porn to the visual, so if this works for you and your partner then audio porn might be the missing piece in your sex puzzle—especially when having virtual sex. Dipsea is a great app for this as it's full of short stories to listen to "spark couple's imaginations and get them in the mood, no matter how far apart they are".
Watch a sunset together
Is there anything more romantic than a beautiful sunset? It's hard to imagine. While most of us may not be able to travel to a tropical island with the love of our lives right now, you can still enjoy a sunset together. Whether its watching from your respective bedroom widows or during a nice seaside walk if you're fortunate enough to live by the beach. Take the moment in together by sharing it via a video call.
Sagal is a journalist, specialising in lifestyle, pop culture, fashion and beauty. She has written for a number of publications including Vogue, Glamour, Stylist, Evening Standard, Bustle, You Magazine, Dazed and Wonderland to name a few.