Valentine's Day nail art: how to wear your heart on your nails
Meet the breakout Valentine's Day nail art.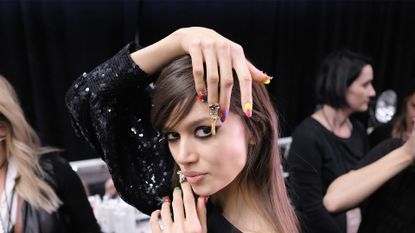 (Image credit: Nicholas Hunt/Getty Images)
Valentine's Day isn't exactly everyone's thing. But Valentine's Day nail art? That's a trend everyone can get on board with even if they're not loved up and have some time to kill.
This year, we're bringing our A-game to the annual day of love with chic nails (and you like, add your best huggie earrings (opens in new tab) to the mix too). If you're heading to celebrate with a significant other, perfect. If you're not, who's to say a hot date with your couch and Sex & The City reruns doesn't warrant a mini mani?
To set the record straight, Valentine's Day nail art needn't be saccharine or cheesy. That said, it can be if you want it to be. When else do you have the excuse to wear glitter and multiple shades of pink on your tips as a grown up?
But if minimalist is more your vibe, the heart-tipped French manicure is trending right now.
A cursory glance reveals it's simply a nod to the event - and so low-key, you'll want to wear the design well past February 14. Exactly as it sounds, the base is the same as a French manicure but instead of a traditional white stripe at the tip of the nail, you create a bowed heart shape.
Need a more inspiration? Keep scrolling...
Mini hearts mani
Chic white hearts
In the pink
In the clouds
Negative space red nails
Multi-colored hearts with yellow trim
Put a ring on it
Fiona Embleton is a multi-award-winning beauty editor who has tested over 10,000 products in her 10 years + of writing and shooting beauty stories. For the past four years, she was the Senior Beauty Editor at Marie Claire, having previously worked in the role of Beauty Editor at both Stylist and Cosmopolitan. She has recently gone freelance and alongside My Imperfect Life, she has written for titles including ELLE UK, ELLE Canada, Buro 247, Harper's Bazaar Arabia, Vogue Scandinavia, and ES Magazine. Beauty journalism allowed her to marry up her first-class degree in English Literature and Language (she's a stickler for grammar and a self-confessed ingredients geek) with a passion for make-up and skincare, photography, and catwalk trends. She loves jumping on the latest internet-breaking beauty news, dissecting the best red carpet looks, and having the crème de la crème of dermatologists, make-up artists, and hairstylists on speed dial so she can tap them for the best advice. She's a discerning beauty shopper and knows it can be confusing trying to navigate what's hype and what really works. So if she really likes something, you can trust that she has reached that opinion by vetting it against everything else she's ever tried. Her career highs? Interviewing Cate Blanchett and winning a Jasmine Award for the deeply personal feature Cancer Stole My Mother's Scent.