The best Barbie vs Oppenheimer memes—the most hilarious social posts about the iconic cinematic rivalry
Perhaps the most iconic battle of 2023?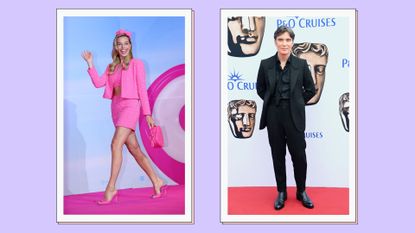 (Image credit: Dave J Hogan/Getty Images/Han Myung-Gu/WireImage/Future)
The Oppenheimer vs Barbie memes have totally been taking over the internet recently, as both blockbuster films are set to be released simultaneously at the end of July—sparking what we reckon is a cinematic feud for the ages.
Though the two films, starring Cillian Murphy and Margot Robbie (separately) almost couldn't be any more different, Barbie and Oppenheimer have been somewhat pitted against each other recently given that they are to be released on the same day, July 21. And while we don't think the Oppenheimer merch will top the iconic Barbie merch, both movies are set to be some of the biggest of 2023 overall.
Nevertheless, the competition between the two flicks has sparked a hilarious online exchange recently, with fans and celebs weighing in on the debate. So what exactly is the Barbie vs Oppenheimer discourse all about? We look into the internet frenzy, and share some of the best Oppenheimer vs Barbie memes too—which we feel sum up this funny rivalry pretty accurately.
What is 'Barbie' vs 'Oppenheimer'?
The Oppenheimer vs Barbie memes and conversation began when movie fans realized that both films were going to be released on the very same day, July 21.
Essentially, the irony of both of these films being released simultaneously has left the internet in stitches, given that their content is so, well, different.
Barbie, of course, is all about the very pink and charmed life of Margot Robbie's Barbie, Ryan Gosling's Ken, and their fellow Barbies and Kens, who all live within a magical pink dream world. Not to mention those fabulous Margot Robbie Barbie outfits!
The Christopher Nolan-directed Oppenheimer, on the other hand, is a fictional retelling of the real-life story of J. Robert Oppenheimer, a scientist who has to reckon with his part in creating the (obviously) highly destructive atomic bomb. Peaky Blinders star Cillian Murphy plays Oppenheimer, and Robert Downey Jr. and Florence Pugh also star.
Fans have been utterly tickled by the irony of the two films being released on the same day, and memes comparing the flicks center around just how different they—and their potential audiences—are.
Many of the memes poke fun at the fact that on the release date, many theaters are going to be full of excited Barbie fans, alongside slightly more somber Oppenheimer movie-goers. We can only imagine the difference in outfits...
And if that weren't enough, the Barbie vs Oppenheimer chat has only intensified as Hollywood celebs are also weighing in on it now themselves!
None other than Tom Cruise, whose own Mission Impossible: Dead Reckoning Part One is also out in mid-July, confessed that he'll be watching both on the big screen.
"I want to see both Barbie and Oppenheimer," he said. "I'll see them opening weekend. Friday I'll see Oppenheimer first, and then Barbie on Saturday."
Cillian Murphy's Barbie reaction
According to fans of the movie star Cillian Murphy, the 47-year-old is famously unbothered in his interviews, so it's come as no surprise that the actor hasn't shared his thoughts on the Barbie vs Oppenheimer discourse as of yet.
In fact, a photo of Cillian standing in front of a Barbie movie poster (looking very unimpressed), as a response to the hilarious competition recently circulated online—but to our disappointment, it seems the image was fake and doctored by an enthusiastic fan.
Moviegoers have also noted Margot Robbie's enthusiastic and non-stop promotion of her new flick, compared with Cillian's rather more low-key promotion of his own upcoming film.
We'd say that the promo for both movies is pretty appropriate, considering their opposing themes and content though!
The best Oppenheimer vs Barbie memes
Many of the funniest Oppenheimer vs Barbie memes focus on the starkly obvious differences between the two films, with fans typifying the Barbie movie plot as being full of fun, unfiltered joy—whereas Oppenheimer, fans suspect, is *ahem*, not...
Oppenheimer vs the Barbie movie pic.twitter.com/xImGUS8wpHJune 29, 2023
See more
Some have even poked fun at the seemingly enormous Barbie marketing budget, and the slightly less exuberant and enthusiastic promotion of Oppenheimer...
Barbie budget vs Oppenheimer budget pic.twitter.com/iZeExBWXiLJuly 3, 2023
See more
And other Twitter users focused in on the differing plots and themes of the two movies...
The Barbie/Oppenheimer crossover has begun pic.twitter.com/16zESO1TAYJune 28, 2023
See more
Some fans also poked fun at the different types of people that may show up for both films...
Barbie & Oppenheimer audience at the parking lot of a theatre on July 21st pic.twitter.com/0ohjwqTS4wJune 27, 2023
See more
And others simply found some fun in the fact that Barbie and Oppenheimer are likely to be a very different viewing experiences...
Barbie fans while Oppenheimer screening is right next to them:: pic.twitter.com/pDqlQecJfrJune 26, 2023
See more
Some also joked about how they'd be transforming their own appearance to suit the aesthetic of both movies.
Leaving Oppenheimer screening to watch Barbie pic.twitter.com/g3is6gSFrzJune 28, 2023
See more
But perhaps the best of the Oppenheimer vs Barbie memes came when the stars of one of the flicks finally came out and shared their own fantastic comment on the drama—confirming that actually movie lovers should simply see both films, one at a time!
Director of Barbie Greta Gerwig and star Margot Robbie shared a snap of them holding their advance tickets for Oppenheimer—hopefully putting to bed the idea that it needs to be an either/or situation.
Greta Gerwig and Margot Robbie seeing Oppenheimer pic.twitter.com/WIkjV6RV6AJuly 3, 2023
See more
So the question is—which film will you be going to see first?! We almost can't decide..
Amy Hunt is a lifestyle writer and editor, and was previously Lifestyle Channel Editor at womanandhome.com, having been with the brand since 2015. She is passionate about everything from entertainment to books, to homes, food and wellness. When she isn't editing, researching or writing articles, he's busy burying her nose in a gripping thriller, practising yoga, or buying new homeware.