What is emotional cheating and how should you handle it?
Is emotional cheating still cheating? Just because it's not physical doesn't mean it's not a problem...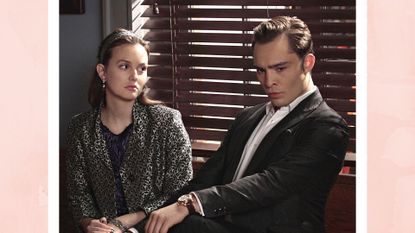 (Image credit: Collection Christophel / 17th Street Productions / CBS / Alamy Stock Photo)
The word "cheating" may bring to mind illicit holiday flings or secret office-based affairs—we've seen a lot of those lately, what with the Adam Levine, Ned Fulmer and Tristan Thompson cheating scandals. But straying in your head is just as much of a betrayal to your partner as a physical dalliance. So what is emotional cheating, and how should you deal with it?
Before we get into the details, let's clear something up first. Emotional cheating is much more than simply harboring a crush on your BFF's boyfriend's mate, or having a sex dream about your co-worker. (FYI, here's what it means if you orgasm during sleep.) It's something that could, if not dealt with properly, leave you heartbroken or unable to ever find true happiness in a relationship.
Here's what you need to know about emotional cheating.
What is emotional cheating?
Emotional cheating "is when you are in a committed, monogamous romantic relationship, but you or your partner seeks emotional companionship with someone else," says Dr. Madeleine Mason Roantree, a psychologist, dating coach and director of relationship psychology services at the matchmaking platform The Vida Consultancy.
"For example, you start sharing your feelings and problems with someone other than your partner—or vice versa," she explains. "You're confiding in them, seeking emotional support and spending more time engaged with them." For all intents and purposes, it's a relationship.
How to identify emotional cheating?
"It can be quite subtle and hard to spot," notes Andre Radmall, a psychotherapist, and sex and relationship expert. "Also, it is quite normal and healthy to not expect that all your emotional needs will be met inside your relationship."
But there are some clear signs of guilt. "This includes discussing problems and important decisions with someone outside of your relationship," explains Radmall. "This can foster an emotional intimacy and closeness that's absent from your relationship, which can easily blur into sexual or romantic feelings for the other person."
If you're still unsure, there are certain questions you can ask yourself, says Alex Mellor-Brook, a relationship expert and co-founder of the dating platform Select Personal Introductions.
"Are you fulfilling your romantic needs by communicating with someone other than your partner?" he asks. "Are you unable to discuss this new friendship with your other half? Are you more comfortable talking through these problems with this other person than your partner? Have you stopped trying to emotionally and physically connect with your partner to prioritize this new friendship?"
Why should you end emotional cheating?
It might seem tempting to think that there's no real harm in your emotional connection with another, telling yourself that it's just a solid friendship or innocent phase.
"But this type of dependency can lead to a more physical relationship with your new confidant, escalating and making matters worse," warns Mellor-Brook. "And over-stepping relationship boundaries will break that bond of trust between you and your partner—a relationship can only work if you are both communicating."
And if your emotional cheating is rooted in the fact your relationship is going through a rough patch, it's also a very bad idea. "Confiding in someone else is the easy option, but it doesn't mean it's the correct one," explains Mellor-Brook. "All relationships go through difficult times, so you should stop running away from the problem and address it together as a couple. If emotional cheating leads you to a new relationship, then you're more likely to repeat this pattern with your next partner."
So, how do you stop emotional cheating?
You need to understand where your urge to emotionally cheat is coming from, says Dr. Mason Roantree. "If you find yourself guilty of this, think about why you are engaging with someone else emotionally and not your partner," she explains. "Is there a temporary dip in your relationship and have you somehow slipped into emotional cheating without realizing it?"
This may even be an opportunity for you to grow. "It could be your chance to stop and change tack, be more mindful about the situation and act accordingly," explains Dr. Roantree. "Do you need to talk to your partner about the lack of intimacy in your relationship? What do you need to do to get the 'spark' back? Or can you feel in your heart that the emotional affair marks the beginning of the end of your relationship? Perhaps it's time to address the ending with your partner."
Because everyone deserves to be treated with respect!
Lauren is a freelance writer and editor with more than six years of digital and magazine experience. Most recently, she has been the Acting Commissioning Editor of Women's Health—where she co-produced the Going For Goal podcast—and has previously also written news and features for titles including The Telegraph, Grazia, Stylist, Dazed, The Sun's Fabulous, Yahoo Style UK and Get The Gloss. She covers all aspects of lifestyle, specializing in health, beauty, and travel. Can't live without: oat milk lattes, new podcast episodes, long walks, and great skincare.