Pride Month 2022: when is it, what is it and how to celebrate like an ally
It's more than just rainbow flags. Here's what Pride Month 2022 is really all about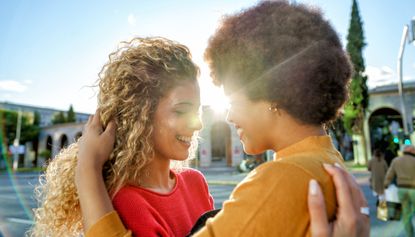 (Image credit: Getty)
It's the most colorful time of the year! Yes, Pride Month 2022 is nearly here and with it comes an annual rainbow-drenched celebration of parades, parties, product collaborations and political activism.
But what we've come to expect as a yearly tradition and federally recognized period of celebrating and supporting the LGBTQ community is a still-relevant fight for civil rights, especially in the dangerous wake of the SCOTUS Roe v. Wade leak and the reopening of seemingly settled civil laws, such as same-sex marriage. Yes, Pride Month is a bright, beautiful time to dance and love and live however you want, but it is also a time to make your voice heard and continue to work towards liberation and equality for all, especially our trans and POC siblings.
So, let's brush up on our facts about Pride Month and show support beyond just buying rainbow-colored goodies this June!
When is Pride Month 2022?
Pride Month is annually held in June, in commemoration of the June 1969 Stonewall Riots, a violent confrontation at the Stonewall Inn in Greenwich Village between New York police and the city's LGBT community that marked a turning point in the gay rights movement in the United States and around the world.
What is Pride Month?
"The purpose of the commemorative month is to recognize the impact that lesbian, gay, bisexual and transgender individuals have had on history locally, nationally, and internationally," says the Library of Congress. The month is celebrated through pride parades, political marches, block parties, educational panels and memorials to those who have been lost to hate crimes or HIV/AIDS.
When is the Pride Parade 2022?
The first "Pride Parade," then known as the Christopher Street Liberation Day, was held by gay activist groups in New York City on June 28, 1970, on the one-year anniversary of the Stonewall Uprising. Fifty-two years later, NYC Pride Parade 2022 will be held on Sunday, June 26.
Cities across America host their own Pride Parades in June. Here are just a few:
Pride Parades in the US
Key West, FL: June 5
Philadelphia, PA: June 5
Washington, D.C.: June 11
New Orleans, LA: June 11
Los Angeles, CA: June 12
Columbus, OH: June 18
Providence, RI: June 18
Houston, TX: June 25
Nashville, TN: June 25
Baltimore, MD: June 25
San Francisco, CA: June 26
Denver, CO: June 26
Chicago, IL: June 26
Minneapolis, MN: June 26
Seattle, WA: June 26
Pride Parades around the world
Guadalajara, Mexico: June 4
Ibiza, Spain: June 18
Zurich, Switzerland: June 18
Lisbon, Portugal: June 18
São Paulo, Brazil: June 19
Oslo, Norway: June 25
Dublin, Ireland: June 25
Paris, France: June 25
Barcelona, Spain: June 25
Toronto, Canada: June 26
What is the Pride Month 2022 theme?
Along with hosting parades and events, some cities also designate themes for that given year's Pride Month celebrations. This year, San Francisco chose "Love Will Keep Us Together," while Seattle opted for "We're Still Here." Angelenos have themed their march "Love Your Pride," while New York's 2022 Pride theme is "Unapologetically Us."
Of the latter, NYC Pride Executive Director Sandra Pérez explained: "Our community has been through tremendous hardships over the past few years, beginning with the pandemic, and continuing with a reckoning with social justice, threats to our democracy, and more recently armed conflict overseas."
Pérez continued: "In spite of these challenges and attacks, we are here to tell the country and the world: we will not be erased. We will stand together to face these attacks on our LGBTQIA+ siblings across the country and around the world. We will continue to love and live our truth and be our full and complete selves—and we are not going to apologize for it."
Important days of Pride Month 2022 to note:
There are several awareness days held throughout the month of June to create visibility and raise support for marginalized groups within the LGBTQ community.
June 5: HIV Long-Term Survivors Day
Honors survivors of the HIV epidemic and raises awareness of their needs
June 12: Pulse Remembrance Day
A remembrance of the lives lost in the 2016 mass shooting at Pulse nightclub in Orlando, Florida.
June 26: Anniversary of the Obergefell v. Hodges ruling
Honors the legalization of same-sex marriage in the U.S. in 2015
June 27: National HIV Testing Day
An annual observance to promote HIV testing and care
June 28: The Stonewall Riots Anniversary
Commemorates the 1969 Stonewall Uprising, known as the birth of the modern LGBTQ+ movement.
June 30: Queer Youth of Faith Day
A national celebration of queer youth from all religious backgrounds.
How to celebrate Pride Month 2022:
1. Educate yourself
Whether you're a member of the LGBTQ community or simply someone looking to deepen their allyship, you can utilize Pride Month and beyond to up your awareness and understanding of queer-related issues, including employment and housing discrimination, violence against the trans community, bathroom bans, conversion therapy, attacks on gender and sexuality education in schools, and more.
Study up on key figures in the LGBT rights movement, like Marsha P. Johnson, Billie Jean King and Harvey Milk, as well as folks who are continuing the fight today, from Elliot Page to Jonathan Van Ness. And submerge yourself in queer culture via informative documentaries such as Paris is Burning, Disclosure: Trans Lives on Screen and How to Survive a Plague.
2. Advocate for others
Donate your time, efforts and dollars to non-profits and causes that push for LGBT rights and support members of the larger community, whether it's providing access to health care, offering legal services or protecting basic rights.
A few worthy organizations to start with are the Center of Black Equity, which works to promote economic, health and social equity for Black LGBTQ+ communities; the LGBTQ Freedom Fund, which pays pretrial bail and immigration bonds for LGBTQ individuals, who face a higher rate of incarceration and violence than other individuals; and SAGE, an advocacy group focused on improving the lives of and providing services for LGBTQ+ elders nationwide.
3. Support LGBTQ creators
Host a queer-focused movie marathon with films from LGBT directors like Pedro Almodóvar, Dee Rees, Luca Guadagnino, Céline Sciamma, Gus Van Sant and The Wachowskis. Binge TV series created by LGBT talents, such as Dan Levy's Schitt's Creek, Tanya Saracho's Vida, Ryan Murphy's Pose, Lena Waithe's Twenties and Russell T Davies' It's a Sin.
And add titles by LGBTQ authors to your monthly book club: we're loving On Earth We're Briefly Gorgeous by Ocean Vuong, Girls Can Kiss Now by Jill Gutowitz, Gay Bar: Why We Went Out by Jeremy Atherton Lin, Greedy: Notes from a Bisexual Who Wants Too Much by Jen Winston and Burn The Page by Danica Roem. Now that's what we call a summer reading list!
4. Frequent queer-owned businesses
The COVID-19 pandemic has been brutal for all businesses, but especially those run by marginalized folks like the LGBT and POC communities. Next time you go on a shopping spree, choose establishments that are founded by or benefit the queer community.
If you do opt to shop at larger national brands during Pride Month, do a little digging into how those companies treat both their LGBTQ employees and customers, and if they regularly give back to queer causes and organizations.
Rainbow-baiting—when a business or corporation coopts the Pride flag colors out of performative progressiveness and allyship without actual, tangible support for the queer community—is real and it's especially prevalent during Pride Month so shop smart this June!
5. Party!
Yes, Pride Month is also a time of jubilation, so pump up the Kim Petras, lace up your dancing shoes and make time to celebrate the beautiful community around you!
Christina Izzo is the Deputy Editor of My Imperfect Life.
More generally, she is a writer-editor covering food and drink, travel, lifestyle and culture in New York City. She was previously the Features Editor at Rachael Ray In Season and Reveal, as well as the Food & Drink Editor and chief restaurant critic at Time Out New York.
When she's not doing all that, she can probably be found eating cheese somewhere.