What is 'The Idol' hairbrush scene and why is it causing major controversy?
The HBO series hasn't shied away from taboo topics, but 'The Idol' hairbrush scene might have taken things too far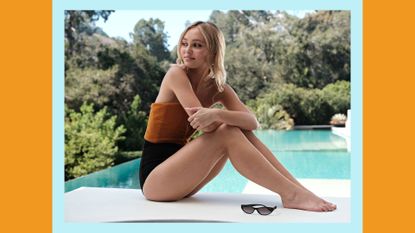 (Image credit: Eddy Chen/HBO)
Yes, yet another The Idol controversy has hit: The Idol hairbrush scene is shocking viewers of the HBO series.
The show has certainly stirred the pot since debuting on Sunday, June 4, thanks to that feud between The Weeknd and Rolling Stone, rumors of a toxic set environment and frequent gratuitous and at times disturbing sexual depictions between the "Blinding Lights" singer and the show's lead actress Lily-Rose Depp, who portrays pop star Jocelyn.
And speaking of disturbing, one such scene in The Idol's third episode is doing just that, touching upon Jocelyn's troubled childhood, her mental health struggles and her relationship with her recently deceased mother. Here's everything you need to know that The Idol hairbrush scene and why it's offending audiences at home.
*Trigger warning: physical abuse detailed*
What is 'The Idol' hairbrush scene?
In the back half of episode three of The Idol, entitled "Daybreak," Tedros (Abel "The Weeknd" Tesfaye) continues his manipulation and abuse of Depp's Jocelyn during a deeply disturbing scene at a group dinner alongside Tedros' cronies, like Moses Sumney's Izaak.
While at the dinner table, Tedros prods Jocelyn into revealing upsetting details about her upbringing, specifically the physical abuse she withstood from her own mother. "She did a lot of things," Jocelyn says. "Her favorite was probably hitting me with a hairbrush anywhere people wouldn't notice...She did it as a form of motivation, I guess. Kind of like a dog."
Tedros responds to the horrible story by telling Jocelyn: "Hey. All that trauma. You've got to turn it into inspiration." He then instructs her: "You've still got that hairbrush? Go get it."
After sending Rachel Sennott's Leia—the only character that would denounce what was to come—away from the table, Tedros proceeds to repeatedly beat a crying Jocelyn with said hairbrush in front of the rest of the dinner party, but not before warning her: "This is really gonna hurt. If you push through the pain, it will be beautiful." The next day, she tells him: "Thank you for taking care of me."
It's an incredibly upsetting scene of a clearly toxic relationship and raises real questions about sexual consent, but the distressing content of the episode is becoming par for the course of the HBO show. For their part, the creative team behind The Idol is not surprised by the audience's response to the boundary-pushing series.
The Weeknd, who is also a co-creator and executive producer on The Idol, told GQ about his character Tedros and those uncomfortable moments: "That's all intentional to heighten the camp of it all. But the reality is, there's nothing really mysterious or hypnotizing about him. And we did that on purpose with his look, his outfits, his hair—the guy's a douchebag. You can tell he cares so much about what he looks like, and he thinks he looks good. But then you see these weird moments of him alone—he rehearses, he's calculated. And he needs to do that, or he has nothing, he's pathetic. Which is true of a lot of people who are a fish out of water, put into these scenarios."
And speaking on The Idol's disconcerting sex scenes, The Weeknd shared with the outlet: "There's nothing sexy about it...When we use Basic Instinct as a reference, we're using Verhoeven. Verhoeven is the king of '90s satire thriller—yes, there's moments of 'sexy' in his films but there are other moments that are very cheesy and hilarious."
"However you're feeling watching that scene, whether it's discomfort, or you feel gross, or you feel embarrassed for the characters. It's all those emotions adding up to: This guy is in way over his head, this situation is one where he is not supposed to be here," the performer added.
What are fans saying about 'The Idol' hairbrush scene?
Unsurprisingly, The Idol fans had plenty to say about that episode three scenario:
me when tedros asked for the hairbrush thinking he'll toss it in the fire but jocelyn get's down on her knees: #theidol #theidolhbo pic.twitter.com/nWePjvp2kIJune 19, 2023
See more
ep 3 of the idol is horrible lol that hairbrush scene at the end made me want to throw up. i would never want someone to reenact my dad hitting me or beating me in a sex context. tedros asks jocelyn if she misses being hit by her mom. end men in film for good.June 19, 2023
See more
After that hairbrush mess, I'm100% convinced that the egg scene, that was mentioned in Rolling Stone article, was real. This show is insane. Somebody needs to apologize to Amy Seimetz #TheIdolHBO #TheIdolJune 19, 2023
See more
not tedros asking for the hairbrush #THEIDOL pic.twitter.com/TUMOXHtoEEJune 19, 2023
See more
Jennie and Troye I'm trying to keep up but baby the hairbrush scene lawddd HELPPP #THEIDOL pic.twitter.com/ga3osGy45hJune 20, 2023
See more
The Idol airs on Sundays at 9pm Eastern on HBO and Max.
Christina Izzo is the Deputy Editor of My Imperfect Life.
More generally, she is a writer-editor covering food and drink, travel, lifestyle and culture in New York City. She was previously the Features Editor at Rachael Ray In Season and Reveal, as well as the Food & Drink Editor and chief restaurant critic at Time Out New York.
When she's not doing all that, she can probably be found eating cheese somewhere.