A restaurant critic's guide on how to dress for outdoor dining
Dressing for outdoor dining all comes down to smart layering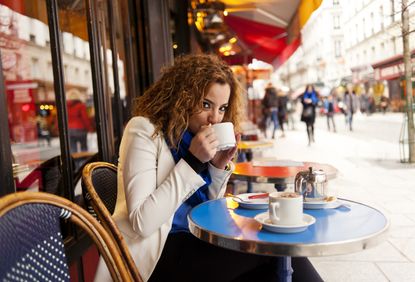 (Image credit: Photo by Carlo A/Getty Images)
With indoor dining still banned in many cities around the world, al fresco eating is our only option if we want a night out on the town (unless you want yet another evening spent home cooking from the best meal prep delivery services). And while outdoor dining is a lovely way to enjoy a meal in warm weather, during cold-weather months, it's a different beast entirely.

I have spent the better part of the last decade writing about restaurants professionally, and have picked up quite a few tips along the way. For example: check out fancy Michelin-starred dining rooms at lunch when it's cheaper, always do your research before making a reservation, and, yes, know how to dress to dine outdoors so that you stay as warm as the dishes on your table.

Stock up on the below items—consider them your outdoor dining capsule wardrobe—and you'll be dining comfortably outside in no time!
1. A statement hat
The old adage is that you lose most of your body heat through your head. So while dining with a hat on may not please your most puritanical grandmother, it's an absolute necessity if you don't want to be shivering into your bowl of pasta. It's also a must in the spring and summer to avoid those skin-damaging sun rays, especially if you're not lucky enough to grab a table beneath an umbrella or patio covering.

If you are going to slap on a cap for your open-air meal, however, at least make it a stylish one: Go for a cool beanie, sleek beret, or any other stylish headgear that looks like it's part of your outfit and not just an afterthought.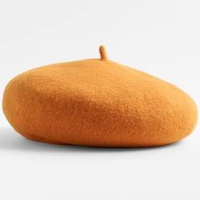 2. A "shacket"
It's a shirt, it's a jacket, it's an outdoor dining lifesaver! Available in a variety of fabrics like wool, flannel, leather, and Sherpa, the hybrid piece is more lightweight and versatile than your go-to puffer—perfect for that in-between-seasons period when you're parked right under one of those blazing outdoor heat lamp on a 60-degree night.
Plus, the lack of bulky sleeves makes cutting your food way easier—but the "shacket" is still leagues more substantial than your basic button-down. If the temperatures get to chilly levels, you can even double up on shackets or layer it with a top underneath.
3. Compression socks
Suffer from chilly toes in the winter and spring? Most people's circulation narrows in the cold-weather months, when blood flow is drawn away from your extremities and redirected to keeping your vital organs warm.

Compression socks are a handy solve in general, but especially when eating outside when you'll be seated for a few hours. To warm up your tootsies, look for a snug pair made with a merino-wool blend—we're fans of SockWell and Bombas knee-high compression socks.
4. A versatile scarf
A scarf in winter is a no-brainer, but whether warming wool or breezy cotton, it's a smart, versatile choice for any season.
However, it's not just the kind of scarf that matters for outdoor dining, but the size of the scarf. We're looking for a large, Lenny Kravitz-style scarf. Okay, maybe not that big. But the kind of oversized stole-meets-shawl outerwear that can double as a warming wrap for your shoulders and a blanket for chilly legs. Feeling luxurious? Cocoon yourself in cashmere!
5. Lined leggings
Speaking of chilly legs, pants may be the hardest part of your outfit to choose for a night of alfresco eating. If you don't want to resort to nerdy thermal underwear for those colder evenings, you can instead look cool while staying warm via lined leggings.

Look for a pair that's more elevated than your usual comfy loungewear. We're talking leggings that combine a soft, downy lining like fleece or Sherpa with a polished, ready-for-dinner exterior, like faux leather, velvet or zippered details.
6. Touchscreen gloves
When it comes to gloves, look for, one, a lightweight option that allows enough dexterity for you to handle your utensils, and two, touchscreen pads sewn onto the fingertips. That way, you won't have to remove your mitts and lose all of that much-needed warmth when you want to Instagram the beautiful plate of food in front of you!
7. And a face mask
Because, duh!
Christina Izzo is the Deputy Editor of My Imperfect Life.
More generally, she is a writer-editor covering food and drink, travel, lifestyle and culture in New York City. She was previously the Features Editor at Rachael Ray In Season and Reveal, as well as the Food & Drink Editor and chief restaurant critic at Time Out New York.
When she's not doing all that, she can probably be found eating cheese somewhere.