The best sustainable face masks for the conscious shopper
We've rounded up and tested the best sustainable face masks on the market for those wanting to stay safe and protect the environment.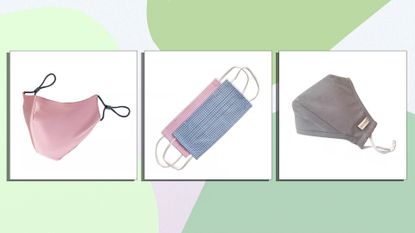 (Image credit: ThisIsSilk / Baukjen / Copper Clothing)
If you're after some of the best sustainable face masks then look no further. It's never been more important to wear your mask whenever you venture out and, if you're forgetful like us, you'll need a few – to put in your handbag, your backpack, your grocery bag, in your car, and around the house – so you've always got one to hand. If you're trying to give sustainable living a chance and are conscious of the imprint you leave on the Earth, you'll want to find a mask (or three) that you love – that really is kind to the environment.
We put these masks to the test to help you make an informed decision about which one to buy. In our testing, we were a big fan of:
Thisissilk silk face mask, for how gentle it felt on our skin. However, it's a little pricer and is hand wash only.
Celtic & Co's mask was also very soft and breathable but has the added bonus of being able to put it in the washing machine.
Stylpro is a great option for a more affordable mask.
How to choose the best sustainable face mask for you
You've already started populating your wardrobe with pieces from the best sustainable fashion brands but how about your face mask? Choosing the right sustainable mask for you varies, depending on your priorities. Some of us may be willing or able to shell out a bit more for a mask - either a prettier one or one that's better for the environment.
It's important to consider your budget before purchasing – the price of a sustainable mask can vary hugely between $13/£10 for 10 masks, or as much as $50 / £39, for a single mask. If you can, it might be worth an investment into a mask that works for you, because chances are we'll need to have a stock of masks, at hand, for a while to come.
It's also important to consider your skin type when it comes to buying a sustainable mask – especially if you have particularly sensitive or acne-prone skin or any skin conditions such as eczema. Some masks are kinder to the skin than others. It's said that gentler, more natural fabrics – such as cotton, or silk – are softer on the skin and therefore less likely to cause irritation. However, for those with less sensitive skin, a sustainable mask made of clothing production off-cuts may be perfectly fine.
Finally, if you're on the hunt for a sustainable face mask, there are other factors to consider. How face masks are made sustainable varies. Some are created from factory off-cuts – meaning no waste is left behind, while others are made from sustainable materials – which are renewable, biodegradable, and recyclable.
Whichever choice you go for, it will be better for the world than a single-use, disposable option but, these differences are something to keep in mind.
The My Imperfect Life edit
The best sustainable face masks for most people
Celtic & Co Knitted Face Masks, $41 (£26) for two
A cozy, comfortable face mask that feels very soft on your skin
Specifications
Material: 76% viscose, 12% silver, 12% elastane
Care: Machine washable and reusable
Reasons to buy
+
Incredibly soft and comfy
+
Machine washable for 30 washes
+
No uncomfortable seams
Reasons to avoid
-
Comes in one size
-
Comes in one color
-
Not for those with a bigger face
There's no doubt that this mask feels incredibly comfortable to wear – it is like wrapping up in a soft, cozy cashmere blanket. It could work fantastically for people who feel that ordinary fabric masks rub against their skin, or don't feel comfortable enough for longer wear. Made of viscose, it ticks the sustainability box very well. The cellulose in viscose makes it a natural and fully biodegradable alternative to acrylic, nylon, polyester, and other synthetic fabrics. The material certainly feels gentle and doesn't irritate the skin.
Celtic & Co state that their mask is treated with an antimicrobial solution, which they say will last for 30 washes, so it should be as protective as it's possible for a mask to be. One downside is that there's no nose clip to secure the mask, and we found it came up a little small on a larger face. But, the mask is very stretchy and so sits comfortably on your face - and it didn't feel loose at all, despite its softer material. There's also a handy opening built into the bottom of the mask, so you can insert an additional filter, for added protection. We worried that the thicker material might get hot, but we actually found the mask very breathable, even on a warmer day.
Overall, this is an uber-comfortable mask that is made of good stuff and feels kind to your skin.
The best budget sustainable face masks
StylPro Reusable Cotton Face Mask, $20 (£14.99)
A simple face mask that is soft to wear and very purse-friendly
Specifications
Material: Cotton
Care: Machine washable and reusable up to 30 times
Reasons to buy
+
Very affordable
+
Handy nose clip to adjust size
+
Soft to wear
+
Feels very secure and safe
Reasons to avoid
-
A little more rigid-feeling
-
Can get hot
Firstly, it's worth noting that the Stylpro masks are of great value. They offer three reusable masks for just $20 (£14.99), making them the most affordable of our selection. But don't worry, this doesn't mean a compromise on quality. We were keen to try the Stylpro masks, as they are made from cotton, which is recommended for those with sensitive skin. They certainly felt soft to wear – the material inside is a lot like jersey cotton, so it's not scratchy at all, and instead feels smooth on the skin.
However, for those that wear make-up, it's worth noting that the inside of the mask is white, which may mean your make-up leaves some residue marks. The mask also feels a little more rigid than the others, as there's a bigger nose clip, and it is tight-fitting. This is obviously great on the one hand, as it means there aren't a lot of gaps, which is helpful for avoiding the spread of the coronavirus. We felt super secure when we were out with it on, in a crowded place. But, the close fit did mean that it can get quite hot underneath the mask, which is something to bear in mind. That being said, this is one of the best budget masks we've tried. With a soft, comfy inner-lining that didn't aggravate our face, it's our best budget option without a doubt.
The best premium sustainable face masks
Thisissilk pure silk satin face mask, $21.90 - $34.79 (£16.99 - £26.99)
A brilliant choice for those with sensitive skin or acne
Specifications
Material: 100% pure silk, with three layers
Prices range from: $21.90 - $34.79 (£16.99 - £29.99) for two
Reasons to buy
+
Very soft
+
Huge variety of color and print
+
Great for those with skin issues
+
A little more luxury
+
Stylish
Reasons to avoid
-
More expensive
-
Needs to be hand washed
There's no doubting these silk masks look incredibly chic – so for the fashion-conscious, they are a great option. Popping the mask on, it initially felt a little loose. But pulling at the toggles on the side quickly sorted that out, and we were able to adjust them to a tight but comfortable fit.
Unlike some other masks, the Thisissilk mask feels very light on your face – our breathing didn't feel restricted at all, even after a walk at pace. The nose clip helped to secure the mask below our eyes, but one tiny gripe we had is that it didn't feel quite as tight on as some of the other masks, a slight worry when it comes to the chances of spreading infection. However, silk also has natural antibacterial properties, making it a great option for use during the pandemic. And for those who want an extra layer of protection, you can also insert an extra cotton filter into the mask (which is already made up of three layers). The mask also felt incredibly soft on the skin. The silk texture means there's no friction and no irritation – and, reassuringly for a writer who suffers from problem skin, no breakout of spots either. It was also really breathable – after a while, you almost forget it's on.
The masks come in two different forms; a pure silk satin, and a pure silk jersey, which is more like fabric. Both are equally lovely and soft, but we'd recommend treating yourself to the pure silk mask if you can, which is like bringing a little bit of luxury into your everyday errands. Silk is a hugely sustainable material, too. It is compostable and will simply biodegrade after usage, so you could even dispose of your mask with your food and garden waste when you're finished with it! However, we suspect you won't want to get rid of this one. One small downside is that the masks need to be hand-washed, which might be a little too time-consuming for some. But, this is no doubt a gorgeous mask that we reckon is worth the extra money and time, especially for those with problem skin.
The best sustainable face masks for the fashion-conscious
Baukjen Non Medical Face Masks, 2 pack for $13 (£10)
A stylish face mask that is super affordable, and feels secure
Specifications
Care: Machine washable and reusable
Reasons to buy
+
Made using cut-offs to reduce waste
+
Nose clip feels secure
+
Stylish and fun
+
Nose clip included for an adjustable fit
Reasons to avoid
-
Not the best for sensitive skin
-
Comes in different colors but you cant choose
-
One size only
Baukjen is a company that employs many sustainable practices, and these reusable masks are no exception. The masks are double-layered and are made using soft cotton leftover fabrics and cut-offs (e.g. fabric from a clothing item that might have otherwise been thrown away) which means much less waste. It's also great to know that they haven't been treated with any chemicals.
Upon testing, we found the Baukjen masks comfortable to wear, and they covered a large portion of your face, leaving us feeling very protected. They also come with a very handy nose clip, meaning you can secure them to fit on your skin, without leaving any holes around your face. The nose clip also helped to avoid some fogging of our glasses – it didn't work all the time, namely during warm weather or during a fast-paced walk, but it was helpful on some occasions, such as going shopping. This may be a mask to avoid if you have skin issues, however. The mask is nice to wear and soft to the touch, but it didn't appear to agree with our skin, causing a few spots to pop up. So it may not be the right choice for those worried about 'maskne' (mask acne). But, one huge plus is that the masks are super stylish – we especially loved the fun, colourful gingham print. They lasted very well in the wash, too.
The best sustainable face mask for glasses wearers
Copper Clothing Copper Infused Face Mask, $29.84 / £22.99
A breathable, secure option that leaves you feeling protected
Specifications
Material: Infused with copper which has anti-viral properties, and made with cotton
Care: Machine washable
Reasons to buy
+
Copper is easily recycled
+
It is also an antimicrobial
+
Comfortable
+
Comes in two sizes, S/M or M/L
Reasons to avoid
-
Hand wash only
-
Pricier for just one mask
-
One color only
At first glance, this Copper Clothing mask, which comes in chic and neutral grey color that we loved, looks just like any other mask. But inside, it is making the most of its technology. This mask has a whopping four layers of protection, with the outside layer made of copper-infused fabric. Copper fabrics (infused with copper ions) are reportedly scientifically proven to be antimicrobial – which means that they are destructive to bacteria, fungi, and viruses, and may prevent them from sticking on the mask. It's certainly comforting to know that the mask is working as hard as possible to keep you safe and healthy. Copper itself is also highly sustainable, as it can be 100% recycled. The Copper Clothing mask was very pleasant to wear and easy to breathe in, and it was easy to adjust the fit, with a very handy toggle function on the ear we hadn't seen before. We found it helpful to know that even without trying the mask on first, you can get as tight a fit as you want.
After hearing that many customers had said their Copper Clothing mask didn't fog their glasses (a common problem for the bespectacled), we were keen to test the theory. And it seems to ring true. During a walk, we found that with our Copper Clothing mask on our glasses stayed unfogged – a big tick in the box for us. The price tag is undeniably expensive for just one mask, but it's a good option for an investment mask if you look after it. Overall, MyIL found this mask to be a great sustainable option that was breathable and feels protective if a little expensive.
Amy Hunt is a lifestyle writer and editor, and was previously Lifestyle Channel Editor at womanandhome.com, having been with the brand since 2015. She is passionate about everything from entertainment to books, to homes, food and wellness. When she isn't editing, researching or writing articles, he's busy burying her nose in a gripping thriller, practising yoga, or buying new homeware.