Where is Anna Sorokin now in 2022?
Walking free or in jail, in the US or living abroad—where is Anna Sorokin now? Here's what we know about the real woman behind Netflix's 'Inventing Anna'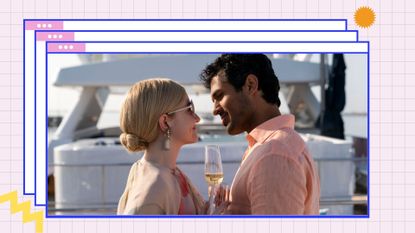 (Image credit: AARON EPSTEIN/NETFLIX)
Where is Anna Sorokin now? If you've watched Netflix's Inventing Anna, then you've probably been wondering how things really ended for the notorious scammer and where in the world she is today.
The show, created by Shona Rhimes and Shondaland, tells the true story (except the parts that are totally made up) of Anna Sorokin, a woman who was convicted on fraud charges for posing as heiress Anna Delvey and swindling her way through New York's elite.
Her persona is brought to life onscreen by Ozark star Julia Garner, who plays the titular role in the Netflix miniseries released on February 11. But where is the real woman behind the scandal now? Here's what we know...
Where is Anna Sorokin now in 2022?
Anna Sorokin was released from prison in February 2021 but six weeks later, she was taken into U.S. Immigration and Customs Enforcement (ICE) custody on a detainer. Today, now aged 31, she remains in ICE custody while she waits on the verdict on whether she will be deported to Germany.
The decision to keep her in ICE custody was made by an immigration judge in April 2021, who pointed to her active Instagram page @theAnnaDelvey, claiming that it proved she had no remorse and had not been rehabilitated. In fact, Insider reported that the judge in Bergen County jail, New Jersey, described her as a "danger to society."
The publication also released an article written by Anna herself, in which she detailed what her life looks like today.
"While the world is pondering Julia Garner's take on my accent in Inventing Anna, a Netflix show about me, the real me sits in a cell in Orange County's jail in upstate New York, in quarantine isolation," Sorokin wrote.
She has since been vocal about her experience at Rikers on her Instagram page and admitted in a video post that she's guilty of the way her actions made people feel. The post came after her New York Times interview, in which she said: "I feel sorry for the way my case is being perceived. And I feel sorry that I resorted to these actions that people think I'm glorifying now.
"I feel sorry for the choices I've made. Definitely, I don't feel like the world would be a better place if people were just trying to be more like me."
How long was Anna Sorokin in jail?
Anna Sorokin was convicted back in 2019 and served three years in her four-to-12-year sentence before being released in February 2021. She was then detained once again by ICE, where she remains in custody today.
What did Anna Sorokin do?
Anna Sorokin, who moved from Germany to New York City in 2013, was charged and convicted for using a fake identity "to swindle Manhattan's elite, gaining access to exclusive parties, nightclubs and hotels," her prosecutors said, according to ABC News.
The publication also reported that she was accused of defrauding businesses of about $275,000 over 10 months, including hotels, restaurants, banks and a private jet company.
Prior to the Netflix series, ABC released a documentary on Anna called The Sinfluencer of Soho, which aired in 2021.
Sagal is a journalist, specialising in lifestyle, pop culture, fashion and beauty. She has written for a number of publications including Vogue, Glamour, Stylist, Evening Standard, Bustle, You Magazine, Dazed and Wonderland to name a few.