Who is 'Inventing Anna' about? Everything to know about fake heiress Anna Delvey
Anna Delvey. Anna Sorokin. Whatever you call her, here's who 'Inventing Anna' is about on Netflix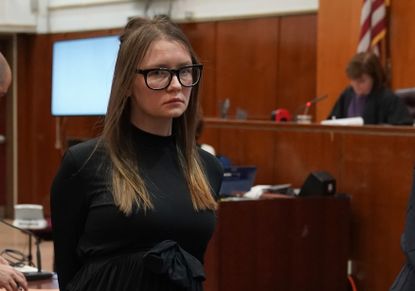 (Image credit: TIMOTHY A. CLARY / Getty)
Who is Inventing Anna about? Well isn't that the million-dollar question?
As Hollywood heist films go, scriptwriters couldn't have dreamed up a more captivating story than that of Anna Delvey. A glamorous, super-wealthy German heiress works her way into the elite high-fashion and art cliques in London and New York. A globe-trotting aspiring entrepreneur, seen in designer gear at all the best parties—but she was hiding a big secret. It was all fake.
The now-infamous figure is the subject of a new Netflix series, Inventing Anna, which premieres Friday, February 11. But before you hit play on that weekend scammer marathon you've got planned (add The Tinder Swindler, about dating-app fraud Simon Leviev, to your movie list!), let's catch up on all things Anna Delvey.
Who is 'Inventing Anna' about? Meet Anna Delvey
As we now know, the truth was that German-born Anna Delvey was really Russian-born Anna Sorokin, a con artist who defrauded her friends, associates and banks out of an estimated $275,000. In 2019, she was sent to prison for grand larceny and theft of services and sentenced to four to 12 years in jail.
That, in reality, should have been the last we heard of Sorokin. But ever since the internet-breaking true story of Sorokin emerged in 2018—the New York article "How Anna Delvey Tricked New York's Party People" by Jessica Pressler reportedly inspired the Netflix series—told by her former friend who she had conned out of $64,000, Sorokin has barely been out of the headlines, or social media, since.
The rights to her fantastical life story were quickly snapped up by Netflix, and the Shonda Rhimes-produced series Inventing Anna is due on the streaming site in February, with Ozark's Julia Garner playing Delvey.
Meanwhile, Sorokin has been released from prison after serving just three years, and she's back on social media (where she has more than 150,000 followers on Instagram, putting her up there with other popular influencers) and has announced she's writing a memoir and launching her own TV show.
Ethically, it's all very dubious ground, as she's now set to make a very healthy amount of money on the back of her criminal enterprises. As the line between reality TV and actual reality becomes even more blurred, Sorokin has now ascended to celebrity status—despite remaining remorseless for her crimes. So who is the real Anna Sorokin, and where does she go from here?
Anna Sorokin sentence and scam:
Sorokin was born to a working-class family in a town near Moscow, and moved to London as a 20-year-old, with the aim of attending Central St. Martin's fashion college. However, instead, she ended up working as an intern at Purple magazine in Paris, which is where she first created the pseudonym and alter-ego, Anna Delvey.
Two years later, she moved to New York, and claiming to have a trust fund of €60 million, attempted to set up ADF, the Anna Delvey Foundation, a members club that would contain a gallery, studios, a hotel, a bar and event spaces.
When she went for dinners at expensive restaurants or whisked friends off on luxury holidays, she would then pull the old whoops-I've-forgotten-my-purse stunt. As she had previously lavished her friends with gifts and money—she was famed for handing out $100 bill tips, according to The Cut—they figured she was good for it, so they offered to lend her the money on the condition she would pay it straight back.
Reader: she didn't. At the end of her Moroccan holiday with Rachel Deloache Williams—staying at the eye-wateringly expensive $7,000-a-night La Mamounia—Williams was forced to pick up the total bill for their stay, with Sorokin promising her: "I'll wire you $70,000, that way everything's covered."
Back in New York, Williams hounded her for her money back, but Sorokin always had an excuse for why she couldn't give it to her. She jumped around from staying at different luxury hotels and promised there was just a glitch with her bank account.
When Williams finally reported her to the New York County District Attorney's Office, they returned her call straight away, saying that Sorokin was already under investigation. It turned out she had faked documents from international banks, showing accounts with a balance of €60 million, which she then used to try and get an extraordinary $22 million (!) loan from the City National Bank for her art foundation.
She tried the same stunt at the Fortress Investment Group, which said it would consider it if she could transfer $100,000 for legal fees, which she swiftly pulled together as a loan from City National Bank. However, she kept $55,000 for herself, which is how she managed to keep up the appearance of a wealthy millionairess, bankrolling dinners and drinks at the hottest restaurants in the city and sessions at fancy spas. And as for hotels she lived in, she kept bouncing cheques for as long as it could take her, before moving accommodations yet again.
The game was finally up in 2017 when Sorokin was arrested, and during the 2019 trial, the prosecutor said Sorokin seemed to "revel at the plight of her victims" and that she "showed more concern for her attire than the emotions of those she hurt." She was sent off to Rikers Island and was released on February 11, 2021.
Where is Anna Sorokin now?
Sorokin, now 31, dealt with prison in a typically Anna Delvey kind of way. She managed to post her diaries from her time locked up, and was straight back on Instagram upon her release, talking almost deludedly about "being a movement."
Speaking with Insider, she explained that life in prison was "a huge waste of time" and added unrepentantly: "I think regret is just a useless feeling because I clearly cannot go back in time and change anything."
One thing's for sure: after her notorious rise to fame, she's desperate to stay in the public eye. She says she's going to be writing a book about her experiences in jail ("I have literally 10 boxes full of paperwork where I've been writing down my words from Rikers and Albion"), and just like every great influencer dreams of, she's pivoting to her own TV channel. She explained: "I'm just kind of filming everything I'm doing right now and I'm going to see what to do with it later...So many people are trying to tell my narrative. I just decided to do something on my own."
Describing her life as "performance art", it's hard to know where Sorokin ends and Delvey begins. Other celebrities have famously lived as their alter-egos for their art—Mother Monster (Lady Gaga), Mimi (Mariah Carey), Sasha Fierce (Beyoncé)—and it appears Sorokin has been soaking this all up, as she continues to use the name Anna Delvey, even post-conviction.
She also knows how pop culture works and has been analyzing other stars' rises to fame, such as Paris Hilton and Kim Kardashian. She recently wrote on Twitter: "Going to trial is the new sex tape." (What would Rand Gauthier from Pam & Tommy as about that?) Is she right? Possibly—it all depends on whether her audience is willing to forgive her crimes, and it seems many already have, as she's constantly lauded as "queen!" and "our icon!" on Instagram.
Whether this problematic "queen" manages to out-live her 15 minutes of fame remains to be seen—and the series Inventing Anna will surely only add to her legacy—but Anna Delvey does not want to fade back into obscurity again. The world, it appears, is just a stage for her next act.
You can stream Inventing Anna on Netflix starting on Friday, February 11.
Laura is a freelance entertainment and lifestyle journalist who writes for The Guardian, The i newspaper, Metro, BBC Culture and Grazia. She's happiest travelling the world and discovering new trends and, within reason, is willing to give most things a try. From feasting on rancid camel milk cheese in Morocco to jumping into the shimmering aquamarine cenotes of the Yucatan; it's all out there to be explored, then written about. A firm believer of Nora Ephron's mantra: "everything is copy".