Where is Squid Game based? A guide to the Korean hit's filming locations
We know it's in South Korea, but exactly where is Squid Game based? What you need to know about its filming locations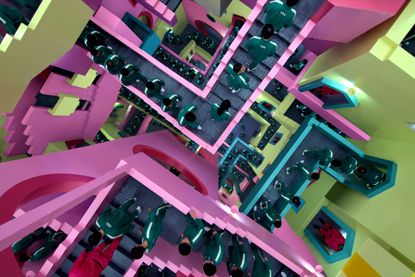 (Image credit: Netflix)
Forget Bridgerton, Money Heist, The Crown and all your other favorite Netflix originals because a new one is in town and it goes by the name of Squid Game.
The nine-episode-long Korean thriller, which was released on September 17, has quickly climbed its way to number one on the streaming platform in over 90 countries, quickly making its way to be Netflix's biggest original series ever. (Yup, it's on track to beat Bridgerton.)
The show that quietly appeared on the stream has led to lots of conversation but one of the main things that constantly comes up is how incredible the set is. That comes down to a few factors, not only where is Squid Game based but also the real-life locations where the series was filmed. But don't worry, we have all the scoop you need on Squid Game and its filming locations.
Where is Squid Game based?
The contestants of the Squid Game are shown to live mostly in Seoul, the capital city of South Korea. However, the specific island in which the game-within-a-show is set is never named on the show, but it's safe to say that it's located somewhere off the coast of South Korea. Some social media sleuths believe they've located the mysterious island: Jeju Island off the Korean coast.
@thegoogleearthguy

Share this to someone who has watched squid game! 😳 ##fyp ##viral ##thegoogleearthguy ##squidgame ##netflix ##squidgamenetflix ##googleearth ##scary ##island

♬ Pink Soldiers - 23
---
---
What are the Squid Game filming locations?
Like the setting of the show, Squid Game was actually filmed in South Korea in a city called Daejeon in the country's center. How do we know this? A lot of the series' cast members posted photos from the Squid Game set, tagging their location as Daejeon on instagram.
What do we know about Daejeon, the place where Squid Game was filmed? Daejeon is often compared to Seattle in the United States. The population of Daejeon is over 1.5 million people, making it the fifth-largest city in South Korea. It is located under an hour away from Seoul by train, and it's nicknamed "Asia's Silicon Valley" due to the high number of research universities and tech companies in the area including Samsung's and LG's research and development headquarters.
Squid Game is not the only show that has been filmed in the city of Daejeon. It has played host to a number of other films and TV shows over the years, including Train to Busan and Mr. Sunshine, as well as the Netflix film The 8th Night.
Fun fact! Considering Squid Game centers around games, you'd normally expect them to use CGI but the cast and crew have revealed that instead of CGI, they just hired some incredible set designers who made real-life studio pieces specifically built for the series. However, that doesn't mean that if you visit South Korea you wouldn't see any recognizable places!
What is Squid Game about?
Squid Game focuses on a group of people who all need money and so decide to take part in a game show that is based on children's games. If they participate in all six games and win, they have the chance to walk away with 45.6 billion Korean (approximately £30 million) but if they lose, they die.
One of the main characters who the show focuses on is Seong Gi-hun, a cash-strapped man and a gambling addict who enters the game to prevent his 10-year-old daughter from being taken away to the United States by his ex-wife and her new husband. He hopes the cash will allow him to be deemed financially stable to support his daughter and win custody, and also pay back the money he owes to various people.
If you haven't watched Squid Game yet, here's the trailer:
Liv is a freelance journalist currently studying English at university. She loves covering everything from entertainment and politics to lifestyle and travel. As well as writing for My Imperfect Life, Liv has bylines in The Times, HuffPost, Den of Geek, Bustle The Metro and The Bookseller.