Where was The Great filmed?
Hulu series The Great wasn't actually filmed in Russia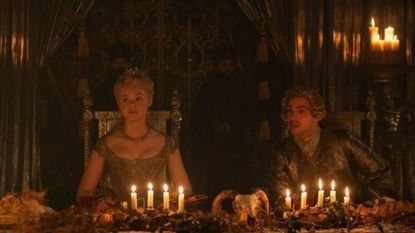 (Image credit: Channel 4)
Once you've figured out how to watch The Great no matter where you are in the world, you might be wondering where in Russia the show is filmed.
Where was The Great filmed?
The Great was filmed in several UK locations including York, Leicestershire, Lincolnshire, and Hever in Kent, as well as Caserta in Italy.
So while multiple filming locations were actually used for the new miniseries The Great, it turns out none of them are actually in Russia, where the series is set.
Upcoming actors could've got in on the action too as a UK-based paper, The York Press, published a casting call for the new series back in 2018.
At the time the paper said: "Key Casting is looking for York residents to work as background artists on an upcoming period TV drama, Catherine the Great, which will rehearse and shoot over several months at various locations around the country, including York."
Once filming began, as well as filming key scenes in the UK the cast and crew took off to Italy and the impressive Royal Palace of Caserta. As the team occupied historical apartments and the widespread gardens for five days, they filmed scenes for the show that required over a hundred extras.
Back in the UK, the wedding scene from the first episode was recorded at Hatfield House in Hertfordshire, England. Specifically, in the Old Banqueting Hall which is usually open to the public, and if you can afford it, to hire for weddings and events. The room boasts high ceilings and stunning decor, making it the ideal location for some of The Great's dramatic scenes.
In episode eight, Meatballs at the Dacha, a diplomatic meeting with the Swedish royals was filmed at Hever Castle's Loggia Terrace. The lake's loggia features a 100-year-old Nymph's Fountain inspired by the world-famous Trevi Fountain in Rome.
Some of the rooms featured in The Great are also taken from the Belvoir Castle in Leicestershire.
Since December 2020, Kudzai has worked as a trainee journalist at FUTURE, writing about fashion, entertainment and beauty content for My Imperfect Life.

Kudzai previously worked as a freelance fashion wardrobe stylist, directing magazine photoshoots and coordinating the fashion direction of recording artists.

A fully qualified Journalism and Media graduate from De Mont Fort University, Kudzai graduated in the summer of 2020.