A who's who guide to Harry and Meghan's friends in their new Netflix docuseries
A slate of Harry and Meghan's friends have appeared in their new Netflix documentary—but who exactly are they?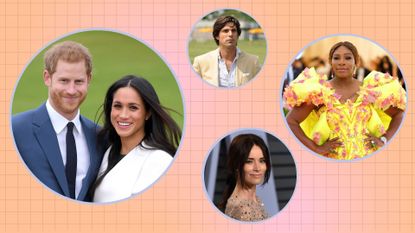 (Image credit: Getty Images: (L) Karwai Tang/WireImage/ Dimitrios Kambouris/ John Shearer/ (R) Dimitrios Kambouris)
The final installment of Harry and Meghan's Netflix documentary has just dropped—with the full six-part series giving us intimate snapshots of the couple's life. From adorable stories of their early romance to first-hand accounts from Harry and Meghan's friends. But who are all their nearest and dearest?
Throughout the show, viewers don't just get to hear the Harry and Meghan relationship timeline from the Sussexes' perspective alone, we also see a slew of the couple's friends help them tell their story. In just the first episode alone, we hear from pals from Harry's days at Eton College, a prestigious Windsor private school, and Meghan's friends from her time as a student at Northwestern University—alongside many others. Not to mention all the cameos from celeb pals like Serena William.
Their friends share insights and stories about the royal couple that most of the world has never heard before—but who actually are these people, and how did they meet Harry and Meghan?
Who are Meghan Markle's friends?
In the documentary, we hear from both friends of Prince Harry and Meghan Markle. Both shed some light on their friends' experience of their relationship—and it proves to be an incredibly interesting watch. Meghan's friends in the documentary include the below:
1. Abigail Spencer
Abigail Spencer is a friend from Meghan's days on Suits. She played Dana Scott on the show. And while her character and Meghan's—Rachel Zane—didn't have much interaction on the show, the pair clearly formed a very strong bond behind the scenes.
Abigail had a front-row seat to Harry and Meghan's 2018 wedding and was sat next to Serena Williams and her husband Alexis Ohanian. She was also right by Meghan's side during her baby shower in New York, when she was pregnant with their oldest child, Archie Harrison Mountbatten-Windsor.
During the documentary, she details how she and Meghan would often go to Bergdorf Goodman in New York City, for tea and champagne. Detailing the moment Meghan told her about her budding romance with Harry, she said, "I mean, I could just feel everything in her body vibrating. We have a photo from that moment—and in it, I was screaming because I could tell it was different."
"It was very clear from the moment she told me about him that they were in love, and that they were going to go to the ends of the Earth to be together."
2. Silver Tree
Silver is a film producer, who actually worked with Meghan on Suits. The pair haven't been seen out together often, but Silver Tree has often defended Meghan against the abuse and harassment thrown at her by the media, and social media trolls.
In fact, in 2021, she came to her defense on Twitter, sharing stories about the Duchess of Sussex's thoughtfulness—in order to counter the mass of negative media stories.
She tweeted: "When my son was going through a scary, complicated diagnosis, she is the friend who stopped everything and helped map out, step by step, how we would navigate things. She called all the people, all the places when I was too paralyzed to form a plan."
"The friend who stocks her house full of all your very favorite things when you visit and pretends she already had them-just because she wants the moment to be about you not her. It's always that way with her friends—us before her."
3. Lucy Fraser
Lucy Fraser, who is British, spoke about Meghan's "single girl summer" before meeting Harry, revealing "she had a lot of plans of going to Europe."
There isn't yet much information about who Lucy is—so it seems Meghan and Lucy have been able to keep their friendship pretty much under the radar until this point. But as soon as we know more about her, we'll be sure to let you know!
4. Lindsay Jill Roth
One of the first people to share stories in the Netflix series is Lindsay Jill Roth. A TV producer and actress, she has been a friend of the Duchess' for decades.
Lindsay and Meghan have been close since they met in a literature class during their time at Northwestern University. The pair have been pictured together numerous times throughout the years—Meghan was a bridesmaid at Lindsay's 2016 wedding, and Lindsay has also been photographed attending Wimbledon with Meghan after her marriage to Prince Harry.
In the documentary, Lindsay also shares how, the summer before she met Harry, Meghan "had a few different trips planned, and she was just going to be free."
5. Jill Smoller
Another of Meghan's friends who spoke about the early days of her romance with Harry in the documentary is Jill Smoller, an American sports agent and former professional tennis player.
So it's fitting then that Jill explains in the series that she attended Wimbledon with Meghan just a day before meeting Harry. There, she says that they both discussed dating—and one day later, she found out that Meghan was actually going on a date with "H" with next day, as he is frequently referred to in the series.
Meghan's connection to Jill may well have come about via their mutual friend Serena Williams, whom Jill counts as a client—and whom Meghan counts as a very close friend.
6. Susan Williger
In episode two, we meet Susan Williger, a childhood friend of Meghan's.
She explains: "I met Meghan in the seventh grade. We were walking into all of our new classes, and she was holding the door open, and tap dancing, and we became fast friends."
"We both spent a lot of time in leadership roles in school and volunteering. When I ran for student council, she was my campaign manager and took it so seriously."
Interestingly, she also sheds light on how "ruthless" the press was during the early days of Harry and Meghan's relationship.
She said: "They would go to my parent's home. I remember a friend had forwarded me an article where my mom was quoted. And it was like, 'Oh, Meghan is obsessed with Princess Diana'—just things that never happened and weren't true at all."
7. Heather Dorak
Heather is another of Meghan's oldest friends, with the woman herself revealing that they met almost 20 years ago when Meghan went to her Los Angeles-based pilates studio, Pilates Platinum.
The pair met in Los Angeles when Meghan was auditioning as an actress in her early 20s—which is what Heather discusses during the Netflix documentary. She said, "She [Meghan] was auditioning and getting close to roles, but not getting them. I was just so amazed and proud of her that, you fall down and you get back up. She just kept going and going."
Heather has been there for Meghan throughout some of her biggest moments over the past few years too—she attended her 2018 wedding, and also visited Harry and Meghan in Canada, immediately after the announcement that they were stepping away as senior members of the royal family.
8. Chantelle Humphrey
Also in episode two, we hear from Chantelle Humphrey, Meghan's former personal assistant from her time as an actress, before she met Prince Harry.
Sharing an insight into Meghan's time filming her show Suits in Toronto, she revealed: "Meg would go to the grocery store and get recognized. And people would say, aren't you that girl from Suits?"
But she also reflected on how "free" Meghan's life was before meeting her future husband. She said: "Other than that, she had so much freedom. She had such a beautiful life before everything exploded. It really did take a dark turn quickly."
Not much else is known about Chantelle and her life now, but it's clear that she and Meghan are still firm friends!
9. Serena Williams
Meghan's friendship with tennis legend Serena Williams is well known and documented, with the royal regularly attending Serena's matches in both New York and London, and Serena attended the royal wedding in 2018, too.
She spoke briefly about Meghan and Harry's relationship during the documentary, sharing her happiness over how "tight" the couple is.
Serena explained: 'I'm looking at it through the lens of my friend, not a princess. They as a couple are so tight. And rely on each other so much...and they are just each other's best, best friends."
10. Claire Weight Keller
Appearing in episode four, Clare Weight Keller is a British Stylist and Fashion Designer, who has worked as Artistic Director for major fashion houses like Chloé, and Givenchy.
Fans may also know her as the designer behind Meghan's elegant and breathtaking Givenchy wedding dress!
Discussing the day of the wedding, Clare said: "The Crowd. It was just literally like you were in the biggest football stadium. This massive, massive roar.
She then spoke about Meghan's dress, saying: "Looking at the design of the dress, there were many conversations we had over how you want to present yourself to the world. I mean, most of us have a wedding with you know, 70 to 200 people - this was billions of people watching this wedding. It has to be flawless, it has to be perfect."
11. Vicky tsai
Vicky Tsai, who also makes a cameo in the series, is the founder of the Japanese skincare line Tatcha.
The beauty mogul, who is listed as a friend of both Harry and Meghan shared her reaction to hearing the couple were officially dating in episode two. She said: "When I saw the headlines, I was happy for her. It looked like a fairytale."
She also made an appearance in episode four, to share her thoughts on their wedding. "It felt like a moment where the world paused and celebrated love," Vicky said, before adding, "I remember watching him look at her, and I almost started to cry and I was like 'No Vicky, don't cry!'"
12. Dhru Purohit
Podcast host and entrepreneur Drhu, appeared in episode four to share his experience as a guest at Harry and Meghan's wedding.
He revealed, that he, Oprah Winfrey, and actor Idris Elba shared a poignant moment when they heard the gospel choir.
He said: "We had this massive moment where myself, Oprah, Idris Elba and his partner, we all looked at each other for a brief moment and had a little bit of a chuckle and nobody needed to say anything because everybody knew exactly the layers of symbolism that were taking place that day. "
Who are Prince Harry's friends?
We also hear from some—but fewer—of Harry's friends throughout the documentary, including confidante's who have known him since childhood. They include:
1. Ignacio 'Nacho' Figueras
Ignacio 'Nacho' Figueras is an Argentinian polo player and has been a lifelong friend to the Duke of Sussex. The pair have regularly played polo together throughout the years, and he is even an ambassador of Sentabale, the charity Harry set up in 2006.
Nacho has often spoken out in defense of Harry and Meghan since they started dating. In the early days of their romance, he coyly confessed: "I can say that I'm very happy for him. If he's happy, I'm happy. He's a guy that I like very much and he deserves the best."
2. Nicky (from Eton)
While we're not sure of his last name at the moment, Nicky spoke about Harry in relation to his mother, Princess Diana's death during a particularly poignant moment within the documentary.
He also revealed that he and Harry went to Eton together, at the age of 13. He revealed that they were in the rooms next door to each other at the boarding school, "so we could lean out and talk after lights out."
Referencing Harry's grief over his mother, he explained that they didn't discuss much of how Harry was feeling at the time. He said: "I think as a young kid, you don't have the language to necessarily have that complicated mental health chat.
"And maybe as well, you probably veer away from having that conversation, because it's such an emotional hot potato. If you say nothing you're not, at least, making it worse."
Nicky also spoke about the couple's clear adoration for each other in episode three of the documentary, saying: "They were just so evidently really, really in love, and it just radiated out."
3. Prince Seeiso of Lesotho
Prince Seeiso Bereng Seeiso of Lesotho also features in the Harry and Meghan Netflix docuseries. Harry has spent months at a time in Lesotho, and in other parts of South Africa, including Botswana, and was supported by Prince Seeiso.
The Prince spoke of his experience with a younger, grief-stricken Harry the first time he came to Lesotho. "In the beginning he was a young man, straight from Eton, having had massive negative headlines about him," he said, of his first impressions. "I didn't know the boy, but I thought, let's see what we can do with this young man!"
Harry also shared that the pair connected over the loss of both of their mothers. He said: "His mother died shortly before I met him, so bearing in mind that we'd both lost our moms, it didn't take very long until we became like brothers."
The pair went on to form the charity Sentebale together, which supports children and adolescents with HIV.
While all the people above have spoken in the documentary, many of the people who have been there for the Duke and Duchess of Sussex over the years also featured or were mentioned in the documentary briefly. These included people like Markus Anderson—one of Meghan's closest friends, who helped to facilitate the pair's first date at Soho House, where is he the global membership director.
The couple also referenced Princess Eugenie and her husband Jack Brooksbank when talking about a Halloween party they attended before news of their relationship got out. And, in one scene, Meghan is seen getting her make-up done by make-up artist Daniel Martin, who she explains has been with her for 10 years—and who even did her make-up for the royal wedding.
The first three-episode volume of Harry & Meghan is now streaming on Netflix.
Amy Hunt is a lifestyle writer and editor, and was previously Lifestyle Channel Editor at womanandhome.com, having been with the brand since 2015. She is passionate about everything from entertainment to books, to homes, food and wellness. When she isn't editing, researching or writing articles, he's busy burying her nose in a gripping thriller, practising yoga, or buying new homeware.