How did Harry and Meghan meet? Get an inside look at their complete relationship timeline
So, how did Harry and Meghan meet? Hint: Snapchat filters were involved!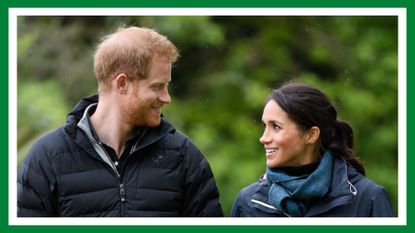 (Image credit: Pool/Samir Hussein/WireImage)
How did Harry and Meghan meet? The Duke and Duchess of Sussex might be one of the most well-known couples in the entire world, but the details of their union were somewhat elusive...until now.
The Harry and Meghan Netflix series, which dropped its first three episodes on December 8, is looking to change the narrative. From behind-the-scenes footage to interviews with the Duke and Duchess themselves, viewers are treated to an up-close-and-personal look at everything they've been through since they met in 2016—from their long distance relationship days, to their engagement, wedding and ultimately, their decision to step down from their royal duties.
Arguably one of their most vulnerable and intimate projects yet, the first three episodes shocked some of us with their interesting revelations and insight from the couple's friends, but of course, they made for some divisive reactions across the internet, and the world. (Still no word from the Royal Family as of yet.)
If you're curious how it all unraveled between Prince Harry and the Suits actor, read on. The first three episodes of Harry & Meghan are available for streaming on Netflix, and the final episodes will be released on December 15.
How did Harry and Meghan meet?
In 2016, Prince Harry, then 32, and Meghan Markle, then 35, met through social media. Yes, friends, there's a Prince Harry Instagram account we never knew about. After coming across a photo of Meghan in a Snapchat filter with dog ears, Prince Harry confessed in the doc, "I was like, 'Who's that?!'"
The couple has been very coy about the friend who introduced them digitally, but some savvy internet sleuthing suggests that it was likely Misha Nonoo, a US-based fashion designer.
At the time, Harry was a senior working royal while Meghan was an actor working on the USA Network legal drama, Suits. (Curious about her other on-screen roles? Check out our guide to all of the Meghan Markle movies and TV shows you should put on your radar.)
Despite the distance between the two, they didn't let that affect their decision to grab a drink.
When did Harry and Meghan get married?
Prince Harry and Duchess Meghan tied the knot back in May 2018 at St. George's Chapel in Windsor. The wedding came six months after their engagement was announced in November 2017.
So how exactly did this whirlwind romance come to be? Allow us to provide all the details: from FaceTime chats to dressing up incognito at parties.
The complete Harry and Meghan relationship timeline
1. Prince Harry sees Meghan on Instagram
After Prince Harry came across Ms. Markle in her adorable canine Snapchat filter, the wheels began to turn.
He then messaged their mutual friend asking about her, who in turn got in touch with Meghan and said that Prince Haz was interested in meeting. After clearing who Prince Haz actually was, Meghan then asked the friend for his Instagram profile and had a scroll herself. (She admits on camera to doing a little bit of "homework" on her suitor, which is incredibly relatable...even though most of us are not matched with a prince.)
Meghan admits that she loved Prince Harry's Instagram page, which was full of beautiful nature photographs and references to his humanitarian efforts. The two then started to message each other and arranged their first date a couple of days later.
2. Prince Harry and Meghan Markle meet in London
Prince Harry and Meghan Markle went on their first date in London at the members' club Soho House 76 Dean Street, where they could enjoy a private dinner and drinks away from prying eyes.
In the Netflix series, Meghan revealed that Prince Harry was actually late to their first date by about 30 minutes, which is definitely not a good way to kick things off. Fortunately, a flustered and apologetic Prince Harry managed to redeem himself, so much so that Meghan reached out after their first date to meet again before she left the country.
Meghan said, "We went and had met for a drink, and then I think very quickly into that we said, 'Well what are we doing tomorrow? We should meet again.'"
Although the two weren't terribly familiar with one another before meeting, it ended up working out to their advantages. (If you ask astrologers, the Meghan Markle birth chart revelations indicate that she and Prince Harry are a perfect match.)
"I'd never watched Suits. I'd never heard of Meghan before," Harry confessed. "And I was beautifully surprised when I walked into that room and saw her. There she was sitting there, I was like, 'OK, well, I'm really gonna have to up my game!'"
The rest, as they say, is history!
3. Prince Harry and Meghan Markle go abroad
Harry and Meghan went on a second date in London before the Duke took a shot and invited the Suits actress to accompany him on a trip to Botswana, Africa, just weeks after they first met.
Paparazzi photos were taken of the couple boarding a plane around the time of Meghan's birthday in August 2016, and they confirmed during their engagement interview that they had enjoyed a really private holiday.
Harry said, "I managed to persuade her to come and join me in Botswana, and we camped out with each other under the stars. We were really by ourselves—which was crucial to me to make sure that we had a chance to really get to know each other."
4. The world finds out about their relationship
After months of dating in private, Harry and Meghan's relationship was finally revealed to the world via a story in the Sunday Express at the end of October 2016. At the time, it was reported to have been leaked by someone inside the royal household.
Interestingly, on the very same day, Meghan posted a cute pic to her socials—back when she had them—of two bananas spooning. Was this her subtle way of acknowledging their newfound romance? Guess it's safe to say we might never know the answer.
5. Harry defends Meghan in a statement
The Prince issued a statement in November 2016, both confirming his relationship with Meghan and asking for an end to the "abuse and harassment" that his girlfriend had received since confirmation of the news that they were dating.
In the statement, Harry said, "Some of [the harassment] has been very public—the smear on the front page of a national newspaper; the racial undertones of comment pieces; and the outright sexism and racism of social media trolls and web article comments."
The statement continued, "Prince Harry is worried about Ms. Markle's safety and is deeply disappointed that he has not been able to protect her. It is not right that a few months into a relationship with him that Ms. Markle should be subjected to such a storm.
"He knows commentators will say this is 'the price she has to pay' and that 'this is all part of the game'. He strongly disagrees. This is not a game—it is her life and his."
6. The couple is in a long distance relationship
In late 2016 and early 2017, the couple was spotted numerous times in the UK capital and abroad, clearly keen to continue their long-distance relationship. At this time, Meghan was still living largely in Toronto where she was filming Suits, while Harry was based at Nottingham Cottage in Kensington Palace, London.
It became clear that they were making big efforts to regularly see one another, as they were seen picking out a Christmas tree together near Kensington Palace in December 2016. And around the same time, they were pictured enjoying a date night in London's West End, holding hands as they headed to see a stage production of The Curious Incident of the Dog in the Nighttime. The even returned to the scene of their first date, Soho House, before heading on a trip abroad to Norway.
In the doc, we hear Meghan recount a double date with the Duke and Duchess of Cambridge, saying, "Even when Will and Kate came over and I'd met her for the first time, they came over for dinner, " she said. "I remember I was in ripped jeans and I was barefoot."
She did claim, however, that the two were a bit taken aback by her hugging.
"I didn't realize that that is really jarring for a lot of Brits," she said. "I guess I started to understand very quickly that the formality on the outside carried through on the inside."
Harry also met Meghan's beloved mother, Doria Ragland. But during their engagement interview, the couple confessed that Harry hadn't yet had a chance to meet Meghan's now-estranged father, Thomas Markle. And as of 2022, following Meghan's very public rift with her him, it is unclear whether Harry has ever met his father-in-law.
7. The couple heads to Jamaica
In another big relationship milestone, the soon-to-be Duke and Duchess of Sussex were spotted heading to a wedding together in Montego Bay, Jamaica, in March 2017. It was the wedding of Tom "Skippy" Inskip, one of Harry's closest childhood friends, and he brought Meghan along as his plus one to the ultra-luxurious beachside event—further indicating how serious he was about her.
8. Meghan and Harry make their first unofficial public appearance
While the couple had purposely hidden from view, they decided to make their first (unofficial) public appearance as a couple at the Audi Polo Challenge in Ascot, England. A keen polo player, Harry played as part of a team, while Meghan was seen adorably cheering her boyfriend on from the stands.
The couple had, of course, been seen in public before this point, but attending society event where they were well aware that there would be cameras suggested a change in their relationship.
9. Meghan does an interview with 'Vanity Fair'
In September 2017, Meghan decided to take a big step, and took part in a Vanity Fair cover interview, openly discussing her relationship with the prince for the very first time.
The couple had been together for just over a year at this point, but the actress couldn't help gushing about how happy she was over the course of the interview—though she did so without revealing anything too personal.
She said, "We're two people who are really happy and in love. We were very quietly dating for about six months before it became news, and I was working during that whole time, and the only thing that changed was people's perception."
10. The pair attends the Invictus Games together
On September 25, 2017, Meghan joined her boyfriend at the Invictus Games—which Prince Harry himself founded—in Toronto, where they walked hand-in-hand, and both sat front row at the games' wheelchair tennis event.
Meghan also attended the opening ceremony of the Games, though the couple wasn't sat next to each other for the event. Harry sat next to the former president's wife Melania Trump, while Meghan took her seat next to Markus Anderson, one of her closest friends and global membership director for Soho House—yes, the same Soho House where they had their first date!
11. Prince Harry and Meghan Markle get engaged
On November 27, 2017, a little over a year and a half after they started dating, Prince Harry and Meghan Markle announced their engagement news to the world.
The two lovebirds shared the news through the official royal channels, before stepping out for a quick photo call (and to show off that stunning ring) on the grounds of their home, Kensington Palace.
In their interview with the BBC, Harry explained: "It happened a few weeks ago, earlier this month, here at our cottage; just a standard typical night for us." Meghan expanded, saying: "We were trying to roast a chicken and it just—it was just an amazing surprise. It was so sweet and natural and very romantic. He got on one knee."
And, when asked whether it was an instant yes for Meghan, she confessed: "Yes, as a matter of fact, I could barely let [Harry] finish proposing. I said, 'Can I say yes now?'"
12. Prince Harry and Meghan Markle get married
It's likely that everyone remembers the iconic day when, just seven months after getting engaged, the couple officially tied the knot in a huge royal wedding at St. George's Chapel, Windsor Castle on May 19, 2018.
Meghan wore a dress designed by Clare Waight Keller, who was artistic director at Givenchy at the time, while Harry wore his ceremonial army uniform.
The couple's ceremony took place in the chapel before they took a carriage ride through the streets of Windsor in order to thank and greet the public waiting to congratulate them. Then, the newlyweds returned to the castle grounds for their evening reception at Frogmore House—where they enjoyed food, drinks, dancing, fireworks and speeches from loved ones. Meghan herself is even said to have delivered a touching speech.
13. Meghan Markle is pregnant
Just six months later, in October 2018, the newly-crowned Duke and Duchess of Sussex announced in a short statement that they were expecting their first child.
Kensington Palace officially announced the news on the day they arrived in Australia for their first official royal tour.
The statement read: "Their Royal Highnesses The Duke and Duchess of Sussex are very pleased to announce that The Duchess of Sussex is expecting a baby in the Spring of 2019."
The message continued, "Their Royal Highnesses have appreciated all of the support they have received from people around the world since their wedding in May and are delighted to be able to share this happy news with the public."
Their son, Archie Harrison Mountbatten-Windsor, was born on May 6, 2019, at The Portland Hospital in London, and the couple debuted him to the world a couple of days later at Windsor Castle.
14. Meghan and Harry move to Frogmore Cottage
Just a month before Archie was born, the Sussexes were already going through a big upheaval, moving from their two-bedroom Nottingham Cottage home at Kensington Palace to a ten-bedroom house on the Windsor Estate: Frogmore Cottage.
The property underwent many renovations before the couple moved in order to make it fit for a Duke and Duchess, as it had sat empty for years before the couple's arrival. They moved into the property just weeks before welcoming their first child, and the family settled at Frogmore—just minutes from the Queen and Prince Philip—during the first few months of Archie's life.
15. Prince Harry and Meghan Markle leave the Royal Family
For the first few months of Archie's life, everything appeared to be going swimmingly for the Sussex family. But everything changed when, in January 2020, Meghan and Harry announced that they would be "stepping back" as senior members of the Royal Family, and would be making their own money whilst splitting time between North America and the United Kingdom.
On their Instagram, they shared a statement: "After many months of reflection and internal discussions, we have chosen to make a transition this year... We intend to step back as 'senior' members of the Royal Family and work to become financially independent, while continuing to fully support Her Majesty The Queen."
The couple was given a 12-month grace period during which either the royals or Meghan and Harry could undo the decision—but both decided not to, and in February 2021 the couple officially "left" the Royal Family.
Since late 2019, the couple had been living in British Columbia, Canada, as they retreated from the glare of the media spotlight. And in March 2020, they made the official move to Los Angeles, where Meghan grew up. To begin with, they were living in a house they'd rented from director-actor Tyler Perry, before finally relocating to Montecito in Santa Barbara, where they bought their first family home outside of the Royal Family.
16. Meghan Markle is pregnant with her second child
After adjusting to life outside the Royal Family and in the sunnier climes of Los Angeles, Harry and Meghan announced on Valentine's Day 2021 that they were expecting their second child—a baby girl.
Meghan gave birth on June 4, 2021, in a Santa Barbara hospital, making the Sussex clan an adorable family of four.
---
Since leaving the Royal Family, the Duke and Duchess of Sussex have been incredibly busy—establishing their various businesses, adjusting to life outside of the institution, dealing with family turmoil and, of course, the passing of Queen Elizabeth II.
Various controversies and difficulties have tainted the couple's relationship, some of which they shared during their interview with Oprah in March 2021, such as tensions with the Royal Family, racism, death threats and Meghan's own mental health struggles.
Now, shortly after the release of their Netflix doc, Spare, Prince Harry's tell-all memoir, will hit shelves in the new year. We should expect more creative projects from the couple as well, as the couple's multi-year deal with the streamer asks that they produce documentaries, features, children's programs and other projects under their brand, Archwell Productions. (Here's how much Netflix paid Harry and Meghan if you're curious.)
Though we're not sure what to expect after the Netflix doc and Spare, one thing's for sure: the world will be watching.
Amy Hunt is a lifestyle writer and editor, and was previously Lifestyle Channel Editor at womanandhome.com, having been with the brand since 2015. She is passionate about everything from entertainment to books, to homes, food and wellness. When she isn't editing, researching or writing articles, he's busy burying her nose in a gripping thriller, practising yoga, or buying new homeware.