Who are the celebrities on 'Celebrity Drag Race'? Spoilers ahead!
Season 2 is all about surprises, but have you guessed who are the celebrities on 'Celebrity Drag Race' already?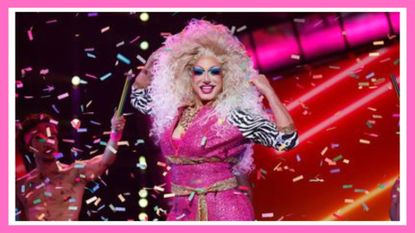 (Image credit: VH1)
Another day, another Drag Race season to watch!
Only a few weeks after RuPaul's Drag Race All Stars 7 ended, RuPaul's Secret Celebrity Drag Race season 2 debuted on VH1 on Friday, August 12, and fans of the series may have noticed that things look a bit different this time around: for one, Mama Ru has traded in the usual Drag Race workroom for a live stage in front of a studio audience and has also added the element of surprise to the show's sophomore season.
Nine celebrity performers will compete each week in a classic lip-sync smackdown, but their identities will be hidden The Masked Singer-style—thanks to copious amounts of wigs, liquid foundation and Elmer's Glue—from both the audience and the judges' panel, which includes the usual lineup of RuPaul, Michelle Visage, Carson Kressley and Ross Matthews. One performer will be eliminated each week and it's only then that the world will find out who is behind all of that makeup and masquerading.
At least, that's the intended conceit. But after the first episode, during which we've already had to say goodbye to one celebrity contestant, viewers have seemingly figured out which famous folks are part of the Secret Celebrity Drag Race season 2 cast.
*Warning: spoilers ahead!*
Who are the celebrities on 'Celebrity Drag Race'?
Well, we know three for sure: the first eliminated contestant from RuPaul's Secret Celebrity Drag Race season 2 was Loretta Devine, an actress-singer known for her roles on stage (she was one of the original Dreamgirls!) and screen, including Waiting to Exhale, Crash and Grey's Anatomy. Devine performed under the drag name "Fabulosity," lip-synching to Mary J. Blige's "Just Fine," but was unfortunately told to "sashay away" by Ru in week one.
During week two, '80s pop star Taylor Dayne—behind dance hits like "Tell It to My Heart"—was knocked out of the competition after a less-than-fabulous performance of "Last Dance" as her drag alter-ego, "Electra Owl."
In episode three, judge Carson Kressley got quite a shock when he, and the rest of the world, discovered that this week's departing contestant, the Lizzo-loving "Jackie Would," is his former Queer Eye costar Thom Filicia. "You're one of my favorite men in the entire world, and now you're one of my favorite women too!" Carson joked after the elimination.
And on last Friday's episode, fans had to say goodbye to Milli von Sunshine, a.k.a. Glee actor Jenna Ushkowitz, who had been mentored by Drag Race contestants Gottmik and Jujubee throughout the episode but, alas, still got knocked out during a lip-sync battle against fellow competitor Thirsty von Trap to Kelly Clarkson's "My Life Would Suck Without You."
While the other contestants have obviously not been announced just yet on the show, viewers (including this writer) have made educated guesses on who the rest of the cast could be. (Again, spoilers are very much ahead!)
AC McLean of The Backstreet Boys, performing as "Poppy Love"
Kevin McHale of Glee fame, performing as
Tatyana Ali from The Fresh Prince of Bel-Air, performing as "Chakra 7"
Daniel Franzese, a.k.a. Damian from Mean Girls, performing as "Donna Bellisima"
Taylor Dayne, dance-pop icon behind songs like "Tell It To My Heart," performing as "Electra Owl"
Thom Filicia from the original Queer Eye cast, performing as "Jackie Would"
Mark Indelicato, from Hacks and Ugly Betty, performing as "Thirsty Von Trapp"
Jenna Ushkowitz, McHale's Glee castmate, performing as "Milli Von Sunshine"
Fans were quick to figure out who the celebrity contestants were during the series premiere, some based on voice alone:
KEVIN MCHALE I KNOW THATS YOU ON RU PAUL SECRET CELEBRITY DRAG RACE I KNOW YOUR VOICEAugust 13, 2022
See more
We know this one is Loretta Devine on RuPaul's Secret Celebrity Drag Race! I know that voice anywhere! #SecretCelebrityDragRaceAugust 13, 2022
See more
Ok first contestant on "Secret" Celebrity Drag Race is very obviously AJ McLean. They're not even trying to hide. Kudos to him for doing this though.August 13, 2022
See more
They might as well delete the word "secret" and just make it Celebrity Drag Race. #SecretCelebrityDragRace pic.twitter.com/UbCmUWeHbmAugust 14, 2022
See more
Where to watch 'Secret Celebrity Drag Race'?
Those located stateside can watch RuPaul's Secret Celebrity Drag Race season 2 on VH1 every Friday night at 8pm Eastern. However, it is possible to take in all of the lip-sync liveliness outside of the United States with the help of a VPN.
A VPN is a handy piece of software that allows you to browse anonymously and change your IP address so your mobile, computer, or laptop thinks it's in another location. That means you can watch your favorite show, film or televised event—even if you're away from home.
Our favorite VPN service is ExpressVPN (opens in new tab), rated the best VPN (opens in new tab) in the world right now, by our colleagues at TechRadar. All Drag Race fans abroad have to do is turn on their VPN, set their location to America, and then they can view Secret Celebrity Drag Race each Friday night on VH1 or using the VH1 app.
Christina Izzo is the Deputy Editor of My Imperfect Life.
More generally, she is a writer-editor covering food and drink, travel, lifestyle and culture in New York City. She was previously the Features Editor at Rachael Ray In Season and Reveal, as well as the Food & Drink Editor and chief restaurant critic at Time Out New York.
When she's not doing all that, she can probably be found eating cheese somewhere.