Who is Casey Hammer? Armie's aunt tells all in 'House of Hammer'
'Magnify Succession a million times, and it was my family,' Casey Hammer says in the docuseries 'House of Hammer'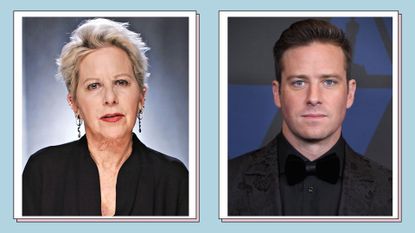 (Image credit: Discovery+; Steve Granitz/WireImage)
You likely know of Armie Hammer, but who is Casey Hammer?
Following years of sexual scandal and abuse allegations, the beleaguered Hollywood actor is the subject of a three-part docuseries, House of Hammer, which premiered on Friday, September 2 on Discovery+. The Armie Hammer documentary not only delves into the star's fall from grace but also the "dark secrets" of his hyper-wealthy oil-tycoon family.
Along with the actor's alleged victims, like ex Courtney Vucekovich, one actual member of the Hammer clan, Armie Hammer's aunt Casey, contributed directly to the doc—and it's not the first time she's gone against the family.
Of her involvement in the documentary, Casey told Entertainment Weekly: "I didn't want to be a soundbite for [Armie's] implosion. That's not what I wanted to speak to. I wanted to talk about the victims. That was the true spotlight of everything. I wanted to be an advocate for their healing," she said. "It's sad because you're isolated, you're blamed, you're shamed, you're all kinds of crazy things, especially when it's a powerful, famous, wealthy family. It's scary."
"As shocking as what he's doing right now, there's a generational pattern that's been in play for a very long time and that no one took notice of," Casey told The Daily Beast. "It just didn't start there—it goes way back."

So before you binge the docuseries and delve into all that Hammer family history, here's what we know about Casey Hammer and what she reveals in House of Hammer.
Who is Casey Hammer? Meet Armie's aunt
Born Casey Layne Hammer, the 62-year-old native Californian is the sister of actor Armie Hammer's father, businessman Michael Armand Hammer, and the only granddaughter of industrialist and philanthropist Armand Hammer.
Casey, who works as a kitchen designer at a Home Depot in San Diego, California, per Deadline is estranged from the Hammer family. As Vanity Fair reports, she sued Armand Hammer's estate over an inheritance dispute and settled for $1.4 million.
What does Casey Hammer reveal in 'House of Hammer'?
"When all this came out about Armie, I was not shocked. You just don't wake up and become this dark controller, abuser. This behavior, it's deep-rooted," Casey Hammer says in the trailer of House of Hammer. "On the outside, we were a perfect family. But magnify Succession a million times, and it was my family." Along with a sitdown interview, Casey tapped into her personal archive for the limited series, offering up family photos and footage to the filmmakers.
"For the first time, Casey Hammer will tell not just her story, but the definitive family history, leaving no stone unturned," directors Elli Hakami and Julian P. Hobbs told Deadline. "With new unfolding revelations and present-day consequences, this mini-series will provide audiences with a riveting journey into a family where reputation is everything and where things are never how they appear."
"If you believe about making deals with the devil, the Hammers are top of the totem poll," Casey says in the doc. "I know my grandfather had a dark side, but I saw my father's dark side firsthand. And I've seen my brother's dark side. It was like a monster unleashed. Now it's Armie Hammer. Every generation in my family has been involved in dark misdeeds, and it just gets worse and worse and worse."
"I've let the Hammers control me my whole life," Casey adds. "It's time to stop. I refuse to be silenced. My name is Casey Hammer and I'm about to reveal the dark twisted secrets of the Hammer family."
Casey Hammer book: 'Surviving My Birthright'
In 2015, Casey Hammer self-published a memoir entitled Surviving My Birthright, in which she recounts "many years of blocked memories, violence, nightmares, hazardous behavior, guilt and feeling unworthy of joy or happiness" and chronicles her upbringing in the billionaire family, a lineage plagued by money laundering, mistresses and even murder.
In the book, she unveils troubling allegations, including that her father Julian sexually abused her when she was a child and was abusive to other members of the family. Hammer is reportedly working on a sequel, Hammertime: Surviving & Thriving.
All three parts of House of Hammer are now available on Discovery+.
Christina Izzo is the Deputy Editor of My Imperfect Life.
More generally, she is a writer-editor covering food and drink, travel, lifestyle and culture in New York City. She was previously the Features Editor at Rachael Ray In Season and Reveal, as well as the Food & Drink Editor and chief restaurant critic at Time Out New York.
When she's not doing all that, she can probably be found eating cheese somewhere.