Who is Courtney Vucekovich? Armie Hammer ex tells all in new doc
Armie's ex-girlfriend and alleged victim Courtney Vucekovich is prominently featured in the new 'House of Hammer' doc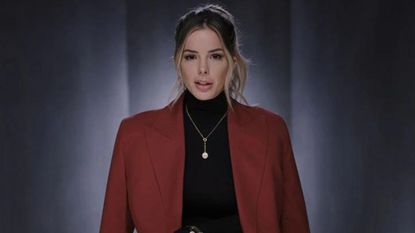 (Image credit: Discovery+)
Since September 2, all eyes have been glued to the Armie Hammer documentary, House of Hammer, a Discovery+ docuseries that detailed the disturbing allegations that came to light against the Hollywood star last year after explicitly sexual and at times violent messages purportedly from the actor went viral on social media.
While some of Armie Hammer's previous romantic partners and alleged victims opted out of being featured in the docuseries, like content creator Paige Lorenze, ex-girlfriend Courtney Vucekovich is prominently featured in the project, joining Armie's aunt Casey Hammer and other individuals to delve into their experiences with the disgraced actor.
"I would love to paint a picture of the red flags that I saw and what happened in order for me to get in the mindset where I was almost fully controlled by somebody. I had lost my entire sense of self. You're his. Completely," Vucekovich says in the doc.
But who is Courtney Vucekovich and what did she reveal about her relationship with Hammer in the documentary? Here's what we know.
Who is Courtney Vucekovich?
Courtney Vucekovich is an app developer and social media influencer living in Dallas, Texas. She studied mass communications at Texas Tech University and graduated in 2011.
She is the CEO and founder of FLASHD app, "your on-demand personal glam squad for hair, makeup and photography in DFW" (a.k.a. Dallas-Fort Worth). Launched in 2018, the app connects Texas-based users with "heavily vetted beauty professionals" for beauty and grooming services "whenever, wherever."
Courtney Vucekovich age: how old is she?
Born on May 22, 1990, Courtney Vucekovich is currently 32 years old. She is a Gemini.
How long did Armie Hammer and Courtney Vucekovich date?
*Trigger warning ahead*
In the first episode of the three-part docuseries, entitled "Love Bomb," Vucekovich chronicles how she first met the Call Me By Your Name actor at a bar in 2019. After casually following each other on Instagram for a few months, Hammer slid into her DMs in June 2020—he and his wife of a decade, Elizabeth Chambers, publicly separated in July 2020, but Hammer told Vucekovich they had been separated for almost two years and were living in different cities.
The romance progressed quickly with Hammer revealing "intimate details about his parents, family secrets," and the two spending every day together. "He enters your life in such a big way. He's such a captivating person. He has such a presence and he's aware of that and he uses it in such a way that most women would think, 'Oh my gosh, this is amazing,' but especially young women, that's kind of the scary part — how good he is at active manipulation and making you feel like he's never felt this way about anybody," Vucekovich told Page Six.
"He quickly grooms you in the relationship," she explained. "He kind of captivates you and while being charming, he's grooming you for these things that are darker and heavier and consuming. When I say consuming, I mean mentally, physically, emotionally, financially, just everything," she told the outlet.
Hammer began to introduce BDSM play and Shibari (Japanese rope bondage) into the relationship. Of a deep bite mark that Hammer allegedly gave her on her shoulder, Vucekovich says in the doc: "I was interpreting that as love. Looking at it now makes me sick." Vucekovich also told Page Six about cannibalistic references the actor allegedly made throughout their relationship. "He said to me he wants to break my rib and barbecue and eat it," she told the outlet. "He says, 'I want to take a bite out of you.' If I had a little cut on my hand, he'd like suck it or lick it. That's about as weird as we got."
However, one sexual encounter with bondage at a hotel in Sedona, Arizona, left Vucekovich particularly shaken. "It was something that has never been done to me...it's very degrading and very belittling. I don't like to put it out there."
"That scenario in Sedona, I really started to kind of unravel, it didn't sit well with me," Vucekovich revealed in episode one of the docuseries. "But then it's followed up with him pulling me even closer, and being like, 'I want you to meet my mom.' Which is huge to me. I think that's a really big deal. I'm just clinging to little things to make this okay."
The rope encounter happened three days before Hammer took Vucekovich to meet his mother. "But at that point, it was like a Band-Aid on a bullet wound. Too much had happened. We broke up two days after meeting his mom," in September 2020, she revealed.
House of Hammer is available for streaming on Discovery+ starting Friday, September 2.
Christina Izzo is the Deputy Editor of My Imperfect Life.
More generally, she is a writer-editor covering food and drink, travel, lifestyle and culture in New York City. She was previously the Features Editor at Rachael Ray In Season and Reveal, as well as the Food & Drink Editor and chief restaurant critic at Time Out New York.
When she's not doing all that, she can probably be found eating cheese somewhere.