Who is Joelah Noble? What we know about the dating show host
If you've seen Joelah Noble around and want to know more about the rising TV star, you're not alone—we've got the lowdown on her...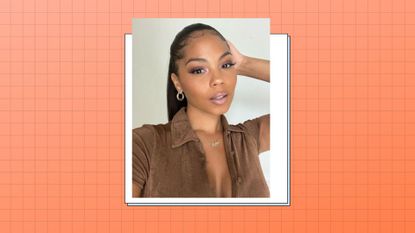 (Image credit: Instagram)
She is the up-and-coming TV star of the moment—but who is Joelah Noble? You're in the right place to find out.
The presenter has bagged her biggest job to date—fronting a dating show for MTV that is poised to fill the Love Island 2022 gap in your life—after coming to wider prominence covering the recent success of England's Lionesses. However, there's much more to her career than football.
Read on to find out what else the broadcaster has hosted, as well as her age, if she has Instagram and how she first rose to fame...
Who is Joelah Noble?
Joelah Noble is best known as a presenter. She was born in south London, but was raised in Brooklyn, New York—before deciding to establish roots back in the British capital.
While Joelah has now reached the heights of MTV, her career had more humble beginnings, with a presenting role for Carphone Warehouse. Next, she fronted content for GRM Daily and hosted their Rated Awards in front of 100,000 viewers in 2017. She has also worked on Amazon Prime's Kitchen Table Face Off.
As well as time in front of the camera, Joelah has also delved into radio. The star hosts a weekly show on Rinse FM, where she conducts interviews with new music talent and plays everything from grime to hip hop and soul. She also occasionally covers Richie Brave on BBC 1Xtra Talks on Sunday evenings.
Joelah Noble age
Joelah has packed an impressive amount into her career already, and we can't wait to see her next steps.
While you may be curious about her age, it is not yet publicly known.
Joelah Noble Instagram—how to follow her
Joelah can be found on Instagram at @joelahnoble, where she already has a whopping 34,000 followers.
The star keeps her fans up-to-date with her presenting jobs as well as workout routine and new fashion purchases. She also shows off collaborations with big brands including Nike, The North Face, Adidas and Puma.
Joelah Noble football show—her time with England's Lionesses
Joelah's presenting remit has covered everything from music to food—however she has found her feet in sports coverage, and particularly football.
This includes fronting the Premier League's digital series Uncut. In August 2021, she told GLAMOUR magazine that she had initially been hesitant to take up the role, explaining: "I knew that it would be a good opportunity, but I just thought, 'I don't know this stuff, I don't know these people'. They knew I didn't know that, but they still wanted me. The next year, I agreed to do something else with football, then the offer returned and here I am."
Joelah was also a presenter during the 2021 Euros for the Lions Den's football highlights shows alongside former Love Island star Josh Denzel. However, she recently came to greater prominence as the Lionesses Live host during England's victorious journey at the UEFA Women's Championship.
Joelah Noble dating show
Last month, Joelah announced on Instagram that she was to host a new dating show for MTV called Are You The One?. Of her exciting new role, she wrote: "We filmed this last year so it's been the hardest thing for me to keep secret as it's genuinely a dream come true."
It features 20 singletons living together in a luxurious property as they try to find the other contestant who has been identified as their scientific 'perfect match'. All ten pairs need to discover each other by the end of the series in order for a huge cash prize to be unlocked.
The first episode of the show, which has appeared in the US for eight seasons already, aired on MTV and Paramount+ at 10pm on Monday, August 8th.
Lauren is a freelance writer and editor with more than six years of digital and magazine experience. Most recently, she has been the Acting Commissioning Editor of Women's Health—where she co-produced the Going For Goal podcast—and has previously also written news and features for titles including The Telegraph, Grazia, Stylist, Dazed, The Sun's Fabulous, Yahoo Style UK and Get The Gloss. She covers all aspects of lifestyle, specializing in health, beauty, and travel. Can't live without: oat milk lattes, new podcast episodes, long walks, and great skincare.