Who is Mimi Keene? Meet the breakout star of 'Sex Education' season 3
Want to know more about Mimi Keene? Get to know the actress behind the 'Sex Education' queen bee, Ruby Matthews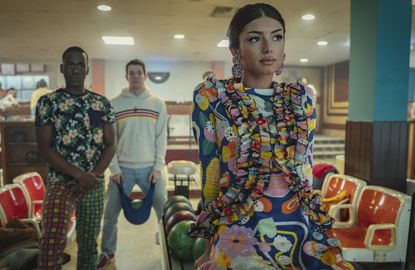 (Image credit: Sam Taylor/NETFLIX)
With the launch of Sex Education season 3, fans are desperate to know more about the actors playing their favorite characters, especially Mimi Keene, a.k.a. the actress behind Moordale Secondary's resident queen bee and leader of the "Untouchables" clique, Ruby Matthews.

One of the most popular pupils at the school alongside her friends Olivia and Anwar, Ruby Matthews comes to the center of Sex Education this season as she enters a high-profile new relationship. And Mimi Keene more than rises to the occasion, being no stranger to starring on a hit show.

But what do we really know about the actress? Let's get into it!
---
---
Who is Mimi Keene?
Mimi Keene is an English actress who attended the performing arts educational institution Italia Conti Academy of Theatre Arts in London between the years of 2009 and 2014.
Mimi Keene age: How old is she?
Born on August 5, 1998, Mimi Keene turned 23 years old on her last birthday, and her star sign is a Leo. She is one of the youngest actors on Sex Education.
Mimi Keene Instagram and Twitter
Under the handle @mimikeene3, Mimi Keene has a strong 1.2 million followers on Instagram, which will probably climb even more as fans tune in to the latest season of Sex Education.

Keene is not a frequent poster but when she does, she definitely delivers. On her grid, you'll find behind-the-scenes filming snaps as well as cute pet pictures, stunning selfies and pictures of her with Sex Education cast members
Keene does have a Twitter, also at the handle @mimikeene3, with 55.8k followers. She is less active on Twitter though, doing more retweeting than anything else and not having posted on the site since April 2021.
Mimi Keene height: How tall is she?
Keene is approximately 5 foot 3 inches tall. In the hit Netflix series Sex Education, the actress is almost always seen wearing super-high heels to help her appear taller. But even with the heels, she is still significantly shorter than her fellow "Untouchable" Olivia, played by Simone Ashley, who is 5 foot 10 inches tall.
What other shows has Mimi Keene been in?
Apart from Sex Education, Mimi Keene is also well-known for her role as Cindy Williams on the long-standing iconic British soap opera, EastEnders. Cindy is the daughter of Cindy Beale, and half-sister to Peter Beale and Lucy Beale. The character departed the show as she moved to Germany after becoming a young mother to daughter Beth. Keene portrayed Cindy for three years, starring in 122 episodes.
Other onscreen roles have included playing Claire in the Noomi Rapace Netflix movie Close and a young Edith Bratt in the biographical drama film Tolkien. She's also had other smaller roles in BBC dramas Casualty and Our Girl and CBBC's Sadie J.
Who is Mimi Keene dating?
From her socials, it does not look like Mimi Keene is dating anyone, at least not publicly. However, she's probably too busy making her way in the acting world and posting dog-mom pics to spend time talking about a romantic partner on her social media!
What has Mimi said about Sex Education season 3?
Speaking on the third season, Keene has said Ruby will take on a bigger role, which is a definite hint at her relationship with lead character Otis. The end of season two saw the two characters get closer after hooking up at Otis's house party and going to get the morning-after pill together.
Speaking about the bigger role to Heat Magazine, she said: "I know it's a bit weird to bring this relationship in because their dynamic has been something else up until now, so I don't know. I think the reaction will be split. Some people will like it but we'll have to see."
Keene also talked about the real person behind the Ruby we see at Moordale, something we began to see in season two as she revealed her dad had multiple sclerosis (MS).

Mimi said: "We start to see how things that look very shiny and perfect on the outside might not be that way in reality," she said. "There's a lot she has to deal with in her family. She has to take care of a lot more stuff than people might realize, stuff that no one at school or any of her friends know anything about because none of her friends have ever been to her house. Her dad is a huge factor in all of it."
Liv is a freelance journalist currently studying English at university. She loves covering everything from entertainment and politics to lifestyle and travel. As well as writing for My Imperfect Life, Liv has bylines in The Times, HuffPost, Den of Geek, Bustle The Metro and The Bookseller.