Who is Shannon Singh? Everything you need to know about the new Love Island star
She's already a press favorite from this year's Love Island line-up but who is Shannon Singh?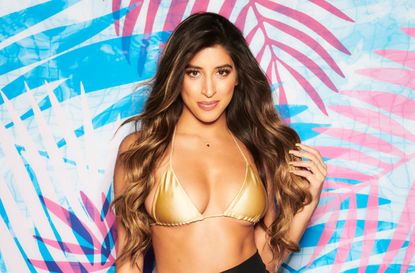 (Image credit: ITV)
Now that the Love Island 2021 line-up is out, we need to know: who is Shannon Singh? The new Islander has been making headlines since she was announced as one of the 2021 islanders. So, what do we actually know about her?
Shannon will be joining a brand new batch of singletons in the Mallorca villa in hopes of finding love in the sun this summer. She was among the first 11 islanders to be announced by ITV this week and frankly, we're already certain that she'll turn some heads.
Here's everything we know about her so far...
Who is Shannon Singh?
The islander is a Scottish lass from Fife. As the ITV trailer for the new season revealed, she is a self-proclaimed party girl but is now looking for someone who's got a good personality and likes to have fun. Most importantly, she needs someone who can keep up with her lifestyle.
How old is Shannon?
Shannon is 22-years-old.
What is Shannon's job?
Shannon is a former glamour model turned influencer, who is already very popular on Instagram, with over 185k followers. She worked as a glamour model from the age of 18 to 19 when she moved into commercial work with sponsorship deals and brand partnerships. She has nothing but positive things to say about her time as a glamour model, revealing: "I loved those days, I've got nothing to be ashamed of, they were my glory days."
Shannon also works as a DJ. Speaking on a podcast prior to being announced as part of the Love Island line-up, the islander got candid about the trolling she experiences due to her line of work, according to Edinburgh Evening News. She revealed that she used to be on Only Fans but was forced to delete her account after users threatened to leak her photos without her consent.
"I get so much s*** from Asian guys. My DMs are flooded with 'you are a disgrace', 'Take the Singh out of your name', 'you f***ing slut'. I get hate, trust me", she said.
What is Shannon looking for?
Speaking in the Love Island VT, Shannon made it clear that she knows what she's after in the villa. "For me, it's quite hard to find people who are genuine and looking for what you're looking for. I'm not just going to go with anyone because they're convenient," she said. "I need to make sure they're for me. Looks—obviously, they've got to be handsome, but if he's a handsome hunk but it's like talking to a brick wall and I'd rather watch paint dry, it's not going to be great."
Sagal is a journalist, specialising in lifestyle, pop culture, fashion and beauty. She has written for a number of publications including Vogue, Glamour, Stylist, Evening Standard, Bustle, You Magazine, Dazed and Wonderland to name a few.