Love Island quotes decoded: the phrases and sayings that have made their way into our vocabulary
Love Island quotes and catchphrases live in our heads rent free, so which do you use the most?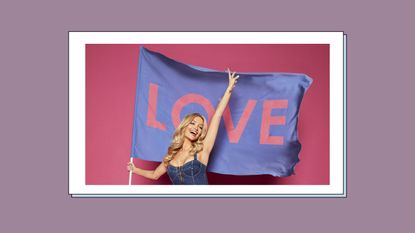 (Image credit: ITV)
One of our favorite things about Love Island UK (aside from all the Casa Amor drama) is the special lingo used by the islanders. Each season, there are niche catchphrases that all the singletons start to embed into their vocabulary (and by osmosis, us too)—most of which relate to their quest for love.
While some terms such as "muggy" and "pied" have been consistent throughout the years (seriously, some words just stick, just like all the Love Island UK couples that are still together), we seem to get a few new editions—some of which are borrowed from pop culture and internet slang—with every batch of new recruits to the villa and the Love Island 2022 line-up is no different.
So, let's take a look back at some of the best Love Island lingo we've adopted over the years...
Love Island quotes decoded
1. Leng
We may only be a few days into Love Island season 8 but the already the Islanders have been trying to make a few words a thing this year. On day one, Dami used the world "ling" which we (and anyone else familiar with London slang) assume to be a mispronunciation of "leng" - a term used to describe something that looks good or very attractive.
Wait was Dami meant to say this place leng instead of "ling" 🧐 #loveislandJune 6, 2022
See more
2. Mugged off
The classic Love Island term has become synonymous with the UK show. It is used to describe when someone has been disrespected or taken for a fool (mug) and is similar (often used interchangeably) to being "pied".
3. Eggs in one basket
On a show like Love Island, the islanders have got to keep their options open in order to find true love but as we've seen, many of them put all their eggs in one basket way too soon. The term refers to the act of going all-in on something—in this case giving all of your time and attention to one person.
4. Crack on
To "crack on" with someone is to get to know them in a romantic sense. It means pursuing someone and exploring a connection. So if your partner wants to crack on with a newbie bombshell in the villa, it's bad news for you!
5. Pied
As mentioned above, this is very similar to being mugged off. Getting "pied" can mean being disrespected but also rejected. It is often used in the villa to describe the act of being dumped for someone else. And, it also makes a literal appearance in the infamous Love Island challenge "snog, marry, pie"—where the islanders have to decide who they want to snog (kiss), marry (give a pretend ring to), and pie (face-plant with a cream pie). Understandably pie-ing someone, even in a challenge is a controversial move!
6. Grafting
This is the act of working hard to woo someone and ultimately bag your crush. As the girls in the villa would say, if he's not grafting for you, you don't want him, sis.
7. Connection
This is a word from the villa that you hear often in everyday life too. After all, it's "Love Island, not Friend Island" as the contestants this year keep reminding us and they're there to form "connections" with one another. The term has the same bog-standard meaning as it does in the dictionary but in this case, they use it very lightly. Like the look of someone and their six-pack—boom... you've got a connection.
8. DBS aka Do Bits Society
Created by season 4 islander Wes Nelson, the "Do Bits Society" or "DBS" as it became known later was a secret members' club for islanders who had successfully taken part in sexual activities in the villa.
2021's islanders developed a rather torturous set of phrases to describe various levels of sexual progress from NVQs to graduation day. It's fair to say most of them achieved full marks this year...
9. Head turned
If your partner's "head has turned" then sadly, it could be time to kiss goodbye to your relationship. The term refers to someone whose eyes wander away from their partner and who becomes interested in pursuing someone else (cue conversations about being mugged off). This often happens when the islanders go to Casa Amor and mingle with new potential love interests. As we've seen in the past, this is the peak time for heads turning.
10. On paper
If someone is your type "on paper", it means that they have all the qualities that would make you compatible. However, the term is often followed by a "but" and ultimately, no one ever ends up with the person they feel is their type "on paper".
11. Girl Code
Just like high school rom-coms and life in womanhood overall, the Love Island "girl code" is the age-old hoes before bros rule—a female code that should never be broken, even for the hottest of men.
12. It is what it is
This one is pretty self-explanatory but is so widely used by everyone on the show—to deflect from feelings of embarrassment, shame, disappointment and frustration—that it's almost philosophical. The term was most significantly used by ex-islander Sherif Lanre, as a response to no one stepping forward to choose him on the first day in the villa. Awkward!
13. I've got a text
The most iconic phrase of all. When the islanders shout "I've got a text" it means the Love Island gods (aka show producers) are intervening and something is about to go down. It's either a recoupling or elimination night announcement, news of a new arrival, a challenge or a date. You never know what you're going to get!
14. Dead ting
When Michael returned from Casa Amor with Joanna in season 5 of Love Island, leaving his partner Amber single, all hell broke loose in the villa. In fact, the aftermath was one of the best moments on the show to date. In the heat of it all, a furious Amber called Joanna a "dead ting"- a UK slang term used to describe someone who isn't attractive or good looking. Ouch!
15. Stick it on him/her
To "stick it on" someone is the term islanders use describe flirting with someone, usually a crush. Both the guys and girls tend to use this term a lot.
16. Vibes
This is generally the energy you get off someone when you initially get to know them. It's usually a positive sign that the islanders use to describe building a connection with chemistry.
17. Can I pull you for a chat?
This is a sentence we hear A LOT on the show. When the Islanders have a grievance with each other, or simply to try and "graft" someone, they go for the classic "can I pull you for a chat?" which is usually followed by them making a beeline for the bean bags or the fire pit, where all the deep conversations (and/or flirty banter) tend to take place.
18. Fanny flutters
The year was 2019 when Maura Higgins entered the Love Island villa and coined the iconic 'fanny flutters' line. The Irish beauty was clearly enjoying the sights when she looked at Tommy Fury and said: "I'm having fanny flutters. I'm not joking. I wish he was eating me. I can hear him screaming my name!"
19. Loyal
Also known as former Islander Georgia Steel's favorite word, "loyal" is a term the islanders love throwing around to reassure others that their "heads won't turn" (see below for the meaning of this) and that they'll stay true to their partner. Of course, much of this is all talk when it's crunch time...
20. Sauce
Borrowed from pop culture, "sauce" is a sense of confidence and charisma that is unique to you. It's like an extra va-va-voom or, as the French would say, "je ne sais quoi". It simply can't be bought.
21. Melt
A term that is widely used by many Brits, a "melt" is someone who is generally an idiot but, more significantly, an emotional idiot.
22. Sauce
Borrowed from pop culture, "sauce" is a sense of confidence and charisma that is unique to you. It's like an extra va-va-voom or, as the French would say, "je ne sais quoi". It simply can't be bought.
Sagal is a journalist, specialising in lifestyle, pop culture, fashion and beauty. She has written for a number of publications including Vogue, Glamour, Stylist, Evening Standard, Bustle, You Magazine, Dazed and Wonderland to name a few.