These are all the 'Love Island' quotes and phrases you *need* to add to your vocab
These 'Love Island' quotes and catchphrases are as iconic as the drama of the show itself—so, how many do you know?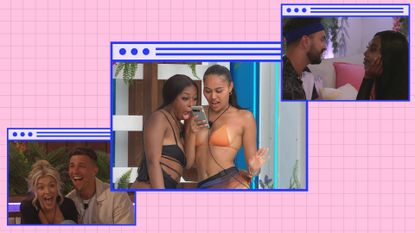 (Image credit: ITV/ Lifted Entertainment)
While the dating show is always unmatched in the drama department, it's the Love Island quotes and unique lingo used by islanders each season that have made Love Island UK so iconic. Brits (whether you are one, or just like watching them in the villa) truly have a way with words—and each season there are new niche catchphrases that the young singletons add to their vocabulary, and by osmosis, we do too.
While some terms like "muggy" and "pied" are classics that have consistently featured on the show over the years (seriously, much like the Love Island UK couples that are still together, some words just stick), we get a few new editions each year, many of which are borrowed from pop culture and internet slang. This brings us to Love Island 2023, which in itself, has supplied us with plenty of new quips and sayings to add to our repertoire And if you need to catch up, here's how to watch Love Island UK now that it's back.
So, without further ado, let's take a look back at some of the best Love Island quotes old and new, that have entertained us over the years. There'll be no mugging off here...
All of the best Love Island quotes, phrases and sayings, decoded
1. Leng
On day one of Love Island's eighth series, Dami used the world "ling" which we (and anyone else familiar with London slang) assumed to be a mispronunciation of "leng". For the unfamiliar among you, this is a term used to describe something or someone that looks good or very attractive.
2. Mugged off
Ah, the classic. This Love Island term has become synonymous with the UK edition of the show. It is used to describe when someone has been disrespected or taken for a fool (AKA, a mug) and is similar (and often used interchangeably) to being "pied".
3. Eggs in one basket
On a show like Love Island, the islanders have got to keep their options open in order to find true love but as we've seen, many of them 'put all their eggs in one basket' way too soon. The term refers to the act of going all-in on something—in this case giving all of your time and attention to one person.
4. Crack on
Within the realms of Love Island, to "crack on" with someone is to get to know them in a romantic sense; it means pursuing someone and exploring a connection. So if your partner wants to crack on with a newbie bombshell in the villa, it's bad news for you!
5. Pied
The aforementioned "pied" is very similar to being mugged off. Getting pied can mean being rejected, but also disrespected. It's often used in the villa to describe the act of being dumped for someone else.
This phrase also makes a literal appearance in the infamous Love Island challenge "snog, marry, pie"—where the Islanders have to decide who they want to snog (kiss), marry (give a pretend ring to), and pie (face-plant with a cream pie). Understandably pie-ing someone, even in a challenge, is a controversial move!
6. Grafting
To 'graft' effectively means to flirt and woo. You'll no doubt have heard the islanders saying things like, "I need to put my grafting boots on," or "You need to graft me."
On the flip side, it's also used as a way to make up for something—so for example, if a couple falls out, often one will then say they need to 'get grafting' to make amends and work hard to win them back.
7. Connection
A word from the villa that you hear often in everyday life, too, but it's thrown around so frequently that it's a quote that's become undeniably linked with the show. After all, it's "Love Island, not Friend Island" as the contestants often remind us, and each other. The term has the same bog-standard meaning as it does in the dictionary but in this case, they use it very lightly. Like the look of someone and their six-pack—boom... you've got a connection.
8. DBS: the Do Bits Society
Created by season 4 (one of the best Love Island seasons) islander Wes Nelson, the "Do Bits Society" or "DBS" as it became known later was a secret members' club for Islanders who had successfully taken part in sexual activities in the villa.
2021's Islanders developed a rather torturous set of phrases to describe various levels of sexual progress, from NVQs to graduation day.
Then in 2022, the girls used beauty salon euphemisms—like, getting a manicure—instead.
9. Head's been turned
If your partner's "head has turned" then sadly, it could be time to kiss goodbye to your relationship. The term refers to someone whose eyes wander from their partner and who is interested in pursuing things with another contestant (cue conversations about being mugged off).
This often happens when a bombshell enters the villa, or when the Islanders go off to Casa Amor and mingle with a new set of potential love interests. As we've seen in the past, this is the peak time for heads turning and has made for some of the most memorable Love Island moments in the show's history.
10. My type on paper
One of our favorite Love Island quotes, if we had to pick! If someone is your type "on paper", it's a bit like saying "in theory", and means that person has all the qualities that usually tick your boxes, and therefore you two are likely to be compatible.
However, the term is often followed by a "but" in conversation as, ultimately, the Islanders often don't end up with the person they feel is their type "on paper"—in reality, the necessary chemistry maybe just isn't there.
11. Girl Code
As has been referred to in numerous High School rom-coms and adult womanhood in general, the Love Island "girl code" is a carbon copy of the age-old 'hoes before bros' rule—a code of respect amongst girls that should never be broken, even for the hottest of men. It often comes out on the show when a girl goes after another girl's partner—sometimes without letting her know first.
12. It is what it is
This one is pretty self-explanatory, but is so widely used on the show—to deflect from feelings of embarrassment, shame, disappointment and frustration—that it's almost philosophical. The term was most significantly used by ex-islander Sherif Lanre, as a response to no one stepping forward to choose him on the first day in the villa. Awkwarrrrrrd.
13. I've got a text!
The most iconic phrase of all, and one of the Love Island quotes that will go down in history. When one of the Islander's shout "I've got a text" it means that the producers are intervening and something eventful/dramatic/both is about to go down—so it often features in the Love Island first look clips. It's either a recoupling or an elimination night announcement, news of a new arrival, a challenge, or a date. You never know what you're going to get...
14. Stick it on him/her
To "stick it on" someone is the term that our Islanders use to describe flirting with someone, usually a crush, at a very high level. Both the guys and girls tend to use this term a lot when they're laying it on thick with a specific guy or gal, so it's one of the Love Island quotes you're pretty much guaranteed to hear this year too.
15. Vibes
This is generally the energy you get from somebody when you initially get to know them. Referring to "good vibes" is usually a positive sign, and something that the Islanders often use to describe building a connection with chemistry.
16. Can I pull you for a chat?
This is a sentence we hear a lot on the show in many different scenarios. When the Islanders have a grievance they want to air, or simply want to try and "graft" someone, they go for the classic "can I pull you for a chat?"—which is usually followed by them making a beeline for the bean bags or the fire pit, where all the deep conversations, arguments, or flirty banter tend to take place.
17. Loyal
A particular favorite of former Islander Georgia Steel, "loyal" is a term the Islanders love throwing around to reassure others that their heads won't turn from their designated partner (see below for the meaning of this) and that they'll stay true to them. It's particularly relevant when the couples are split up and half of them dispatched to Casa Amor. Of course, much of this ends up being all talk when it's crunch time at the reunion...
18. Sauce
Another saying that's borrowed from pop culture, "sauce" is a sense of confidence and charisma that you give off that is unique to you. It's like an extra va-va-voom or, as the French would say, "je ne sais quoi". It simply can't be bought.
19. Melt
A term that is widely used by many Brits, a "melt" is someone who doesn't have a lot of backbone and is a bit of a pushover, or, as is more common in the context of Love Island, who has gone a bit soft and silly because their feelings have taken over.
20. Unreal
A phrase that has been used often in the 2023 winter series (so far), the term "unreal" is often used by the lads to describe the physical appearance of one of the girls. What they're saying is that she is so stunning, she's almost not real. It's a pretty straight-forward one, which we reckon is why the guys refer back to it a lot!
21. The ick
This is another Love Island phrase that's also popular in real life, but you'll often catch the Islanders explaining that they've sadly got "the ick" for their crush after they've done something particularly cringey or embarrassing. In fact, sometimes it doesn't even need to be cringey—some of the Islanders admittedly get the ick for something small, therefore crushing any hopes of a romantic "connection" between the pair.
22. 'My head's gone'
Fairly self-explanatory, but if your head is "gone" in Love Island, you're feeling confused by the current situation—whether a former love interest is showing renewed attention, a new "bombshell" has come in, or you're not sure about your current couple situation. Essentially, if your head is gone, you don't know what's going on.
23. 'Get to know you'
One of the most commonly used Love Island quotes of all time (you'll probably hear it multiple times in one episode), but if a gal or a guy says they want to "get to know you", it's essentially code for the fact that they fancy you. You'll often hear someone say it to a bombshell who has just arrived in the villa; 'I'd like to get to know you and XYZ.'
24. 'You are a liar, actress, go the f*** out'
Okay, okay, so this might not be a typical, everyday quote we hear on Love Island, but the moment was so iconic that we just couldn't not include it!
When Davide and Ekin-Su first got together back in 2022's Love Island, the pair seemed to be getting along swimmingly—of course, that was until she did the now infamous terrace crawl in order to kiss her new love interest, Jay. After finding out that she had gone behind his back, the pair got into an explosive row, and Davide, in his fabulous Italian accent, uttered the words, 'You are a liar, actress, go the f*** out!' The phrase has now become so famous that it's even used in everyday life!
25. Bants/banter
This is a popular UK saying that has made its way onto Love Island; the idea of having 'bants' or 'banter' simply means the act of having a laugh, or joking about something. The guys and gals often use it in the villa to describe a potential love interest as 'having good banter', meaning they've got a good personality and know how to joke around/don't take themselves too seriously.
The term can be used in a slightly more insidious way too though—if someone has been hurt by someone, sometimes it will be brushed off by a Love Island contestant as 'only banter'. Not cool!
26. A bit of me
This phrase is, essentially, used to describe someone you're attracted to. If someone is 'a bit of me', you're saying that there's something about them that you like. The cast of Love Island will often use this phrase to describe a new bombshell; as the group tries to work out who likes who.
27. A right sort
Often used by the Love Island lads as a way to describe a girl in the villa, if they're calling someone a "right sort" (emphasis on the 'sort'), they're saying that the girl is incredibly attractive or good-looking. This phrase is even better if it's said in a *proper* Essex accent—which is the UK county it originated in.
28. Early days
This one is pretty self-explanatory—often used as a way to be cautious, the Islanders will mention that it's still 'early days' if they are still in the very early stages of a relationship, or of 'getting to know' someone in the villa. For example, if a partner does something the other doesn't like, the Islander might say that it's still 'early days' meaning they have time to make their mind up about them.
You might also catch the islanders saying 'early doors', which is just another way of saying 'early days.' We know, it's confusing.
Equally, it's often used as a way to swerve out of a coupling in the villa if another boy or girl comes in that someone likes more: "I'm going to get to know X, because it's still early days with Y".
29. Snakey
Islanders often call each other out for being "a snake," this is just another way of saying someone stabbed you in the back or is being two-faced.
Take Mitch and Zach from season 10 for example—Zach called Mitch out for being snakey after he went behind his back and told Kady that Zach had called their chat "dry".
30. It's giving
This popular internet term (especially amongst Gen-Z) became Whitney from Love Island 2023's catchphrase, as she would often describe situations or people as "giving."
To say something is "giving" means that it's positive, cool and pleasing, etc. For instance, you could say, "her makeup is giving," or, "their chat is giving,"—it's complimentary and is just a way to say something is good.
You can also use the phrase to describe an overall vibe or behavior, as Whitney often says things like, "It's giving bad b****" but it doesn't always have to mean positive, you can also say someone is "giving immaturity" and so on.
31. Messy
This one is also quite straightforward, it just means a situation is getting complicated or someone is behaving in a dramatic way.
The term also became a nickname for Love Island 2023's Mitchel, with his fellow islanders branding him "messy Mitch," for all his gossip-mongering antics.
Sagal is a journalist, specialising in lifestyle, pop culture, fashion and beauty. She has written for a number of publications including Vogue, Glamour, Stylist, Evening Standard, Bustle, You Magazine, Dazed and Wonderland to name a few.