Who is Snoochie Shy? Everything we know about the presenter—including her 'Love Island' brother
If you've seen her on TV or social media, you may be wondering, who is Snoochie Shy? We have all the intel on the hilarious personality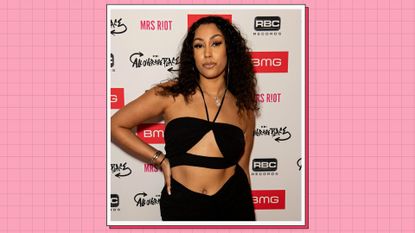 (Image credit: Getty Images/Samir Hussein/WireImage)
If you've been watching Love Island UK this year, there's a good chance you may have heard of Snoochie Shy, the sister of islander Zachariah Noble.
You may recognize her from any number of her TV or radio gigs, be it her appearance on the UK version of I'm A Celebrity...Get Me Out Of Here!, her BBC Radio 1Xtra show, her various appearance on UK panel shows, or her starring role on Celebrity Gogglebox alongside none other than Jeremy Vine.
But who actually is Snoochie Shy? If you want to know a bit more about the hilarious TV personality, these are all the details we have—including everything from her real name to her now-famous Love Island brother!
Who is Snoochie Shy?
Snoochie Shy is a British, 30-year-old presenter and radio host, who has also done a fair bit of modeling too.
The star—whose birthday is 13 July, 1992—was born and brought up in Eltham in southeast London.
Since 2015, Snoochie has been carving out a name for herself in the entertainment industry. Her breakout job was a presenting role on an MTV show in 2015, after which she went on to present her own radio show on the now-defunct channel, Radar.
But it was in 2018 when she started to break into the big time. She landed a gig hosting the revival of Yo! MTV Raps, and began presenting her own specialist music show throughout the week on BBC Radio 1Xtra, which she hosts to this day.
Because of this and her ever-entertaining personality, she's since been in high demand for panel shows and guest spots on UK TV programs, including Celebrity Gogglebox (which she has starred in since 2021), Don't Hate The Playaz, alongside the one and only Maya Jama, and Celebrity Mastermind.
Perhaps her most-watched TV appearance however was the 2021 edition of the UK series of I'm A Celebrity...Get Me Out Of Here!, which took place in Wales that year. She sadly wasn't on the show for long, after being booted out third—but fans still loved her upbeat demeanor and hilarious one-liners.
Aside from her TV work, she's also had a pretty significant career modeling, having done so for the likes of Missguided, Adidas, Nike, UGG and Vans, whilst also having a role as the ambassador for the digital platform VOXI.
What is Snoochie Shy's real name?
Maybe unsurprisingly, Snoochie Shy isn't the name that the 30-year-old was given at birth.
In fact, she was actually born Charlotte Louise Davide back in 1992—though not for long. Soon after she was born, her mom officially changed her name to Cheyenne, making her Cheyenne Davide.
However, she goes by Snoochie professionally and on social media, though it's not clear what her family and friends might call her!
Who is Snoochie Shy's mum?
There isn't much out there about Snoochie's mother, but as far as we known, Kirsty Davide is a London-based choreographer and dancer, with whom it appears the presenter is super close.
In fact, Kirsty was right by her daughter's side before her I'm A Celeb stint in Wales, revealing at the time that she helped her tackle some of her biggest fears before entering the show.
Speaking to the Daily Mirror, Kirsty said at the time: "Her biggest fear has always been heights, so to see her complete the first plank challenge was just incredible.
"My heart was in my mouth the whole way through, but typical Snoochie style, she overcame it in spectacular form."
Sharing how she helped Snoochie address her fear of heights, she continued: "I was blessed to be able to travel to Wales with her for the isolation period. I didn't give her advice as such because she knew what she was going into, but I did get her walking on the wall outside our little cottage trying to get over her fear of heights, much to the astonishment of our security guard, and yes... lots of screaming was involved.
"I just told her to go in there and be herself and show the nation what a fearless beautiful woman she is both inside and out." So sweet!
Other than that, Snoochie keeps her mom and their relationship pretty private—though she did post one amazing picture of her on social media, back in 2019.
Over on Instagram, she shared a snap of her mom a few years back, with none other than Will Smith, presumably taken in her dancing days! We have to admit, that's *pretty* cool.
Snoochie Shy siblings—her 'Love Island' brother
Believe it or not, Snoochie isn't the only famous one in her family, as of a few weeks ago!
Her sibling is actually one of the Islanders currently entertaining us each night in the Love Island villa—Zachariah Noble.
Snoochie confessed a few weeks ago that she and Zac are half-siblings who share the same mom. The presenter has been adorably Tweeting and Instagramming her support of her little bro since then, even sharing her very honest reaction to *that* awkward pieing from Kady McDermott.
Poking fun at her little bro, she said: "LMFAOOOOOOOOO ZACH OMG I STILL LOVE YOU THOUGH BUT YOURE NEVER LIVING THAT DOWN FROM ME BRO #LoveIsland."
We love some sibling banter!
Amy Hunt is a lifestyle writer and editor, and was previously Lifestyle Channel Editor at womanandhome.com, having been with the brand since 2015. She is passionate about everything from entertainment to books, to homes, food and wellness. When she isn't editing, researching or writing articles, he's busy burying her nose in a gripping thriller, practising yoga, or buying new homeware.