Yes, Love Island's Zachariah Noble has a famous sister—and she just made her debut in the villa
Snoochie Shy just reunited with her baby bro in the villa and let's just say, she had some *thoughts* on his antics...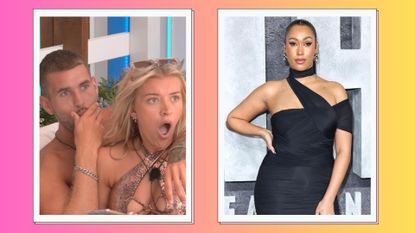 (Image credit: (L to R): ITV/ Getty Images:Mike Marsland/WireImage)
Love Island 2023's 'Meet the Family' episode brought with it a fair few surprises for viewers but none more so than bombshell, Zachariah Noble's claim to fame (P.S. If you need to catch up, here's how to watch Love Island UK)...
Yes, it seems Zach—who is currently coupled up with Molly Marsh and received the grilling of his life from her dad *eek*—has some star-studded connections outside of the ITV2 dating show as his sister is none other than rapper and radio presenter, Snoochie Shy!
Now, this won't have come as a shock to some fans, as Snoochie did actually confirm that her 'baby bro' had entered the villa back in June—but in case you missed it, here's your full debrief on Love Island Zach's sister...
Is Zachariah Noble Snoochie Shy's brother?
Yes, Zachariah Noble and Snoochie Shy are indeed half-siblings.
When Zachariah got introduced at the end of the first episode of Love Island UK season 10, rumors started swirling around on social media that he's related to Snoochie (who's known for being BBC Radio 1Xtra DJ and MTV UK presenter).
During episode three (on Wednesday, June 7), Snoochie finally spoke out for the first time since her brother entered the villa. Alongside a series of cute photos of the two, she wrote: "WELL HERE WE GO MY BABY BRO IS IN THE LOVE ISLAND VILLA!!! GO ZACHARIAH #LoveIsland".
- WELL HERE WE GO 😂 MY BABY BRO IS IN THE LOVE ISLAND VILLA!!! GO ZACHARIAH ❤️🥹❤️ #LoveIsland pic.twitter.com/rxNYITLiKPJune 7, 2023
See more
So cute! She also tweeted a bunch of heart-eye emojis on on Whitney's arrival—could this mean she has a favorite Islander for her brother?
Since then, Snoochie has been sharing some hilarious commentary on her bro's time in the villa. She hilariously posted a Tweet after Zac's super-awkward moment with OG bombshell Kady McDermott, when she swerved away from his kiss—despite him leaning in with his hand on her neck...
Snoochie clearly cringed as much as did, saying, 'LMFAOOOOOOOOO ZACH OMG I STILL LOVE YOU THOUGH BUT YOURE NEVER LIVING THAT DOWN FROM ME BRO #LoveIsland'.
When a viewer commented that they were pleased he could laugh at himself following the awkward exchange, Snoochie agreed that 'he handled it well'.
She did however later post a hilarious video of herself laughing at her brother's misfortune on the show, which we love.
LOVE YOU ZACH 😭😭😭😂😂❤️❤️❤️ https://t.co/vs2gq8ME1MJune 27, 2023
See more
Snoochie Shy's 'Love Island' appearance
After Snoochie confirmed that season 10's first bombshell, Zach was indeed her younger brother, the rapper finally made an appearance on the show, alongside their mum on Sunday, July 23rd, for the 'Meet the Family' installment.
The pair then proceeded to tease Zach about his non-stop 'lipsing', with Snoochie quipping that he seems to have kissed the most people in the villa.
So who are Snoochie Shy and Zachariah Noble's parents?
Well, we dug deep into Instagram accounts and found two separate posts on their accounts that are dedicated to their mom and use the same pictures, which means the two are related on their mom's side. Side note: their mom is actually pictured with Will Smith. What a cool lady!
It's not clear who Snoochie or Zac's father is, but it looks like the pair are as close a siblings can be even though they don't share both their parents!
From the pictures above that Snoochie has posted, the pair were together plenty as kids, and have enjoyed lots of holidays together in the past.
So at least we know who Snoochie is rooting for to win!
Does this mean Zac also knows Maya Jama?
To make things even more interesting, Zachariah's sister Snoochie is actually friends with Love Island host Maya Jama.
Maya features in another ITV show called Don't Hate the Playaz and Snoochie has been a guest previously (here's the episode if you want to watch—if you need to watch outside of the UK, you can use a VPN). Maya has also interviewed Snoochie multiple times for Love Island: Aftersun, the show's spin-off chat show, so we imagine they'll have lots to talk about now!
So we can't say for sure whether Zac and Maya already knew each other, but it seems they run in very close circles at least...
Are Zachariah Noble and Jack Fowler friends?
If a famous sister wasn't enough, it also seems that Zachariah is pals with one of Love Island's very own legends—Mr. Jack Fowler himself. A picture of the two has surfaced online and fans are very excited to see if Zachariah can bring some of Jack's energy into this year's show.
Jack was in the villa in season four of Love Island UK, all the way back in 2018 (which is still one of the best Love Island UK seasons of all time).
ZACHARIAH AND JACK FOWLER KNOW EACH OTHER, HELP i just knew it WE ARE WINNING#LoveIsland pic.twitter.com/rcKHnuVhCsJune 6, 2023
See more
What else do we know about Love Island UK's Zachariah Noble?
Age: 25
From: South East London
Occupation: Personal Trainer & Basketball Player
Zachariah is a sportsman from London, who decided to join Love Island UK to step out of his comfort zone, but also to find a relationship that brings him peace and harmony.
"Being 25, I'm at a crossroads where I've been having fun, but I also want to have the peace and harmony that comes from being with the right woman", he told ITV.
In the villa, he promised that he will be very chilled out and "completely myself 100% of the time" with everyone but when it comes to dating, it will be his confidence that makes him stand out.
"I'm pretty tall and I'm confident in myself. In this day and age I think being genuine is rare and I'm very genuine. What you see is what you get", he said.
Most importantly, what's his biggest ick? Get ready because it's about to get weird. Bad handwriting and—drumroll please—twerking.
He also has a cat (brownie points from us) called Frank (full name Frankie G Swagger Don), which he says he'll miss very much while he's in the Villa. Aww!
Love Island continues every day apart from Saturday at 9pm (5pm ET, 2pm PT) on ITV2 and ITVX.
Mariana is Editor of My Imperfect Life. She has previously worked for titles including woman&home and Goodto, covering all aspects of women's lifestyle — from beauty and fashion to wellness and travel. She was nominated for AOP Digital Journalist of the Year in 2020, and for New Digital Talent of the Year at the 2016 PPA Digital Awards. She's mildly obsessed with reality TV (Love Island memes included) and spends far too much time checking her horoscope and figuring out the perfect curly hair routine.