Who is 'The Marvelous Mrs. Maisel' based on?
Is Midge Maisel a real person? In terms of "Who is 'The Marvelous Mrs. Maisel' based on?" the answer will surprise you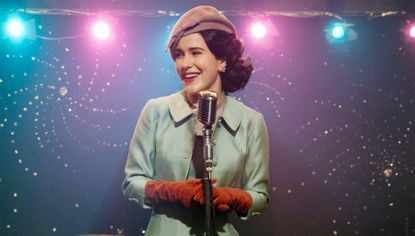 (Image credit: Amazon Studios)
The story is a great one: after her husband leaves her for another woman, a fed-up 1950s housewife hilariously takes to the stage to air out her grievances, accidentally becoming a stand-up comic in the process. But exactly who is The Marvelous Mrs. Maisel based on?
Though the show does feature some real-life people—including our main character's will-they-won't-they comedian buddy Lenny Bruce (played by Luke Kirby)—the genesis of the character of Miriam "Midge" Maisel herself (Rachel Brosnahan) isn't as clear-cut. Was there a female comedian in mid-century New York City who served as the IRL inspiration for Midge? Let's find out.
---
---
Who is 'The Marvelous Mrs. Maisel' based on?
Alas, Midge Maisel herself is not real. (Though we really wish her closet was and that we can peruse her pillbox hats whenever we wanted.) She is but a work of fiction born from the mind of creator Amy Sherman-Palladino.
However, that doesn't mean that elements of the character of Midge weren't inspired by some real-life figures, particularly pioneering comediennes like Joan Rivers, Totie Fields, Jean Carroll and Phyllis Diller.
Speaking of the late, great Joan Rivers—who, like Midge, was a Jewish housewife that rose to fame on the New York comedy scene in the early 1960s thanks to her bold, ballsy stand-up routines—Sherman-Palladino said to Vanity Fair: "She had that wonderful mix, that battle of wanting to be accepted on a feminine level—[but] you can't have that many balls and be accepted on a feminine level...Going forward, that's how we're looking at Midge's humor."
"All those women—obviously, you think of them. You tip your hat to them because they were the pioneers, the groundbreakers," Sherman-Palladino told Women's Health. "We worship every single one of them, but [Midge is] not really based on any of those characters."
Actually, the glamorous fictional comedian most closely resembles a surprising source: Sherman-Palladino's father, Don Sherman. Sherman was an actor and stand-up comedian in New York City who, like Midge, would serve as the opening act for popular singers of the time, like Dinah Washington and Johnny Mathis, reports Women's Health. While accepting the 2018 Emmy Award for Outstanding Writing for a Comedy Series, Sherman-Palladino honored her dad, saying: "My father inspired this, really, so I had to turn a 6-foot-2 Bronx Jew into Rachel Brosnahan. That's Hollywood!"
Sherman-Palladino's childhood memories of her dad pepper Midge's story and the Maisel universe at large, but Midge Maisel is a comedian all her own. "A lot of that [Midge's character] is drawn from Don, and some of it's drawn from stand-ups that we've known over the years," co-executive produce Dan Palladino told Women's Health. "And...while there's a bit of all these female comics in Midge, there's not a lot in Midge. We've kind of made her up out of whole cloth."
When does 'Marvelous Mrs. Maisel' take place?
The Marvelous Mrs. Maisel takes place in the late 1950s and early 1960s in New York City, with season one roughly covering 1958, season two taking on 1959 and season three welcoming us into a new decade.
That specific time period is an important and pointed one, on the cusp of remarkable social change, with the revolutionary 1960s ushering in major progress across women's equality, racial and civil rights, and gay liberation, all of which Maisel touches on.
And just because most of the characters are fictional doesn't mean that their retro surroundings are. The series is as painstakingly meticulous with its period-perfect locations as it is Midge's gorgeous, of-the-era wardrobe.
From the Upper West Side to Greenwich Village, many real-deal NYC locations are accounted for, including downtown comedy clubs like The Gaslight Cafe (an old stomping ground of Joan Rivers), midcentury butcher shops like Little Italy's Albanese Meat & Poultry, and a recreated B. Altman department store in midtown.
Watch just one episode of The Marvelous Mrs. Maisel and you'll feel like you've been time-warped to old-school New York.
You can watch The Marvelous Mrs. Maisel season 4 starting on Friday, February 18 on Amazon Prime Video.
Christina Izzo is the Deputy Editor of My Imperfect Life.
More generally, she is a writer-editor covering food and drink, travel, lifestyle and culture in New York City. She was previously the Features Editor at Rachael Ray In Season and Reveal, as well as the Food & Drink Editor and chief restaurant critic at Time Out New York.
When she's not doing all that, she can probably be found eating cheese somewhere.