Is Firefly Lane a true story?
If watching the hit Netflix show left you wondering 'Is Firefly Lane a true story?' we have all the nitty-gritty details...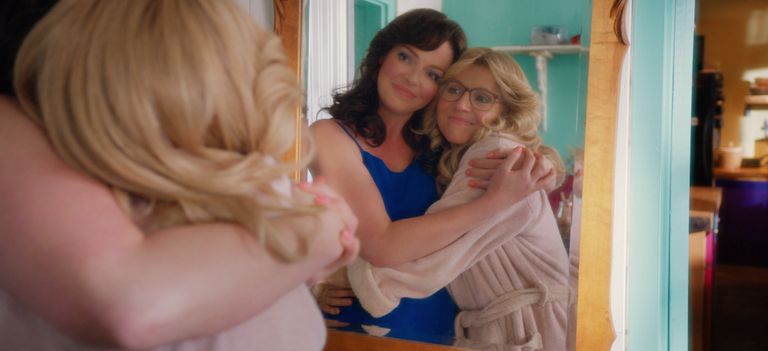 (Image credit: Netflix)
Is Firefly Lane a true story? Anyone who still has a best friend from school will be able to relate to this popular Netflix drama, but with its rollercoaster of a storyline, we're all left wondering if the show is based on real events.
*Warning* Spoilers ahead!
The hit Netflix series gives us all those friendship flashback feels. Nothing ever runs smoothly but after everything, the true friends are the ones that stick around. Cue Kate and Tully, a pair of inseparable best friends who meet in 1974, aged 14. And decades later they're still experiencing all the hardships that come with being a grown-up.

And while we're already eager for season 2 of Firefly Lane, we're still wondering—is Firefly Lane a true story? We take a deep-dive into the show to find out.
Is Firefly Lane a true story? Everything we know
Without giving the storyline away for anyone who hasn't yet binge-watched it, no, the novel Firefly Lane is not based on a true story. However, author Kristin Hannah did draw inspiration from her own life growing up in the 1970s to write the book, as well as her experiences at the University of Washington, which informed Firefly Lane's Seattle setting.
The storyline of Firefly Lane is based on the 2008 novel of the same name by Kristin Hannah. Covering 30 years of friendship in 10 episodes gives you plenty of time to dig deep but you'll end up falling in love with both of their characters—carefree Tully (Katherine Heigl) and her quieter, grounded counterpart Kate (Sarah Chalke). And let's not forget Bud!
As the pair embark on careers in journalism, however, the cracks start to appear when they eventually go their separate ways. But all is not lost as their lives continue to intersect, even when Tully hits TV fame and Kate steps away from reporting to become a full-time mother.
Though the answer to 'is Firefly Lane a true story?' is no, author Kristin Hannah explains that the nostalgia of the story will leave you wanting more.
Hannah explained: "This novel hits really close to home on a lot of levels, so there are plenty of correlations to my own life. First and foremost—the clothes. Yes, I remember wearing them all-elephant leg bell bottoms, tie-dyed T-shirts, Earth shoes, shoulder pads, stirrup pants, leg warmers, and last but not least, polyester. And how about those hairstyles? Each one named after and forever immortalized by the celebrity who made it famous."
We've all been there, right?
Kristin Hannah is named as co-executive producer of the Netflix series but did not write the screenplay for the TV adaptation. Executive producer Katherine Heigl, who also plays Tully, revealed in an interview with Parade that Hannah had a few stipulations about staying true to the novel but added: "Other than that, she was comfortable with our showrunner taking some creative license, which we did."
While the show isn't entirely based on real-life events, it somehow captures a slice of everyone's childhood.
Speaking of the novel, Kristin Hannah recalled: "What I particularly loved about writing this novel was the memories it evoked. Fads, fashion, products, songs, novels, and news stories—this book contains all of that. In these pages, I was able to return to my youth, the disco era, and drink Boone's Farm with my heroine…and tease my hair and dance to Madonna…and jump into my fictional suburban world and run carpool one more time."
Hannah added: "Not only does the story follow the friendship between two women, but it also tracks the ever-changing face of the Pacific Northwest. It also contains my most important and powerful message to date, and for that, I am particularly proud. I can't wait to hear what readers think."
If those who have read the book are among those who have caught it on Netflix then they must be pretty happy with the results, as it occupied the number one Netflix spot in its first week of release.
And if you're still dying to experience some real-life element, you can always take a Firefly Lane tour of the locations. Kristin Hannah highlighted a few hotspots in which the book captures, writing: "Anyone interested in a Firefly Lane memory lane tour should try: The Last Exit coffee house (is it even still there?), Kels pub in Pioneer Square, which is still a great time, Starbucks in the Public Market, a ferry ride from Seattle to Bainbridge Island, Goldies tavern in the U District, Greek row at the University of Washington (I'm sure you can still find a ton of parties happening there on Saturday nights), and the view of Seattle at night from Rockaway Beach."
Why not pick up your bestie and hit the road together and re-create some of the iconic looks from the show while making more memories?
Selina is a Senior Celebrity Writer with more than 13 years experience in newspapers and magazines. She is currently Senior Entertainment Writer for Goodto.com, womanandhome.com and Myimperfectlife.com
Before joining Future [formerly TI Media], Selina spent two years as a Showbiz Freelance Writer, worked as a Showbiz Writer at Heat magazine. Selina also spent six years as Acting News Editor and Entertainment Reporter at the Scunthorpe Telegraph where she was awarded a O2 Media Judges' Special Award for helping a terminally ill cancer sufferer realise his dying wish and marry his childhood sweetheart.
When she's not interviewing celebrities you can find her getting into a spin on the ice, planning her next Mini adventure or making memories!