Why lockdown might have changed our workout habits forever
What gym membership?! Lockdown might have changed things forever…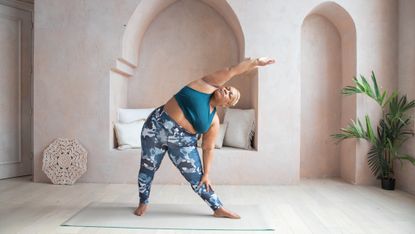 (Image credit: Getty Images)
Recent months have seen many things that we felt were non-negotiable in our lives sidelined. Our beloved to-go lattes. Gatherings with an unlimited number of our nearest and dearest in a cosy corner of the pub. A long-planned weekend away. And exercising surrounded by the buzz of others in a gym or fitness studio.
Pandemic-induced social distancing saw spaces where we exercise close their doors for many months - yet, at the same time, we craved activity outside of being stuck in our homes more than ever. A study, published in May, by Sport England found that 63% of people across the first six weeks of lockdown were staying fit to look after their minds. Indeed, not only is movement vital for physical health - and, importantly, immunity - but it's key for mental health too.
As such, we've discovered a cohort of other ways to workout - proving to many that it's not always necessary to hand over chunks of our hard-earned cash to in order to stay motivated to break a sweat - be that HIIT on Instagram Live, a Couch to 5k run or a yoga app. And some of these alternative methods for keeping moving seem to be here to stay - contributing to the biggest permanent shift in how we stay fit for decades (revolutionising training even more than heavy dumbbells for women in the past decade, or zumba before that).
Death of the gym
Before the pandemic, according to one report, the annual turnover of fitness facilities in the UK was a whopping £2bn, with more than 9.7m people holding memberships. These days, they don't seem quite so much of an essential.
According to the app BetterMe (opens in new tab), an incredible 64% of people aren't returning to gyms. These include Jodie Tipper, who was ahead of the trend in cancelling her TheGym membership a couple of weeks before lockdown, having already been told to work from home for her job in PR and marketing. "It just didn't feel like it was the safest place to be with coronavirus on the rise," the 23-year-old from Birmingham, in the UK, recalls. "Along with my boyfriend, we decided we wouldn't be going back anytime soon."
But that didn't mean stopping exercise. Jodie has been running two to three times a week with the assistance of Couch To 5k - which more than 850,000 others also downloaded between March and June - and has started doing £4 outdoor zumba classes in a local car park. "I definitely think that non-gym workouts have been more effective and found that I've actually pushed myself harder," she insists. Dr Kianoush Missaghi, training expert at fitness app Freeletics (freeletics.com), notes: "We know that bodyweight HIIT - that's high intensity interval training - can be just as effective, if not more so, as a workout in the gym with all the gear."
Indeed, it's clear many people simply don't need to be in a gym environment to move. A national fitness survey conducted by leisure specialists Ta6 (opens in new tab) found that 59% of people had maintained - or increased - their activity levels in lockdown.
Rise of the home workout
While the gym and studios may be starting to fall out of favour, it seems people are still turning to the pros when getting their sweat on in their living rooms, bedrooms, gardens and so on. Freeletics experienced a spike of 50% in users during lockdown, with an increase of 194% in completion of their equipment-free bodyweight workouts and 327% more runs recorded.
As well as running, one of the most popular ways to exercise, according to the Ta6 survey, was using apps or social media streaming. They found 72% did home workouts during lockdown, compared to just 25% who hopped on a bicycle.
This is the experience of Poonam Dhuffer, a 33-year-old wellbeing and meditation coach (opens in new tab) based in South-East London. "I've got into a routine of doing HIIT works via YouTube and Instagram in the mornings," she explains. "I've also myself been hosting a self-reflection movement class called 'Bust A Move M8'."
Trying something new
Dr Kianoush points out: "As individuals, we often stick to what we know and are comfortable with, because we've built-up a routine and developed habits around our way of working out. But for most regular gym-goers, this time has been an opportunity to rediscover different training methods and to realise that the gym is not the only way to achieve results."
Indeed, Jodie says this period has encouraged her to try something new. |I hadn't thought about running before, as I never really enjoyed cardio and used to hate running on a treadmill," she notes. "But now I love to jog along the canal after work."
No going back
For Wilma MacDonald, a nutritional therapist and founder of the Maverick Motherhood (opens in new tab), it's just so much more convenient. "Pre lockdown I used to go to a Pilates studio, now I only exercise at home and I much prefer it," explains the 41-year-old mum from Edinburgh. "I get up between 5.30am and 6am, I'm in my living room five minutes later with my boxing app on the TV and I'm done within 30 minutes. No travel to and from the studio, and no need to think about if I look presentable or not. Plus if my three-year-old wakes up then I'm not far away."
It's similar for Poonam. "As soon as I've worked out I can jump straight in the shower then make something to eat - no more wasting time travelling," she says. "I literally get out of bed, meditate and work out. I don't have to plan my commute or shift meetings around. It's been effortless and fun."
Importantly, it's often far more affordable. Last year, it was revealed that we spent approximately £28 per month on gym memberships - of which a total £4bn a year went unused - with some boutique fitness studios charging generous fees for single classes. "Financially, it's more cost effective - $25 (£19) per month versus £17 per Pilates class," reveals Wilma, of how her own outgoings have changed. Many apps and online activities are free.
Weigh to go
However, one thing we have been spending more on is equipment for kitting out our home workout spaces. Price comparison site idelo.co.uk found that such purchases had shot up an incredible 5813% during this period. According to fitness equipment brand Bowflex (bowflex.com), treadmills are the most popular item, followed by stationary bikes and freestyle weights.
When it was announced that gyms and studios were reopening, there were millions of delighted voices on social media - who missed the guidance, camaraderie and high-tech kit. But, according to F45 (f45training.com), gyms are likely to still reach those less keen on returning through their online classes on Instagram and Zoom, and they also predict a rise in outdoor bootcamps.
However, one thing is clear: whichever way you choose to raise your heart rate in the months going forward, you'll be doing wonders for your all-round health.
Lauren is a freelance writer and editor with more than six years of digital and magazine experience. Most recently, she has been the Acting Commissioning Editor of Women's Health—where she co-produced the Going For Goal podcast—and has previously also written news and features for titles including The Telegraph, Grazia, Stylist, Dazed, The Sun's Fabulous, Yahoo Style UK and Get The Gloss. She covers all aspects of lifestyle, specializing in health, beauty, and travel. Can't live without: oat milk lattes, new podcast episodes, long walks, and great skincare.