Will Cruella be on Disney Plus? Here's how to watch Emma Stone as the famous villain
Everything you need to know about Cruella, including where you can watch it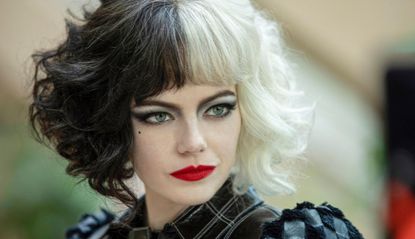 (Image credit: Alamy Stock Photos)
After months of waiting, Disney's 'Cruella' is finally hitting cinemas around the world this week—but will it be on Disney Plus?
If the iconic trailer is anything to go by, it could very well become their best live-action remake to date. The film has a star-studded cast led by Oscar-winner Emma Stone, who plays the titular lead and portrays the legendary Cruella de Vil from Disney classic 101 Dalmatians in all of her glory. We're talking deliciously outlandish outfits, red lipstick (which even gave MAC an idea for a Cruella-inspired make-up collection), and of course, her signature monochrome hairstyle.
Here's everything you need to know about the film, including the all-important questions of when it'll be available on Disney Plus.
What is Cruella about?
Inspired by Disney's 1990s franchise and film, 101 Dalmatians, 'Cruella' focuses on the iconic villain in the earlier years of her life.
Set in 1970s London, it follows the life of a young woman named Estella (played by Stone), whose "flair for fashion" earns the attention of Baroness von Hellman. The relationship between the two women quickly purs Estella to "embrace her wicked side" and become the "raucous, fashionable, and revenge-bent" we all know her as, Cruella de Vil.
"As we know, Cruella de Vil is pretty villainous. In this film, we get to see how she became the villain we know today," Stone told Entertainment Tonight. "The story is wholly original in a different time period, being in the late '70s. One of the most fun things to explore is her creativity. She is very good at what she does, designing."
Who is in the cast of Cruella?
While Emma Stone takes center stage, she is joined by another Hollywood Emma: the incredible Emma Thompson will be right by her side as Baroness von Hellman—a key figure in Cruella's transformation.
Meanwhile, Joel Fry plays Jasper Badun, one of Cruella's henchman in the original 101 Dalmatians, and Kirby Howell-Baptiste plays Anita Darling, a longtime friend of Cruella, who now works as a journalist and is enlisted by her to help bring Baroness von Hellman's downfall.
Emily Beecham also stars as Catherine de Vil, Cruella's mother while the rest of the cast is made up of Paul Walter Hauser as Horace Badun, Mark Strong as a character named John, and John McCrea, who plays Artie, a member of Cruella's entourage.
Is there a trailer?
There is. Disney dropped the official trailer for Cruella on 7 April 2021, following the release of a shorter teaser clip earlier in the year.
Will Cruella be on Disney Plus?
You will be pleased to hear that the answer is yes. Cruella will be dropping on Disney Plus as a Premier Access title on May 28—the same day it hits cinemas. This means you can watch it from the comfort of your home, although Disney Plus subscribers will still have to pay a one-time $30 fee to access the film on that date. You will then be able to stream the movie whenever you want.
However, the film is expected to become available to all Disney Plus subscribers, without the extra fee, at a later date that has yet to be confirmed.
If you haven't signed up to Disney Plus yet the firstly, what were you doing during the entire lockdown period? And second, you can change that by subscribing for $8 a month or paying an annual cost of $80.
Sagal is a journalist, specialising in lifestyle, pop culture, fashion and beauty. She has written for a number of publications including Vogue, Glamour, Stylist, Evening Standard, Bustle, You Magazine, Dazed and Wonderland to name a few.