Your weekly horoscope is here: April 18 - April 24
Get ready for a vibe shift this week...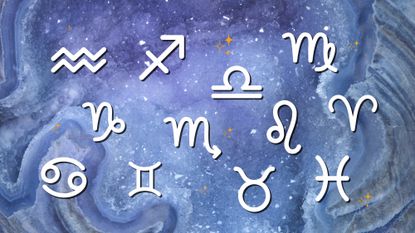 (Image credit: Future)
If last week's astrology had you floating in a cloud of dreams, expect this vibe to deepen this week. A total of four planets (Venus, Mars, Jupiter, and Neptune) will be in Pisces, making it hard to distinguish reality from fantasy. On the flip side, this is the perfect vibration for taking a break and focusing on spiritual as well as artistic practices.
Asteroid Juno joins the party in Pisces on Wednesday, which is big news for those who are looking into sealing an important deal or taking things to the next level. Ruling things like marriage and commitment, Juno speaks of our ability to merge with another. In the waters of Pisces, this asteroid dissolves the boundaries that were previously preventing us from reaching an agreement.
Tuesday brings another shift as the Sun leaves Aries and enters Taurus, initiating a four-week period in which we will be connecting with the outside world through our senses. As an earth sign, the sign of the Bull slows down the pace of life so we can stop and smell the roses and notice the beauty that is all around us at this time of year. That being said, this movement also marks the beginning of eclipse season, which is expected to bring significant changes to our lives over the month ahead.
Weekly horoscope: what does this week have in store for you?
Aries
Your birthday season is over, but the Sun's light moves to illuminate your second house of money. Taurus season is a great time to work on a financial plan that works for you. However, because eclipse season and wild child Uranus will affect this area of your life, you will have to approach things from a totally different perspective than before, Aries. If you're looking to diversify your investments, looking into technology and sustainable companies could prove very profitable in the future.
Taurus
Happy birthday, Taurus! As the bright light of the Sun enters your sign, it illuminates the path toward a brighter and more exciting future! The universe is pushing you towards change, making this coming week ideal for you to take inventory of how far you've come, and the progress you would like to see this coming year. Specifically, think about the ways you can incorporate more freedom as well as creativity into your life. Change is coming, highlighting these two themes for you.
Gemini
You are a social butterfly, but as the Sun enters your sector of subconscious mind, you might feel a deep pull towards rest and self-reflection. As much as you can, try turning off the noise so you can connect with your intuition, as it is in a state of stillness when you're bound to download ideas and might even have breakthrough moments. Then, as asteroid Juno enters Pisces, your sector of career, a new job offer could be in the cards.
Cancer
Big news for you, dear Crab! On April 15, Black Moon Lilith entered your sign, where it will stay until January 7. This energetic placement in the sky puts an incredible amount of feminine energy at your disposal. Astrology, Tarot, and similar witchy practices could be more attractive and interesting for you over the next few months. This is a call to show some of the sides of your personality that have been repressed, and a wonderful opportunity to just be your pure, raw self!
Leo
For you, Leo, Taurus season is about investing time and effort in your career and public reputation. Since the next four weeks will herald a lot of change in this area of your life, spend some time this week thinking about what you would like to manifest for yourself. How can you bring more freedom to this area of your life? What is preventing you from bringing more creativity to your workflow? The answers could be very telling!
Virgo
Expand your horizons, Virgo! For you, Taurus season is a time of thinking big and taking risks. What's on your bucket list that you have been unable to do? The next four weeks could bring you the opportunity to take the leap! Plan that trip or enroll in that class or coaching program. Asteroid Juno, the goddess of commitment, enters your seventh house of partnerships, dissolving the boundaries that previously prevented you or another party to say "yes"!
Libra
Last week's full moon vibes extend to this week as the Sun enters your eighth house of partnerships. If you are in a serious relationship, the next four weeks could bring serious conversations about finances, sex, and other deep subjects. If you are single, the next four weeks are better spent doing some deep soul searching. Astrology, Tarot, and other esoteric practices could really help unravel something that is lurking beneath the surface.
Scorpio
Taurus rules your seventh house of partnerships—romantic and business. As the Sun illuminates this part of your life for the next month, the cosmos will bring energy, change, and twists to your closest bonds. You don't like change, Scorpio, but trust us when we say that it could actually bring a sense of refreshing liberation your way. Relationships are mirrors, and you can expect to see parts of yourself that you will soon be ready to say goodbye to.
Sagittarius
You are a lover of change, Sagittarius, and over the next month, the cosmos will bring you exactly that! Get ready to revamp your daily routine, as the Sun in Taurus will ask you to take a look at what's working—and what's not! How can you bring more creativity (and most importantly, freedom) into your life? Eclipses happening in this part of your chart will show you the answer, all you have to do is go with the flow.
Capricorn
For you, Capricorn, Taurus season is all about fun and creativity, so over the next four weeks, allow yourself to enjoy the pleasures of life. Go for walks, stop to smell the roses, and spend more time with your favorite peeps. Work will be there when you get back. Plus, with asteroid Vesta traveling next to your ruler, Saturn, you hold the gift of strategy, so work should go smoothly even when you're spending more time having fun than actually working.
Aquarius
Work smarter, not harder, Aquarius! Asteroid Vesta, the goddess of wisdom, is now traveling very close to focused Saturn in your sign. This gives your mind a strategic edge, so use this brilliant combination to your advantage for the next few weeks. As Taurus season arrives, you begin a four-week period in which your focus will shift towards your home and family. Change is on the horizon, so lean into the spirit of liberation.
Pisces
Action is the name of the game for you as asteroid Juno enters your sign this week. A proposal, deal, or partnership could materialize for you—but because confusion can also be part of the equation, it's vital that you set well-defined boundaries, Pisces. For you, Taurus season is all about communication, which will require you to speak up in certain energetically charged situations in the next four weeks. While some things are hard to say, expressing them could feel liberating.
Cute astrology-themed gifts
Brand
Colour
Price
Refine ☵
Sort By
Athena Antares is a traveling writer, astrologer, and mystic who believes in adding a touch of magic to everyday life. She has written horoscopes for numerous lifestyle publications and has dived deeply into astrological magic and manifestation spell work. In her spare time, Athena enjoys exploring new places, spending time in nature, and reading charts for her worldly clientele.