Gwyneth Paltrow trial memes are taking over the internet, and no one can handle them
The case may be over, but these Gwyneth Paltrow trial memes will live on forever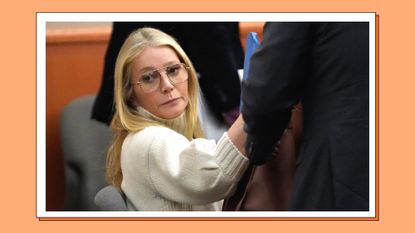 (Image credit: Rick Bowmer-Pool/Getty )
The internet is keeping busy with the Gwyneth Paltrow trial and its long list of unbelievable moments.
While taking a break from those Love Is Blind season 4 memes, you've likely encountered quite a few viral moments of the actress and Goop founder's time in court. For those not up to date: a retired Utah optometrist, Terry Sanderson, filed a $300,000 lawsuit against Paltrow for a skiing accident from 2016, which he alleges left him with a traumatic brain injury that impaired his cognitive functions. He sustained broken ribs and a concussion due to the collision, per NBC News.
But at the end of the day, the court sided with Paltrow and claimed she was not responsible for the accident. Like Taylor Swift before her, the star was awarded $1 in damages.
"I felt that acquiescing to a false claim comprised my integrity," Paltrow said in a statement, according to NBC News. "I am pleased with the outcome, and I appreciate all of the hard work of Judge Holmberg and the jury, and thank them for their thoughtfulness in handling this case."
But rest assured that you haven't seen the last of this trial judging by the mountain of memes that have been erected on social media, from the fangirling attorney to GIF-worthy faces and less-than-stellar courtroom sketches.
Our favorite funny Gwyneth Paltrow trial memes:
And you thought that Netflix binge was entertaining—just wait until you see what people have concocted on Twitter.
1. First world problems
#Relatable
2. More like Netflix and *thrill*
Our obsession with true crime knows no bound.
3. Jumpers for justice!
Because nothing screams "not guilty" quite like soft-ribbed knitwear.
4. Father, Son, House of Goop-y
Just call her Gwynetta Paltro
5. Goop meets Serial Mom
No white after Labor Day!
6. Adding this to our next movie marathon
Two skiing Gwens for the price of one
7. Somewhere Tom Wambsgans is screaming
At least it's not Burberry.
8. Having to wait for snacks = criminal behavior
The hanger is real.
9. What did Gwyneth say to Terry? Wrong answers only
They're worth more than $1, so not a bad trade.
10. Go wild, Gwen
Shots, shots, shots...of soup.
11. When counsel is too busy fangirling
Anyone else think Sanderson's lawyer, Kristin VanOrman, was just about ready to ask Paltrow for an autograph?
12. A tragedy of Shakespearean proportions
When will this week endddd?
Christina Izzo is the Deputy Editor of My Imperfect Life.
More generally, she is a writer-editor covering food and drink, travel, lifestyle and culture in New York City. She was previously the Features Editor at Rachael Ray In Season and Reveal, as well as the Food & Drink Editor and chief restaurant critic at Time Out New York.
When she's not doing all that, she can probably be found eating cheese somewhere.