Here's your official guide to the 2000s fashion trend
These 2000s fashion styles are anything but cheugy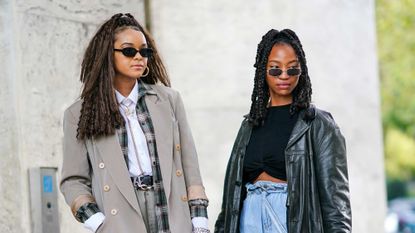 (Image credit: Getty Images / Edward Berthelot)
For years it seemed as though 2000s fashion was too cheugy to ever make a comeback but recently the familiar trends of the early 21st century have been making a name for themselves—again (wait, does that make us cheugy?)
This fierce return of Y2K fashion is bringing a surge of nostalgia with it as well. Think bright neon colors, beaded jewelry, and lots of hair clips. This era also featured some of the most iconic trends in television, with Gossip Girl style and Mean Girls outfits setting the bar for future fashion.
If you're ready to take the plunge and update your wardrobe with some 2000s fashion pieces, take a look below to learn more about the clothing and jewelry trends you'll want to copy this season.
Y2K Fashion Trends
The 2000s aesthetic is anything but subtle. Go bold with shiny materials, pastel and neon shades, and chunky accessories.
Celebrities, including Hailey Bieber, have been sporting these trends. In fact, Hailey was just spotted wearing a complete purple ensemble featuring the exact vibrant shades worn in Y2K, along with chunky shoes and a matching purple purse.
Mean Girls-inspired Outfits
The style from Mean Girls was arguably one of the most fetch looks for its time. Since the fashion world is deeming 2000s fashion trendy again, it's time to take out your best two-piece co-ords. FYI On Wednesdays, we wear pink!
---
---
Gossip Girl-inspired Style
You can't have Y2K fashion without the chic elegance of your favorite Upper East Siders. Gossip Girl helped establish headbands and scarves as some of the most coveted fashion accessories and had most of us dreaming of the luxurious lifestyles enjoyed by Blair and Serena. While some of the outfits may be a bit dated, we gave the Gossip Girl looks an upgrade to make them more 2021 appropriate.
Don't be afraid to embrace your childhood trends this season. If we've learned anything, it's that nostalgia is so fetch.