The jewelry trends you'll want to copy this season
We have all the inspiration you need with the latest jewelry trends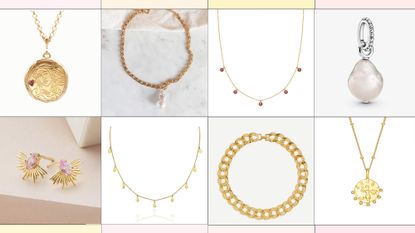 (Image credit: Missoma / Pandora / Anna + Nina / While Humans Before Handles / Common Era / WALD / Astley Clarke)
A new season calls for a wardrobe re-haul. While accessories have always been a big part of upgrading our seasonal style, re-addressing the state of our jewelry stands and upgrading with the help of the latest jewelry trends is even more important this year. After all, how else can we make Zoom meetings interesting?
So, what are the big jewelry trends for this season, we hear you cry? Well, while once upon a time all of our inspiration for new season trends would have come straight from the catwalks, we're seeing increasingly that social media and influencers are calling the shots on what's hot.
While fashion week trends are still present—particularly the heavy gold chains we've been seeing the last few seasons—cult brands like WALD and Missoma are injecting playfulness and character into necklace and pendant designs online.
Another big focus point for now, and we hope forever, is sustainability. As consumers continuously seek to up their knowledge of eco-friendly brands, materials like recycled silver are becoming more popular as do the independent creators leading the charge on sustainable jewelry.
So, swat up on what's going to be big for jewelry over the next few months...
Biggest jewelry trends for this season
1. Eco-silver
We're always looking for ways to be more sustainable and right now we're taking the lead from some of our favourite independent eco-friendly jewellery brands who are championing pieces made from recycled silver, also known as eco silver.
Emma Aitchison is the place for eco-silver "keep forever" pieces. Emma spent years working In London but returned to her countryside roots to start her jewellery brand, which is all about feeling inspired by nature. For example, the sold-out for now, Swell Ring is deliciously chunky, with uneven grooves and bumps—all of which are satisfyingly smooth—representing the ocean.
2. Chunky gold chains
Fashion heavy-hitters like Off White, Saint Lauren and Balmain have been sending heavy, open link chained jewellery down the runway since 2019, and it's a trend that isn't going anywhere. Whether it be a huge, hanging earring or a thick-set necklace (a la Paul Mescal), when it comes to these chains, the chunkier the better. Oh, and to nail the look make sure you're investing in a yellow-gold hue.
3. Drop choker necklaces
Choker necklaces often experience a renaissance in the winter months, adding a touch of glamour to our glittery party outfits. Now they've become paired back as we see dainty, singular chains rise through the fashion ranks.
Specifically, chains punctuated with tiny droplets of metal or gemstones is the look we're dying to recreate, either layered with other necklaces and a classic white tee or taking center stage with a square-necked dress.
---
---
4. Moonstone
Moonstone, the pearly gemstone with an other-worldly translucence, is a favourite with jewellery brands right now. We've seen the use of this stone more and more in designs recently and we're loving its magical aesthetic. What's more, it's said to exude beneficial properties for women including serenity and calmness, while its changing colours are supposed to reflect the cycle of the moon which is in turn, linked to a woman's own fertility cycle.
5. Pearls in every which way
The pearl trend has been in full flow since last spring, which continued through the catwalks this Autumn and is still going strong. While Marc Jacobs opted for a high society aesthetic (think an elegant string choker and stud earrings), we've also seen this timeless material given a bohemian, art deco, or vintage spin.
6. Celestial influences
Both the worlds of fashion and accessories have been inspired by all things celestial for a while now, but we're not any less bewitched by the sun, stars, and moons as time goes on. In fact, as the evenings get darker, we're even more excited at the thought of wearing something that reflects the inky night's sky.
7. Nods to ancient history
History has always played muse to the creators of the present, but all throughout 2020 and so far this year, we're seeing references to Ancient Greece and Rome adorning pendants and rings from our favorite designers, big and small.
Both societies shared the same gods, although they had different names for them. For example, the goddess of love was known as Aphrodite to the Greeks, while the Romans called her Venus. Designs depicting this shared mythology are only gaining in popularity as more brands experiment with the personalities and stories of the divine.
Megan Murray is editor of Soho Home and has ten years of experience in lifestyle journalism writing across topics such as interiors, food, and travel. Previously, she launched interiors franchises for Stylist.co.uk, where she was senior writer and still freelances, as well as for sites such as Square Meal and Mr Porter. Megan has a passion for shining a light on the stories of talented womxn and has interviewed the likes of Mariah Carey, Munroe Bergdorf and Maya Jama. In her spare time, Megan loves decorating her rental, reading independent magazines and exploring the UK.