The 90s 'Supermodel Lip' is making a huge comeback - just ask Addison Rae and Lizzo
Here's how to serve up that 90s beauty mood.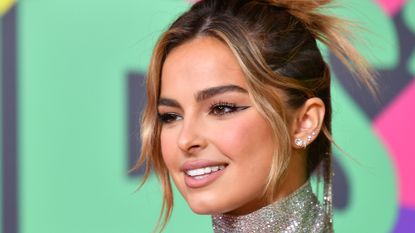 (Image credit: Amy Sussman/KCA2021/Getty Images)
Beauty has certainly been feeding our appetite for nostalgia of late, no more so than with the return of the 90s 'supermodel lip'. And as much as we loved it on Winona and Drew at the time, the latest update is more wearable and, dare we say it, a little less dark and scary.
For those of you too young to remember a baby Kate Moss sporting this lipliner trend and a beat up leather jacket, let us explain. TikTok may think it created overlined lips (check out this hack for bigger lips) but that trend went mainstream at the same time as brown lip liner - in other words, circa 1997.
The 90s 'supermodel lip' was an almost dark ring of liner, applied in a single fell swoop without blending. And then there's the 2020s update: still ringing around the upper and lower lips with brown liner (drawing slightly outside your lipline if you so choose) but then diffusing the deeper shade into your lipstick to make it look less contrived.
Alternatively, fill in the entire lip with liner that is two or three shades deeper than your actual lip colour and top with gloss for a light-reflective sheen.
In case you needed any further proof: Megan Thee Stallion and Lizzo both rocked the look at the Grammys 2021.
While Addison Rae and Kylie Jenner have made the all-new 90s supermodel lip a signature look.
Wondering how to recreate the look? Bella Hadid recently posted a throwback beauty video from Jen Atkin's Insta archives, which shows makeup artist Mary Phillips tracing a nude brown line around her lips.
Exaggerating Bella's natural lip shape with what appears to be Charlotte Tilbury's Lip Cheat in Supersize Me, Phillips carefully over-lines by pushing the pencil just outside Bella's lipliner and then really working it around the Cupid's bow.
Anyone else ready to get their lipliner out and play?
Fiona Embleton is a multi-award-winning beauty editor who has tested over 10,000 products in her 10 years + of writing and shooting beauty stories. For the past four years, she was the Senior Beauty Editor at Marie Claire, having previously worked in the role of Beauty Editor at both Stylist and Cosmopolitan. She has recently gone freelance and alongside My Imperfect Life, she has written for titles including ELLE UK, ELLE Canada, Buro 247, Harper's Bazaar Arabia, Vogue Scandinavia, and ES Magazine. Beauty journalism allowed her to marry up her first-class degree in English Literature and Language (she's a stickler for grammar and a self-confessed ingredients geek) with a passion for make-up and skincare, photography, and catwalk trends. She loves jumping on the latest internet-breaking beauty news, dissecting the best red carpet looks, and having the crème de la crème of dermatologists, make-up artists, and hairstylists on speed dial so she can tap them for the best advice. She's a discerning beauty shopper and knows it can be confusing trying to navigate what's hype and what really works. So if she really likes something, you can trust that she has reached that opinion by vetting it against everything else she's ever tried. Her career highs? Interviewing Cate Blanchett and winning a Jasmine Award for the deeply personal feature Cancer Stole My Mother's Scent.