This hack for bigger lips will change your makeup routine forever
It's a 3-product trick.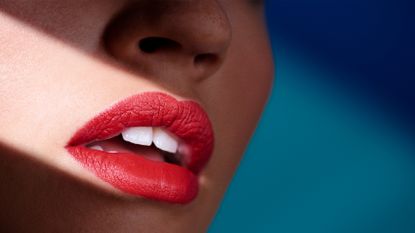 (Image credit: Jonathan Storey/Getty Images)
Cinnamon oil, bottle lids and now this hack for bigger lips - it seems our obsession with a fuller-looking pout shows no signs of slowing down. The big difference these days is the methodology: ever since Kylie Kenner dissolved her lip filler, we are side-stepping needles in favor of creating the illusion of plumpness with makeup.
When it comes to beauty, bigger is often better (hello brow lamination and the best eyeliner for beginners). But the good news is, now you no longer have to rely on tingly glosses to blow up the size of your lips through an inflammatory response (read: code red irritation!).
All you need are a few kind-to-skin makeup products and some strategic liner application. To show us how, Tik Tok user @jourdansloane shared her favourite lip plumping hack in a video.
Using a matte flesh-coloured lip liner, with a freshly sharpened tip, @jourdansloane filled in her entire lip area. She then got to work overdrawing her lips, a technique that garners the most natural-looking results when you apply the liner right on top of your natural lip line, then exaggerate it ever so slightly.
To make your new pouty lip look fuller still, @jourdansloane recommends using a nude lip liner a few shades darker to then trace around your mouth, moving it just over the edge of your natural lip line as before. She also uses the lipliner on the centre of her bottom lip to make it appear fuller and adds extra shading underneath it to exaggerate its 'heaviness'.
The finishing touch is a peachy nude light-reflecting gloss for added volume.
Another makeup artist trick favored by pros like Charlotte Tilbury for creating bigger-looking lips is to use a dab of highlighter just above the Cupid's bow of the upper lip. This gives added dimension to your lip shape while a further dab of highlighter in the center of the bottom lip creates that illusive pillowy effect we all crave.
Fiona Embleton is a multi-award-winning beauty editor who has tested over 10,000 products in her 10 years + of writing and shooting beauty stories. For the past four years, she was the Senior Beauty Editor at Marie Claire, having previously worked in the role of Beauty Editor at both Stylist and Cosmopolitan. She has recently gone freelance and alongside My Imperfect Life, she has written for titles including ELLE UK, ELLE Canada, Buro 247, Harper's Bazaar Arabia, Vogue Scandinavia, and ES Magazine. Beauty journalism allowed her to marry up her first-class degree in English Literature and Language (she's a stickler for grammar and a self-confessed ingredients geek) with a passion for make-up and skincare, photography, and catwalk trends. She loves jumping on the latest internet-breaking beauty news, dissecting the best red carpet looks, and having the crème de la crème of dermatologists, make-up artists, and hairstylists on speed dial so she can tap them for the best advice. She's a discerning beauty shopper and knows it can be confusing trying to navigate what's hype and what really works. So if she really likes something, you can trust that she has reached that opinion by vetting it against everything else she's ever tried. Her career highs? Interviewing Cate Blanchett and winning a Jasmine Award for the deeply personal feature Cancer Stole My Mother's Scent.