Acupressure mats: the celebrity secret to great sleep
Disclaimer: this is not some quirky Goop merchandise.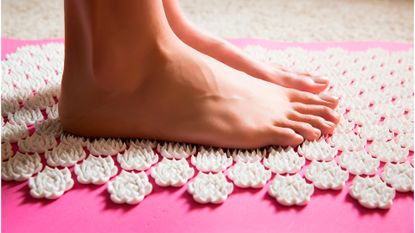 (Image credit: Sasha_Suzi/Getty Images)
Acupressure mats, also known by the non-cutesy moniker of 'bed of nails', may sound like some weird form of Goop sadomasochism. But they are, in fact, an ancient remedy for sleepless nights, poor circulation and muscle pain. And they're proving a hit with A-listers too, as Jennifer Lopez, Elle McPherson and even Britney Spears are all reportedly huge fans.
What exactly are acupressure mats?
Acupressure mats are essentially foam mats with hundreds of plastic spikes embedded in them (in the case of the original Bed of Nails, that's 8,820 plastic points BTW). Imagine row upon row of upturned beer caps on a sun lounger and you get the idea.
Much like acupressure treatments, the plastic spikes push down on different pressure points on the back when you lie on the mat for the recommended 20 minutes. The idea, according to Chinese medicine, is that this strategic pressure can clear blockages in the body and release Qi (aka energy) to relieve any aches and pains.
What are the benefits?
I tried the Bed of Nails after a few months of fitful sleep. The spikes should ideally come in contact with bare skin (park your best workout clothes for this one) so at night, I pop in my AirPods and lie back on the bed in just my bra with a blanket over me to spare my blushes. The first time I used the mat I felt so relaxed afterwards it was like I'd spent the weekend swaddled in white towels listening to whales at a top notch spa.
Since then an acupressure mat has become the route to a healthy, sustainable feeling of calm at bedtime.
Acupressure mats are also said to improve circulation, relieve stress and muscle aches. Research also indicates that using a mat can have a positive impact on your mental wellbeing. For instance, one study conducted in 2015 found that participants who used an acupressure mat three times a week for four weeks had lower instances of depression and anxiety.
Basically, it's a cure-all for all the daily gripes of isolating during a pandemic.
Does a bed of nails hurt?
OK, I'm not going to lie. Yes it hurts, but in a good way. Like when you go for a run and you push through that initial burn knowing you're then reaping the calorie-burning benefits.
If you're a beginner it's advisable to start off by lying on the mat while wearing a thin t-shirt, which makes the whole experience less intense. And, to be fair, once when you're down, the heat generated by the acupressure points actually starts to feel quite pleasant.
Or to be more scientific, the endorphins that have been summoned to fight the pain have now kicked in and are getting to work relaxing and energizing your body.
The best acupressure mats...
Fiona Embleton is a multi-award-winning beauty editor who has tested over 10,000 products in her 10 years + of writing and shooting beauty stories. For the past four years, she was the Senior Beauty Editor at Marie Claire, having previously worked in the role of Beauty Editor at both Stylist and Cosmopolitan. She has recently gone freelance and alongside My Imperfect Life, she has written for titles including ELLE UK, ELLE Canada, Buro 247, Harper's Bazaar Arabia, Vogue Scandinavia, and ES Magazine. Beauty journalism allowed her to marry up her first-class degree in English Literature and Language (she's a stickler for grammar and a self-confessed ingredients geek) with a passion for make-up and skincare, photography, and catwalk trends. She loves jumping on the latest internet-breaking beauty news, dissecting the best red carpet looks, and having the crème de la crème of dermatologists, make-up artists, and hairstylists on speed dial so she can tap them for the best advice. She's a discerning beauty shopper and knows it can be confusing trying to navigate what's hype and what really works. So if she really likes something, you can trust that she has reached that opinion by vetting it against everything else she's ever tried. Her career highs? Interviewing Cate Blanchett and winning a Jasmine Award for the deeply personal feature Cancer Stole My Mother's Scent.