Allen v Farrow finally takes Dylan Farrow's sexual abuse allegations seriously
"I was always in his clutches. He was always hunting me."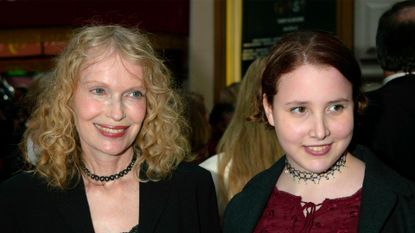 (Image credit: MediaPunch Inc / Alamy Stock Photo)
HBO documentary series Allen v Farrow doesn't make for light viewing. In fact, the four-part programme leaves a distinctly nasty taste in your mouth no matter which side of the fence you sit: pro Allen or pro Farrow. That's because Dylan was only seven years old when she became a central player in the divorce battle between her famous parents, writer/director Woody Allen and actor Mia Farrow.
There's also no big reveal at the end of the series, as most of us are already familiar with the allegations of sexual abuse faced by Woody (he has denied ever abusing or acting inappropriately with his daughter). But what the series does do is give a voice to Dylan, Woody's adoptive daughter, who claims that he molested her when she was a child.
Rather than simply start the documentary at the day of the alleged events - 4 August, 1992 - the story starts at the beginning of Mia and Woody's relationship, and his integration into her large family of both biological and adopted children.
Then two narratives start to unfold: Woody's relationship with not-quite stepdaughter Soon-Yi, which his maid and doorman testified started when she was a senior in high school.
And his increasingly bizarre and inappropriate behaviour with Dylan, the blonde child he allegedly asked Mia to adopt. For example, friends witness them cuddling in bed in just their underwear. Dylan talks about how he instructed her to suck his thumb.
Using case files, home movies and interviews, directors Kirby Dick and Amy Ziering relate these events from Dylan's point of view, before she takes us through the day of the alleged sexual attack and an evaluation she underwent as a child, conducted by the Yale-New Haven Child Sex Abuse Clinic.
More disturbing still is the trial by tabloid that ensues where accusations fly of Mia coaching Dylan to make these allegations as revenge for the Soon-Yi affair.
Adult Dylan is clear traumatised by the events of her childhood but also the way Hollywood kept celebrating her alleged abuser. At one point, Dylan begins shaking uncontrollably as she explains how she came to think of herself as a survivor of incest. Dylan's teeth start chattering. "I just need a second," she whispers, holding onto her husband's hand. "My jaw is shaking. I'm sorry. I don't know. I don't know, I'm just… My jaw's chattering. I'm not cold, I just –"
Dylan never finishes her sentence. Given that Woody refused to take part in the documentary, it is on some levels a one-sided show. But it is Dylan's evident frustration at "not being heard" and the almost forensic reporting of the allegations that stay with you long after the camera has finished rolling.
Fiona Embleton is a multi-award-winning beauty editor who has tested over 10,000 products in her 10 years + of writing and shooting beauty stories. For the past four years, she was the Senior Beauty Editor at Marie Claire, having previously worked in the role of Beauty Editor at both Stylist and Cosmopolitan. She has recently gone freelance and alongside My Imperfect Life, she has written for titles including ELLE UK, ELLE Canada, Buro 247, Harper's Bazaar Arabia, Vogue Scandinavia, and ES Magazine. Beauty journalism allowed her to marry up her first-class degree in English Literature and Language (she's a stickler for grammar and a self-confessed ingredients geek) with a passion for make-up and skincare, photography, and catwalk trends. She loves jumping on the latest internet-breaking beauty news, dissecting the best red carpet looks, and having the crème de la crème of dermatologists, make-up artists, and hairstylists on speed dial so she can tap them for the best advice. She's a discerning beauty shopper and knows it can be confusing trying to navigate what's hype and what really works. So if she really likes something, you can trust that she has reached that opinion by vetting it against everything else she's ever tried. Her career highs? Interviewing Cate Blanchett and winning a Jasmine Award for the deeply personal feature Cancer Stole My Mother's Scent.