AOC's guilty pleasure sounds very familiar to us and it will to you too
Congresswoman AOC has revealed that she's just as obsessed with Netflix's Selling Sunset as we are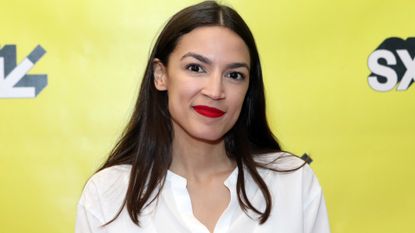 (Image credit: Getty Images:Photo by Samantha Burkardt)
There are plenty of reasons why we love AOC but her natural ability to be relatable is up there with our favourites. In fact, sometimes, it feels like we could actually be BFFs with her, especially after her latest revelation.
As well as being a kick-ass politician, the Congresswoman has confessed that hit Netflix reality TV series, Selling Sunsets, is her guilty pleasure (See? Total BFF material).
The New York City Rep, whose full name is Alexandria Ocasio-Cortez, opened up to CNBC about her daily routine, admitting that when she isn't busy working (which is a lot of the time), she unwinds by putting her feet up and indulges in all the drama from the ladies at the The Oppenheim Group real estate agency.
We wonder who her favourite is? Our money is on Christine.
But it doesn't sound like she gets much time for a full on binging session. In the interview, AOC explained that she often struggles to figure out when to stop working. "You have to kind of set hard rules for yourself, even though there's no off." For her, it's aiming to finish at 6pm, though she adds, "knowing that there'll be plenty of times that I'll be working till 7:00, 8:00, 10:00 at night."
In fact, she's a self-confessed "night owl", telling CNBC that she actually gets her best work done at night.
She also revealed a bit about her morning routine, saying the most important part is drinking water. "I like to put some lemon in my water, and I try to drink it pretty slowly and mindfully. I'll look out my window. I'll try to look at the clouds passing by, just really slow down for even a minute, five minutes in the morning," she said.
Her water morning ritual is followed by a pretty solid skincare routine of a vitamin C serum followed by moisturizer and sunscreen.
The news comes after AOC's Among Us stream just became one of the biggest debuts on Twitch last week. In an attempt to engage young voters, she joined the popular gaming site and it didn't take long before her broadcast became one of the 20 biggest streams ever on the platform and could even be in the top ten for individual streams.
Is there anything this woman can't do? We doubt it.
Sagal is a journalist, specialising in lifestyle, pop culture, fashion and beauty. She has written for a number of publications including Vogue, Glamour, Stylist, Evening Standard, Bustle, You Magazine, Dazed and Wonderland to name a few.