AOC raised a whopping $5 million for Texas storm relief
Alexandria Ocasio-Cortez raised serious $$$ for those impacted by the Texas winter storm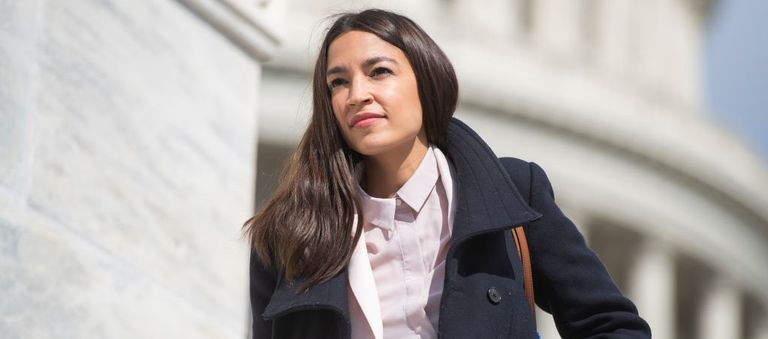 (Image credit: Tom Williams/Getty)
Alexandria Ocasio-Cortez, affectionately known as AOC, is raising money for Texans affected by recent severe winter storms, which left many across the state without power, water, or heat. The U.S. Representative for New York's 14th congressional district flew to Texas on Friday, February 19th, to personally help in the food distribution effort. 
Congresswoman Ocasio-Cortez had previously announced on Twitter that her team was partnering with five Texas-based organizations to get on-the-ground relief for those desperately in need. Posting links on her social media accounts, AOC urged her followers to donate as much money as they could spare, writing: "Let's see how far we can go." The donation link pulled $325,000 within two hours and reached $4 million by Saturday afternoon.
The organizations had been working non-stop to assist the state's residents. The generous donations that had quickly poured in prompted the congresswoman to jump on a flight down south to Houston and join the effort personally. Ocasio-Cortez distributed boxes of food and supplies alongside fellow Democratic representatives Sylvia Garcia and Sheila Jackson Lee. 
AOC posted on Twitter: "We hit $3.2 MILLION in Texas relief support last night! One of the places it's going is the Houston Food Bank. I'm visiting Reps. @JacksonLeeTX18 & @LaCongresita with volunteers to pack meals. The bank REALLY needs helping hands. Can you join a shift?"
She told reporters: "When disaster strikes, this is not just an issue for Texas; this is an issue for our entire country...Our whole country needs to come and rally together behind the needs of Texans all across this state."
Ocasio-Cortez stressed that many factors contributed to the massive power failures in Texas. She assured citizens that she aims to help shift change and provide sustainable means of aid, and insisted that policy reform is the real solution. 
AOC added on Twitter: "One last update (I think!): We just hit $5 million raised for Texans across the state. Thank you ALL for your collective action when people need it most. Charity can't replace policy, but solidarity is how we'll face climate change and build a better world." 
How to help after the Texas storm
Wondering how you can help Texas in the wake of last week's devastating storms? Here are five ways that you can extend a hand, or a dollar, right now: